Losing another one-run game — their sixth in the last eight losses — is bad enough, but the Yankees potentially lost Mark Teixeira to a wrist injury on Monday night against the Orioles. Well, not potentially, he definitely won't play on Tuesday. Given the scheduled day off on Thursday, I wouldn't be surprised if we don't see him until Friday. They can ill afford another injured bat right now.

Lefty No Out GuYs
Boone Logan and Clay Rapada faced two left-handed hitters each and they combined to record zero outs. Chad Qualls bailed out Rapada in the ninth, but Logan wasn't so lucky. He opened the seventh inning by retiring Wilson Betemit and Mark Reynolds, but he walked Omar Quintanilla with two outs — he hit a homer against the Yankees earlier this season, gotta pitch him carefully now — and gave up a booming double to Nick Markakis. David Phelps came in and allowed Markakis to score.
Logan has now surrendered runs in five of his last ten appearances, but the real problem is that the typically reliable bullpen has been giving up big runs of late. On Saturday and Sunday it was Rafael Soriano and David Robertson, and back in Seattle it was a combination of Logan, Qualls, and Rapada. That doesn't include the two walk-off losses in Oakland. The trade deadline is less than 24 hours away and the Yankees have a clear need for another non-matchup reliever, but they seem content to wait for Joba Chamberlain to return instead.

Three Homers And A Leadoff Double
The Yankees scored their first run on a long Eric Chavez single in the second, taking advantage of the balk that put Raul Ibanez in scoring position with two outs. Their other three runs all came on solo homers, including shots by Ibanez, Chavez, and Ichiro Suzuki. It was his 100th career homer of Ichiro's career and his only hit of the game, extending his streak of exactly one hit in every game as a Yankee to seven.
Unfortunately, the Yankees couldn't even hit the ball out of the infield after Nick Swisher opened the ninth with a leadoff ground-rule double. Ibanez struck out, Chavez walked, Ichiro grounded into a fielder's choice that would have been a game-ending double play had anyone else been running, and Russell Martin struck out. I get that Jim Johnson has a ridiculous sinker, but you've got three chances to get the man in and the ball traveled roughly 120-feet.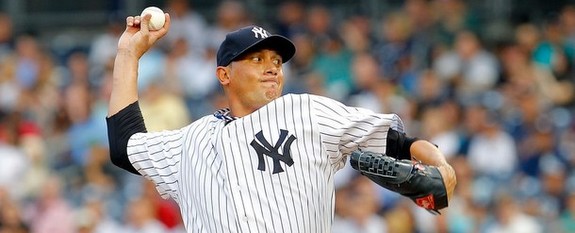 Leftovers
Freddy Garcia pitched okay, three runs on nine hits in six innings. Pretty typical fifth starter stuff. He's allowed more than three runs just once since returning to the rotation a few weeks ago. Outside of Freddy, Qualls was the team's most effective pitcher on the night, getting two ground balls to escape Rapada's ninth inning jam. Not a good night when he's one of the stars of the game.
The Yankees couldn't do anything against Miguel Gonzalez except when he hung a changeup. The 28-year-old non-prospect rookie struck out eight and walked zero. Sometimes you have to tip your cap and credit the pitcher, but this isn't one of those times. The offense needs to pick things up, especially with Alex Rodriguez on the shelf.
The top five hitters in the lineup went a combined 3-for-21 with seven strikeouts. Robinson Cano is stuck in an 0-for-13 rut and is back in "swing at all the pitches!" mode, and Curtis Granderson is slumping as well. Teixeira also had his worst game in a while, striking out in all three trips to the plate before leaving with the wrist problem. Outside of the homer, the Yankees had one runner make it as far as second base after the second inning, and that was Swisher in the ninth.
Box Score, WPA Graph & Standings
MLB.com has the box score and video highlights, FanGraphs the other stats, and ESPN the updated standings. The division lead is still seven games in the loss column over the Orioles and nine games over the last place Red Sox. The Yankees are 3-8 in their last eleven games and at some point soon these one-run losses need to turn into some wins.

Source: FanGraphs
Up Next
Ivan Nova gets the ball against Chris Tillman in the middle game of this three-game set on Tuesday night. Check out RAB Tickets for the latest deals to get yourself in the door.