We've reached the point of the season where the games start to blend into each other and both the wins and losses become so nondescript that you forget they ever happened. Tuesday night's win over the Blue Jays was about as generic as it gets, but hey, at the end of the day they all count the same in the standings.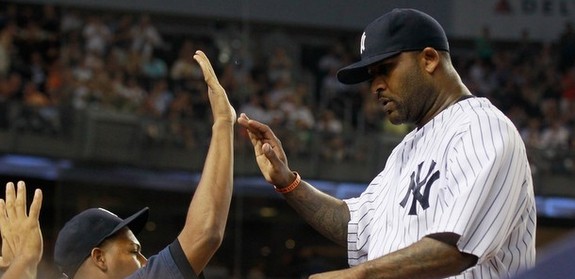 Welcome Back, CC
Based on the way CC Sabathia pitched in this game, the Yankees should look into sending all of their starters on a 15-day vacation in mid-July. The big man was in control all night long, limiting Toronto to just four hits and one walk — his only three-ball count of the night — in six shutout innings. He struck out six and in atypical Sabathia fashion, recorded nine outs in the air compared to just three on the ground. Just one runner made it as far as third base against him, only three as far as second. That'll do.
Joe Girardi played it conservatively in Sabathia's first start off the DL, yanking his ace after just 87 pitches with a three-run lead. On a normal night, he probably gets eight full innings out of the lefty based on the way things were going. There's no reason to push it at this point of the season and with a division lead this big, so there's no reason to complain about the quick hook. The important thing is that Sabathia is back off the DL and he showed no ill effects from the groin strain. The big guy was dealin'.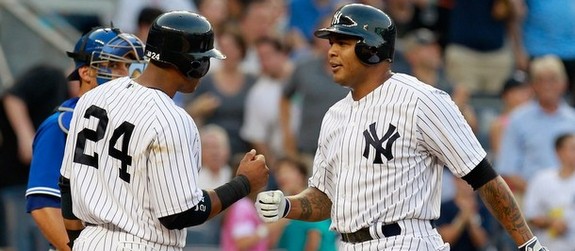 Diverse Attack
The Yankees extended their streak of three or more runs to 41 consecutive games with one swing of a bat in the second inning, a three-run homer by Andruw Jones. It was his fifth homer in his last five starts dating back to before the All-Star break. The 41 straight games with 3+ runs is the second longest single-season streak in baseball history, one week short of the record set by the 1994 Indians. With the trip through Oakland and Seattle coming up, they'll earn the record if they do indeed set it.
Brett Cecil settled down after surrendering the homer and it wasn't until the seventh inning that New York was able to tack on some insurance runs. Chris Stewart had the most Chris Stewart double ever, a hard chopper that third baseman Brett Lawrie missed and left fielder Rajai Davis misplayed. That dude made some sacrifice to the BABIP gods, let me tell you. Derek Jeter slashed a double to right to plate Stewart and eventually Alex Rodriguez plated a run with a fielder's choice. They scored runs on homers, on regular old base hits, and on outs. Everyone should be happy.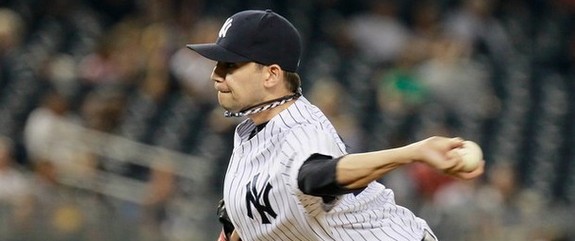 Leftovers
I don't want to make a big stink out of it, but it's pretty annoying that Rafael Soriano had to enter the game — his fourth appearance in five days following the All-Star break — after the Yankees had a six-run lead with five outs to go. Chad Qualls allowed three of the five right-handed batters he faced to reach base and then Clay Rapada had a brain cramp fielding a grounder, looking at second before throwing to first. The hesitation allowed Anthony Gose to beat out the throw for his first career hit, setting up the save situation. C'mon guys, you're better than that.
A-Rod hit three balls right on the screws, maybe four if you're generous, and had nothing to show for it other than that RBI fielder's choice. Have to imagine nights like that are frustrating. Robinson Cano extended his career-best hitting streak to 20 games with a second inning single, making him the first Yankee to have a hit streak that long since Jeter back in early-2007. Jayson Nix had three hits, including a double and a push bunt. He also got caught trying to steal third with no outs in the third, which was pretty dumb on his part.
The rest of the offense didn't do anything remarkable, hence the "generic" crack earlier. Jeter had a singled and a double, Curtis Granderson a single, and Mark Teixeira a double. Nick Swisher drew a pair of walks, his 12th and 13th walks in his last eight (!) games. He drew just 26 walks in his first 74 games. The double pushed Stewart's slugging percentage up over .300 (.303 to be exact), so hooray for that.
With the win, Sabathia became the first pitcher since Tom Seaver to win at least ten games in each of his first 12 seasons as a big leaguer. Pitcher wins don't tell us anything about how well a pitcher actually performed, but over long periods of time they do speak to durability and stuff like that. You do have to hang around long enough to rack up all those wins after all, which is why the 300 mark is so hallowed. Congrats to Sabathia, pitchers love their wins.
Box Score, WPA Graph & Standings
MLB.com has the box score and video highlights, FanGraphs the advanced stats, and ESPN the updated standings. The Orioles are currently losing lost, but the Rays won and Red Sox lost. The Yankees are a full ten games up in the division and eleven up on their biggest historic rival.

Source: FanGraphs
Up Next
Hiroki Kuroda will look to finish up the sweep against Ricky Romero on Wednesday afternoon, a getaway day before the Yankees head out to the West Coast for a seven-game trip. Check out RAB Tickets if you want to head up to the Bronx to catch the matinee.