Things have gone exceedingly bad for the Blue Jays on the injury front this year, to the point where the sheer volume of pitching injuries is threatening records. The Yankees head north of the border for a three-game weekend series after taking three straight from the Jays in Yankee Stadium last month. Toronto swept a two-game series at Rogers Centre back in May.
What Have They Done Lately?
Losing. Lots and lots of Losing. The Blue Jays were just swept by the Rays in St. Pete and have lost nine of their last eleven games overall. At 53-58 with a -1 run differential, they sit in the AL East cellar with the fifth worst record in the league.
Offense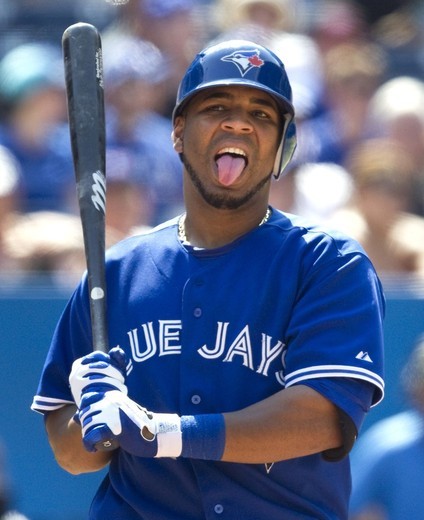 The Yankees are catching a bit of a break this series, because Jose Bautista (140 wRC+) is still on the DL with the same left wrist injury he suffered swinging a bat the last two times these clubs met. Brett Lawrie (100 wRC+) was just placed on the DL with an oblique problem, Adam Lind (87 wRC+) is also out with a back strain, and J.P Arencibia (97 wRC+) is on the shelf with a broken finger. That's four pretty important pieces for the Jays. Toronto have averaged 4.7 runs per game this year, but that number is down to 3.8 since Bautista got hurt.
Among the guys who are healthy, clearly the most dangerous is Edwin Encarnacion (157 wRC+). He ranks fourth in the league with 29 homers. Colby Rasmus (105 wRC+) and Yunel Escobar (72 wRC+) have both avoided the injury bug, ditto Kelly Johnson (90 wRC+), Rajai Davis (100 wRC+), and Jeff Mathis (79 wRC+). The rest of the lineup is filled with call-ups, including David Cooper (109 wRC+), Yan Gomes (49 wRC+), Moises Sierra (113 wRC+), Anthony Gose (43 wRC+), and defensive whiz Adeiny Hechavarria (-22 wRC+). All of those numbers come in limited samples, most in fewer than 100 plate appearances. Omar Vizquel (43 wRC+) is still kicking around as well. Sometimes all these call-up types can surprise you, but the obvious key to the series is keeping Encarnacion in check.
Pitching Matchups
Friday: RHP Freddy Garcia vs. LHP Ricky Romero
In a year of injuries, Romero's drastic drop-off in performance might be the worst development for the Jays this season. The 27-year-old southpaw has pitched to a 5.47 ERA (5.06 FIP) with a mediocre strikeout rate (6.39 K/9 and 16.0 K%), a bad walk rate (4.87 BB/9 and 12.2 BB%), and a strong ground ball rate (53.6%). Romero's two and four-seamer both still sit in the low-90s, and he still uses an upper-70s curve against lefties and a low-80s changeup against righties. His location and command have just been awful — he's not throwing enough strikes, and when he does hit the zone he's catching too much of the plate. The Yankees hung six runs in six innings against Romero a few weeks ago.

Saturday: RHP Ivan Nova vs. LHP Aaron Laffey
A brief and former Yankee, Laffey has stepped into Toronto's rotation due to injuries. He owns a 4.39 ERA (4.98 FIP) in eight starts and four relief appearances, though he isn't striking anyone out — 4.88 K/9 and 13.0 K%. He is doing well in the walk (2.28 BB/9 and 6.1 BB%) and ground ball (49.7%) departments, however. Laffey's sinking fastball sits in the mid-to-upper-80s, and he backs it up with a low-80s slider, a low-80s changeup, and an upper-70s curveball. These soft-tossing lefties can be tough as the Red Sox have found out (twice) this year.
Sunday: RHP Phil Hughes vs. LHP J.A. Happ
The Jays acquired Happ from the Astros and initially used him out of the bullpen, but injuries forced him into the rotation like Laffey. The 29-year-old has pitched to a 4.98 ERA (4.28 FIP) overall, with an excellent strikeout rate (8.56 K/9 and 21.7 K%) and decent walk (3.50 BB/9 and 8.9 BB%) and ground ball (45.0%) percentages. Happ throws his fastball right around 90, and his array of offspeed weapons includes a low-80s slider, a low-80s changeup, and an upper-70s changeup. The Yankees and their fans right remember him from his two relief appearances in the 2009 World Series.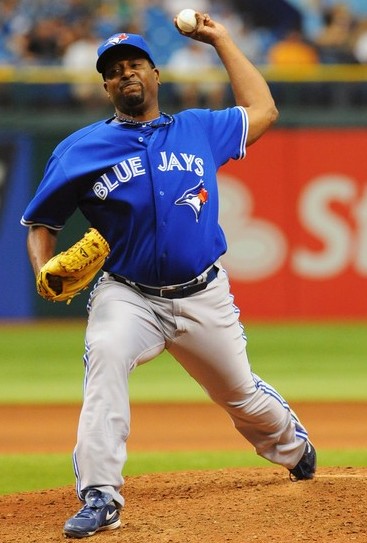 Bullpen Status
Toronto's bullpen looks very different than the one we saw earlier in the year due to trades and injury. Closer Casey Janssen (2.85 FIP) threw 30 pitches in garbage time yesterday, which could help the Yankees tonight. Left-handed setup man Darren Oliver (2.57 FIP) threw 11 pitches yesterday, so he's good to go. The only other reliever manager John Farrell had to use against the Rays yesterday was funky lefty Aaron Loup (2.03 FIP in limited time), who needed just 19 pitches to record four outs.
The rest of the Blue Jays' bullpen is in good shape and is entirely right-handed. There's setup man Brandon Lyon (2.54 FIP), hard-throwing middle man Steve Delabar (4.61 FIP), former fourth overall pick Brad Lincoln (3.50 FIP), and the recently recalled Chad Jenkins (1.75 FIP in three innings). The Yankees are in pretty rough shape bullpen-wise, with Rafael Soriano coming off back-to-back appearances (and a four-out save yesterday) and David Robertson just a day removed from a 35-pitch outing. Other than those two, they should be fine. Check out our Bullpen Workload page for exact details, and check out Drunk Jays Fans and Tao of Stieb for the latest and greatest on the Jays.