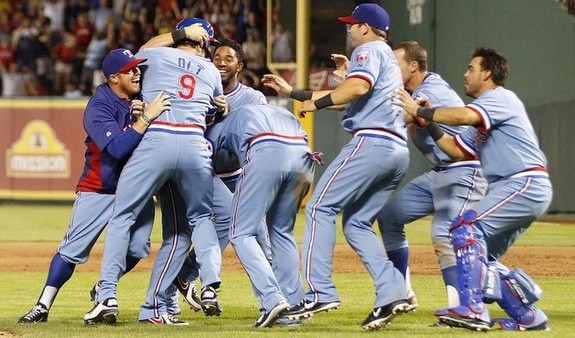 The Yankees and Rangers have quite a bit of recent history, most notably the 2010 ALCS. If you stretch the definition of recent — hey, the Rangers franchise has been around for 40 years now — you can go back to the the three ALDS matchups in the late-1990s. Texas took two of three from New York back in April, but now they're in the Bronx.
What Have They Done Lately?
The Rangers have won two in a row, four of five, and eight of eleven. At 67-46 with a +82 run differential, they're in a dead heat with the Yankees for the title of Best Team In The American League. Texas has a comfy seven game lead in the AL West.
Offense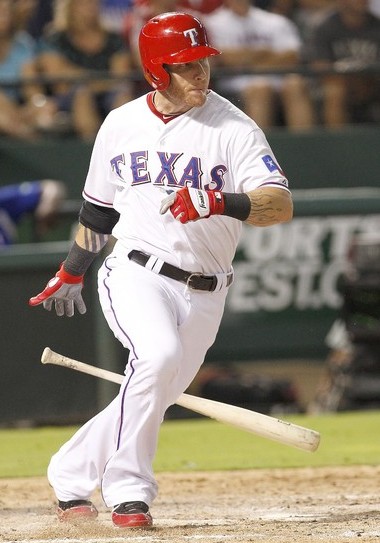 With an average of 5.1 runs per game, the Rangers are the highest scoring team in baseball. They're a touch behind the Yankees with a team 107 wRC+, but they will not have Mike Napoli (105 wRC+) for the next two weeks because he was just placed on the DL. He hasn't exactly lit the world on fire this year anyway.
The offense is led by Josh Hamilton (142 wRC+), who remains one of the most dangerous hitters in the game despite a prolonged slump. He's going deep at some point this series, just accept it now and await the inevitable. Adrian Beltre (117 wRC+) and Nelson Cruz (111 wRC+) give them two more power bats while Ian Kinsler (110 wRC+) does a little bit of everything. Elvis Andrus (108 wRC+) is the speed guy, then you have some excellent platoon bats in David Murphy (122 wRC+ vs. RHP), Mitch Moreland (131 wRC+ vs. RHP), and the speedy Craig Gentry (149 wRC+ vs. LHP).
Franchise icon Michael Young (68 wRC+) is having the worst season of his career and appears to be at the point where Derek Jeter was last June — just not hitting anything with authority and looking pretty close to done. The Cap'n rebounded, but so far Young has not. The catching duo — Geovany Soto (67 wRC+) and Luis Martinez (one whole plate appearance) — is hardly a threat with Napoli on the shelf. The Rangers are carrying 13 pitches, so the only other guy on their bench is the recently-recalled super-prospect Mike Olt (79 wRC+ in limited time). Texas went through a pretty brutal RISPFAIL funk last month, but this team can score runs with the best of 'em.
Pitching Matchups
Monday: RHP David Phelps vs. RHP Ryan Dempster
The Yankees looked into acquiring Dempster prior to the trade deadline, but the Rangers ended up swinging a deal for him with moments to spare. The 35-year-old right-hander has had one awful (eight runs in 4.2 IP) and one good (three runs in 6.2 IP) start with Texas, and overall he's pitched to a 2.65 ERA (3.62 FIP). Obviously most of that came in the NL with the Cubs. Dempster currently owns his lowest strikeout rate since 2001 (7.41 K/9 and 20.3 K%) as well as his lowest walk rate ever (2.42 K/9 and 6.6 BB%). His 42.0% ground ball rate is a touch below his career average. An extreme slider pitcher, Dempster has thrown the mid-80s pitch more than 40% of the time this year. He'll also feature two and four-seamers in the upper-80s as well as a low-80s split-finger. The Yankees faced Dempster in interleague play last season and he held them to three runs in 5.1 innings.

Tuesday: RHP Hiroki Kuroda vs. LHP Matt Harrison
A first-time All-Star this year, the 26-year-old Harrison was part of the Mark Teixeira trade and has pitched to a 3.31 ERA (3.84 FIP) this season. He's a low-walk (2.58 BB/9 and 6.9 BB%), high-ground ball (51.2%) guy who won't miss many bats (5.34 K/9 and 14.3 K%). Harrison relies heavily on a sinking low-90s two-seamer, but will also mix in a low-90s four-seamer and the occasional mid-80s cutter. His two offspeed offerings are a low-80s changeup and an upper-70s curve. Harrison has a huge split — righties have a .340 wOBA against him this season, lefties just .232 — so this is a good game to stack the lineup on that one side.
Wednesday: RHP Freddy Garcia vs. RHP Scott Feldman
Feldman, 27, has had to step into the rotation due to injuries and has posted a 4.64 ERA (4.00 FIP) in 83.1 innings. He doesn't strike hitters out (5.94 K/9 and 15.5 K%) or get ground balls (40.2%), but he won't kill himself with walks (1.94 BB/9 and 5.1 BB%). Feldman is a sinker-cutter guy, and both pitches sit right around 90. He'll also throw a mid-70s curveball and a mid-80s changeup. He's been pretty good of late, allowing no more than two runs while throwing at least seven innings in three of his last four hitters.
Thursday: RHP Ivan Nova vs. LHP Derek Holland
It's been an up and down season for the 25-year-old Holland, who spent some time on the DL with a shoulder issue and has otherwise pitched to a 4.92 ERA (4.91 FIP). His strikeout (7.41 K/9 and 19.9 K%), walk (2.89 BB/9 and 7.9 BB%), and ground ball (41.8%) numbers are solid, though he will give up plenty of long balls (1.72 HR/9). Holland does throw hard, sitting in the low-to-mid-90s with his sinker. He'll back it up with a low-80s slider and a mid-70s curveball, though his mid-80s changeup is a seldom used fourth offering. The Yankees pounded Holland back in April (7 R in 6 IP), but the southpaw is just as capable of throwing a gem as he is a total stinker.

Bullpen Status
Manager Ron Washington was able to give his core relievers a nice rest in yesterday's semi-blowout win, so closer Joe Nathan (2.80 FIP) and setup men Mike Adams (2.76 FIP) and Alexi Ogando (3.04 FIP) come into the series fresh. Rookie left-hander Robbie Ross (3.69 FIP) has appeared in each of the last three games, so we're unlikely to see him tonight. Fellow lefty Michael Kirkman (4.61 FIP) pitched yesterday and is more of a long man-type than a specialist. The rest of the bullpen includes right-handers Roy Oswalt (4.09 FIP), Mark Lowe (3.68 FIP), and Tanner Scheppers (5.21 FIP). Everyone in this bullpen throws hard and can miss bats, and frankly Oswalt is probably the weak link despite his reputation.
Joe Girardi had to use four relievers yesterday due to Phil Hughes' short start, and one of those four (Ryota Igarashi) is ticketed for a return to Triple-A today once the Derek Lowe signing in made official. The Yankees are in pretty good bullpen shape, but check out our Bullpen Workload page for exact reliever usage. For the latest and greatest on the two-time defending AL Champs, we recommend Baseball Time In Arlington and Lone Star Ball.
Ticket Info
By using this link, you can save up to 50% on tickets to the final three games of the Rangers series and 25% on tickets to the Red Sox series via ScoreBig. Just click the link, sign up, and find a seating section.