The calendar is about to flip over to September, and the Yankees are going to play a meaningful series against the Orioles this weekend. This is madness, I tell you. New York leads Baltimore by three games in the loss column, so this is the biggest series of the year to date. The Yankees have won six of eleven against this weekend's opponent so far this season.
What Have They Done Lately?
The Orioles just took three of four from the White Sox in Camden Yards, including a 5-3 win yesterday that wasn't nearly as close as the score indicated. They outplayed the ChiSox massively. Baltimore has won five of their last six and they're currently 72-58 with a -44 run differential. Fourth best record and third worst run differential in the league. Go figure.
Offense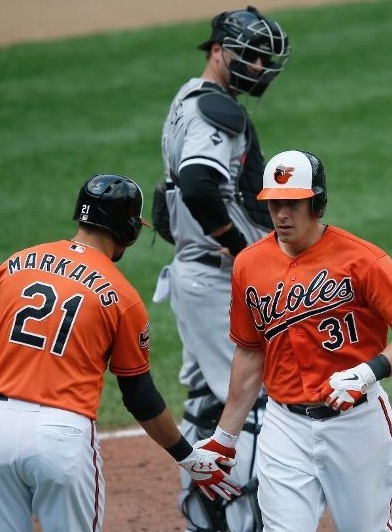 At 4.2 runs per game with a team 91 wRC+, the O's are a slightly below league average offense. Their best player all season has been Adam Jones (125 wRC+), who set a career-high yesterday with his 26th homer. He also leads the team with a dozen steals, so this is the guy the Yankees can't let beat them.
Nick Markakis (123 wRC+) has been thriving in the leadoff spot while J.J. Hardy (73 wRC+) has been one of the least productive everyday players in the game this year from the two-hole. Batting third these days is Pirates castoff Nate McLouth (68 wRC+ in limited time) ahead of Jones while Matt Wieters (97 wRC+) bats fifth behind him. The rest of the lineup is filled out by mostly platoon types, including Chris Davis (111 wRC+ vs. RHP), Mark Reynolds (117 wRC+ vs. LHP), and Lew Ford (159 wRC+ vs. LHP in very limited time).
Omar Quintanilla (91 wRC+) has already hurt the Yankees on more than one occasion (with more than one team) this season, and he's taken over everyday second base duties with Brian Roberts hurt again. Hotshot prospect Manny Machado (95 wRC+) hit two homers in his second game as a big leaguers and hasn't done anything since. Utility men Robert Andino (61 wRC+) and Ryan Flaherty (50 wRC+) join backup catcher Taylor Teagarden (31 wRC+) on the bench. It's a flawed but effective offense, similar to what the Yankees employ these days.
Pitching Matchups
Friday: RHP Hiroki Kuroda vs. RHP Miguel Gonzalez
The 28-year-old Gonzalez shut the Yankees down for a few innings in his fifth big league starts a couple of weeks ago, but they rallied for a four runs late and he left the game after 6.2 innings. Gonzalez has pitched to a 3.66 ERA (4.94 FIP) in 66.1 innings this season, though his peripherals are underwhelming: 6.65 K/9 (17.6 K%), 3.39 BB/9 (9.0 BB%), and 33.3% grounders. He's a low-90s fastball/mid-80s slider guy who will mix in the occasional low-80s changeup, so it's pretty generic stuff. Hopefully the Yankees will make some adjustments after seeing him a few weeks ago and go to town.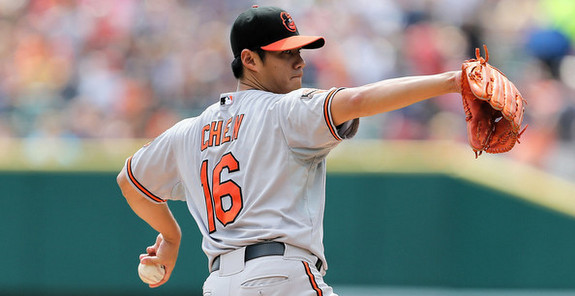 Saturday: RHP Freddy Garcia vs. LHP Wei-Yin Chen
The Yankees beat Chen in his first career big league start back in April, hanging four runs on him in 5.2 innings. He returned the favor with a 7 IP, 2 R outing a few weeks later. The 27-year-old Taiwanese-born southpaw has been rock solid this year, posting a 3.78 ERA (4.18 FIP) in 157 innings. His strikeout (7.45 K/9 and 19.6 K%) and walk (2.81 BB/9 and 7.4 BB%) rates are solid, though he is fly ball prone (38.5% grounders). Chen is primarily a three-pitch guy, using a low-90s four-seamer to setup his low-80s slider and changeup. He will throw a handful of loopy, low-70s curveball per start. Chen has no platoon split whatsoever and again, the Yankees need to build off what he showed them earlier this year.
Sunday: RHP David Phelps vs. RHP Chris Tillman
The Bombers have made a habit out of pounding Tillman in recent years, though he's a different guy now. The 24-year-old has recovered from Missing Velocity Disease and owns a 3.26 ERA (4.08 FIP) in 58 innings since being recalled from Triple-A. Like Chen, the strikeout (7.29 K/9 and 19.3 K%) and walk (2.95 BB/9 and 7.8 BB%) rates are solid while the ground ball numbers (39.1%) could be better. The new version of Tillman — really the old version that just went missing for a few years — sits in the low-to-mid-90s with his four-seamer and cutter while also mixing in a low-80s changeup and an upper-70s curveball. The Yankees scored five runs in five innings off Tillman earlier this season, but he's coming off seven one-hit innings against the high-power ChiSox.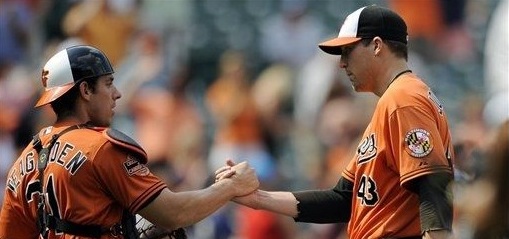 Bullpen Status
Left-hander Zach Britton gave manager Buck Showalter eight strong innings yesterday, but both setup man Pedro Strop (3.24 FIP) and closer Jim Johnson (3.39 FIP) had to work in a hectic ninth. The Baltimore bullpen is completely fresh otherwise, with no relievers coming off back-to-back appearances or anything crazy like that.
Behind (or is it ahead of?) Strop and Johnson are former Yankee Luis Ayala (3.89 FIP) and right-handed specialist Darren O'Day (2.87 FIP). Former starter Brian Matusz (5.01 FIP) is now working out of the bullpen and once Randy Wolf (4.74 FIP) is activated today, Showalter will have a pair of southpaws who can go multiple innings at his disposal. Kevin Gregg (4.78 FIP) and the surprisingly effective Steve Johnson (3.60 FIP) round out the relief corps. With rosters expanding tomorrow, expect the Orioles to add a few more bullpen arms for the weekend.
The Yankees had Thursday off, so their bullpen is pretty fresh. Both David Robertson and Rafael Soriano have had two straight days off after working in three straight, so they should be available all weekend. Check out our Bullpen Workload page for exactly usage details, and then check out Camden Crazies for the latest on the O's.