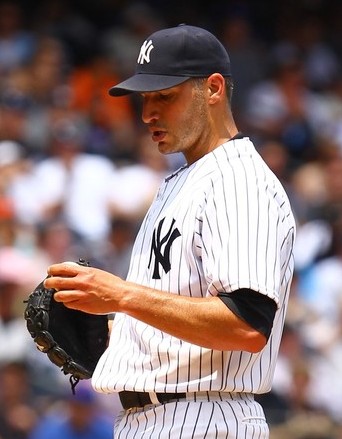 When Andy Pettitte decided to come out of retirement earlier this year, I think most of us believed he was returning for this season early. He would get that last little bit of competitiveness out of his system and ride back off into the sunset come the winter. Pettitte was brilliant after returning to the rotation (3.22 ERA and 3.40 FIP in nine starts) and seemed to be penning one hell of a swan song, but a one-hop ground ball fractured a bone in his left leg put everything on hold in late-June.
The now 40-year-old left-hander suffered a slight setback during his rehab but otherwise remains on target to return to the team in September. Even if he's unable to return to the form he showed earlier this year and instead reverts to the 2008-2010 version of himself (4.09 ERA and 3.90 FIP), Pettitte will be a rotation upgrade and a clear Game Three starter in the postseason should the Yankees go on to clinch the AL East crown. Having another southpaw in the rotation for the stretch drive will be a big help.
That's all 2012 stuff, however. Prior to last night's loss in Chicago, Pettitte — who has been traveling with the team during his injury rehab — hinted that returning to pitch in 2013 has crossed his mind.
"It seems like things don't work out like you envision them in life," he said. "I figured coming in here that I would pitch this year and I would fully exhaust myself of whatever I had left in me as far as for baseball or whatever. And as of this moment right now, I want to pitch more right now than I did when I first came to the big leagues … I'll go home and again talk to my family about it and pray about it and I'll just do what I feel is the right thing to do. I definitely can't tell you right now that I would say there's no way I'm going to play."
That's far from a definite "yes I'm coming back," but the thought of pitching next season has clearly crossed his mind. I suppose another setback could change things in a hurry, or heck, if the Yankees win the World Series he might decide to just hang 'em up and walk away a champion. I remember reading an interview when Pettitte first decided to come back where he said that his family pushed him return — his kids are teenagers now and they wanted to see him pitch. Perhaps the family element is the smallest of obstacles, who knows.
Either way, the Yankees will surely welcome Andy back with open arms if he wants to return. Brian Cashman admitted to offering him a one-year deal worth $10-12M back in December, and there's a chance he'd be willing to make that same offer for 2013 as well. That might mean the Yankees will have to decide between Pettitte and Hiroki Kuroda, but that's something we can discuss at another time. It seems clear that the injury has bothered Andy in the sense that he's not satisfied with how this season has played out, and that may mean the comeback extends into 2013.