The stench of getting swept by the White Sox still lingers, but the Yankees did what they had to do this weekend by taking two of three from the Indians. Sunday's win was yet another close game — just two of their last dozen games have been decided by more than three runs — and Joe Girardi leaned on his bullpen to get it done.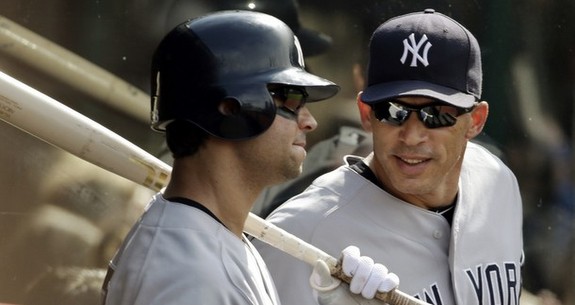 Small Ballin'
The Yankees often get accused of not playing enough small ball, but they play-the-game-the-right-way'd to three runs in the second inning against Ubaldo Jimenez. It all started with an Eric Chavez ground ball single to left and a Raul Ibanez walk, allowing Ichiro Suzuki to lace a run-scoring single off Ubaldo's glove and into no man's land. With one run already in, men on first and second with no outs, and a bad pitcher struggling, the Yankees did the sensible thing — Chris Stewart forfeited an out and bunted the runners up to second and third.
Thankfully, the club's two most productive hitters capitalized. Derek Jeter put together a real hard-fought five pitch at-bat before grounding out to third, allowing the second run to score. Nick Swisher plated the third run with a solid two-out single to shallow left-center. Robinson Cano hit the ball hard but flew out to end the inning, but otherwise four of the first six men the Bombers sent to the plate in that second inning reached base while the two exceptions were productive less-damaging outs.
Four-Inning Freddy
These last two starts haven't been great for Freddy Garcia, who's labored both times out and failed to complete five innings of work. He pitched around a bases loaded jam in the third on Sunday, an inning in which he basically had to record six outs because Cano muffed a probably double play ball (instead getting zero outs) and a 2-2 pitch to Carlos Santana was called a ball when it should have been a strike. Here, look. Garcia retired Santana one pitch later to end the threat.
The fifth inning rally that took Freddy out of the game started with two outs. Jason Kipnis doubled to right to get it all started with two outs, then Garcia plunked Asdrubal Cabrera in the behind. A walk to Shin-Soo Choo brought Santana to the plate with two outs and bases loaded again, and this time he jumped on a first pitch fastball for a two-run ground ball single back up the middle. After 90 pitches and 14 outs, Freddy's afternoon was done. He allowed just the two runs on four hits, two walks, and the hit-batsman while striking out six. Only one of his eight ball-in-play outs was on the ground.
Garcia is a fine fifth starter, but the middle relief isn't good enough to keep picking him up if he's going to be a five-and-fly guy. He's completed six or more innings in five of his eleven starts since return to the rotation, and at least five innings nine times. The two exceptions are these last two starts.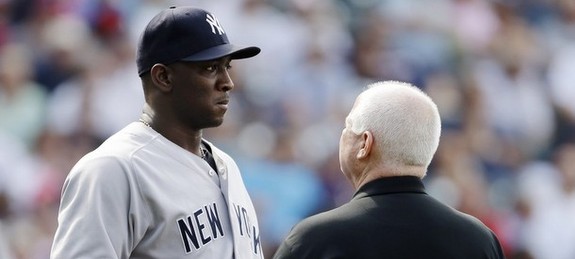 Long Relief
It was pretty obvious that Girardi wanted to win this game based on his bullpen usage. He went right to Boone Logan in relief of Garcia, using his top left-hander to record five outs in the middle innings. Only one of the six men he faced reached base, and that was the final one. Girardi went to David Robertson with one out in the seventh, and he escaped the inning with just four pitches. After sandwiching two outs around a single in the eighth, Rafael Soriano came in for the four-out save. You'd think it was a playoff a game. Matt LaPorta flew out to really deep left to end the inning.
The ninth inning didn't go all that smoothly, especially since leadoff man Jack Hannahan singled to bring the tying run to the plate almote immediately. Soriano retired the next three men to end the game, but not before Kipnis lined a comebacker off the base of his right hand. It looked like it got some glove and some forearm on the replay, but Soriano stayed in and said he was "a little sore" after the game. He expects to be fine. Twelve outs from Logan, Robertson, and Soriano isn't something we're going to see very often, but those three were excellent — allowed one single apiece with four total strikeouts.
Leftovers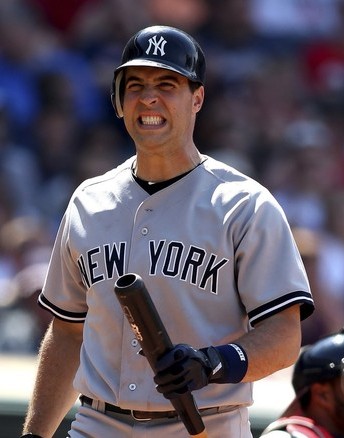 Curtis Granderson gave the Yankees a little bit of breathing room with his sixth inning solo homer, though he slammed his bat in disgust because he thought it was a pop-up. They weren't even in Yankee Stadium! It was a nice response a half-inning after the Tribe scored the two runs, and it was also the 200th homer of Granderson's career. The Yankees now have eight guys with 200 career dingers on the roster, the most in baseball history. The 2008 Yankees were the only other club with seven.
Swisher continued his torrid streak with three singles while Cano singled, doubled, and walked (intentionally). He's been slowly climbing out of his slump as the road trip has progressed. Those two combined to go 5-for-7 with the other seven hitters in the lineup went 6-for-27. The Yankees drew just two walks as a team, the 11th time they've done that in 24 games this month. In the other 103 games this season, they drew two or fewer walks just 14 times. That has a lot to do with Alex Rodriguez being gone.
The Indians ran wild on Chris Stewart, specifically Kipnis. He stole three bases in three attempts. Stewart did manage to gun down Michael Brantley, but overall he's thrown out just seven of 32 attempts base-stealers this season (21.9%). The league average is about 27%, so the supposed defense-first backstop hasn't exactly stood out with his arm.
David Robertson's wife is due to give birth to the couple's first child very soon — apparently the due date was last week sometime — so I wonder if Girardi was willing to use him earlier than usual knowing he's going to spend a few days this week on paternity leave. Then again, that wouldn't explain using both him and Soriano for four outs. Eh, whatever.
Box Score, WPA Graph & Standings
MLB.com has the box score and video highlights, FanGraphs some other stats, and ESPN the updated standings. Both the Rays (Republican National Convention in St. Petersburg) and the Orioles (rain out) were off on Sunday, so the lead in the AL East remains four games in the loss column over both clubs. The magic number to clinch the division is down to 32.

Source: FanGraphs
Up Next
The Yankees are coming back home to open a three-game series against the last place Blue Jays. David Phelps and Henderson Alvarez will kick the series off on Monday night. Check out RAB Tickets if you want to catch the game in person.