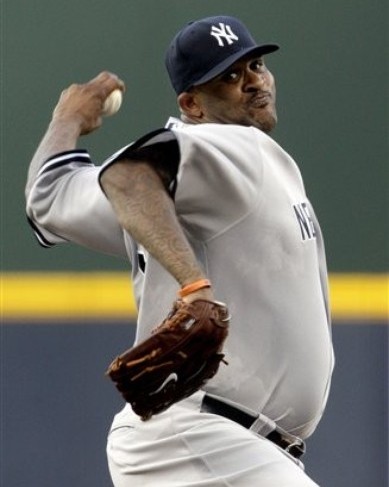 There are very few things in baseball that you can consider guarantees, but CC Sabathia logging oodles of innings has been one of them for the last decade. The big left-hander has thrown at least 180 innings every season since his rookie campaign in 2001 and at least 230 innings every year since 2007. That doesn't even count his 86 postseason innings either. That elite level of durability is one of the reasons why the Yankees made Sabathia the wealthiest pitcher in baseball history after the 2008 season.
This season has been a slightly different story, however. Sabathia is currently on the DL with elbow stiffness, his second DL stint of the season. The first was due to a groin strain that cost him the minimum 15 days. CC came into the season with just two career DL visits to his credit — oblique strains in 2005 and 2006 — but he's already doubled that total with roughly eight weeks left in the schedule. A short-term groin strain isn't that big of a deal, but the elbow problem is. Any arm-related injury is a big deal.
"After Seattle, I was (nervous)," said Sabathia the other day. "I woke up the next day and my arm was kind of swollen, and I didn't have any range of motion. So I was really nervous, honestly. So we had the test, and once the MRI came back clean, I just knew it was something I'll have to deal with. I know there's nothing structurally wrong with my arm."
No range of motion? That just sounds scary. Sabathia fought the team's decision to place him on the DL and insists that he will be on the mound August 24th in Cleveland, the first day he is eligible to return. That's all well and good, but he is at the mercy of his body. If his elbow keeps barking, he won't be pitching. I have to think finding out that your ace pitcher who has thrown nearly 1,000 more pitches than any other pitcher since his rookie year doesn't have range of motion in his elbow had to be terrifying for the front office, especially after giving him a five-year, $122M contract this past offseason.
In addition to the injuries, Sabathia's performance this season is a notch below his usually high standard. His strikeout (8.89 K/9 and 23.5 K%), walk (2.22 BB/9 and 5.9 BB%) and ground ball (48.5%) rates are more than fine, but his 3.56 ERA is his highest since 2005. He's given up a few more homers than usual (0.95 HR/9 and 12.1 HR/FB%) and isn't stranding as many baserunners as he has in recent years (70.1 LOB%). Oddly enough, left-handed hitters have hit him harder this year (.314 wOBA) than they have at any point since 2006. Sabathia usually owns same-side hitters with his slider. A 3.56 ERA (3.32 FIP) is still really really good, but it's not what we're used to seeing from the big guy.
Sabathia turned 32 last month, so he's starting to get into his decline years. It's safe to say that his best seasons are behind him, but that doesn't mean he's going to fall off a cliff and be a disaster going forward. He might just be really good instead of dominant. This recent elbow injury is a concern because pitching is such an unnatural act and Sabathia's career workload is enormous. He's been an absolute rock ever since the Yankees signed him, taking the ball every five days during the regular season and every four days in the postseason without missing a beat, and they absolutely did the right thing by playing it safe and placing him on the DL. All that wear-and-tear is likely to manifest itself at some point though, and this season may be a sign that the time to pay the piper is on the horizon.