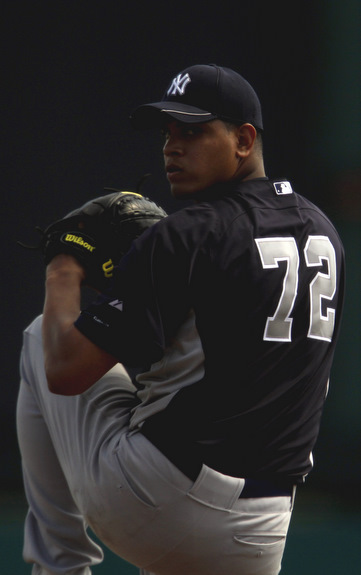 This has been a very poor year for the farm system, mostly due to injuries. High-end prospects like OF Mason Williams (shoulder), LHP Manny Banuelos (elbow), and RHP Jose Campos (elbow) suffered season-ending injuries, the latter two before the calendar even flipped to June. OF Tyler Austin missed about a month with a concussion, and OF Slade Heathcott (shoulder) and C Austin Romine (back) didn't get into their first games until June and July, respectively. Add in the usual array of miscellaneous injuries to lesser prospects, and you have one ugly season on the farm.
One player who has managed to avoid the injury bug this year is RHP Dellin Betances, which is somewhat ironic because he was spending time on the DL with arm-related injuries every year earlier in his career. Instead, Betances has seen his prospect stock take a hit because of his performance. Never known for his command, he walked 69 batters in 74.2 innings with Triple-A Empire State (8.3 BB/9 and 19.0 BB%) before being demoted down to Double-A Trenton. Betances has been better with the Thunder — 3.8 BB/9 and 9.6 BB% in 44.2 innings — but still has a long way to go in his development.
VP of Baseball Ops Mark Newman told Mike Ashmore yesterday that Betances is likely to spend the rest of the season in Trenton, which makes sense. Newman reiterated that he, and presumably others in the organization believe the right-hander can start long-term, but that's no surprise. Even if they don't believe that at all, they wouldn't say so. After a little back-and-forth with Ashmore, he mentioned that he believes the Yankees are just wasting time by not sticking Betances in the bullpen now, and that got me thinking a bit about the plan for the righty going forward.
First of all, we have to understand what the problem. Betances isn't just having trouble with his command this year, he's having trouble with basic strike-throwing ability, especially during his time in Triple-A. This isn't a case of a guy being unable to hit the corners, Dellin hasn't been hitting the strike zone at all. Is that something that will click with a move to the bullpen? It's possible, but I believe that he's going to need as many innings as possible to iron things out. As Keith Law and Kevin Goldstein recently explained, it's a mechanical issue more than anything. Despite his size — listed at 6-foot-8, 260 lbs. — Betances is not all that athletic and has trouble repeating his delivery.
Secondly, the Yankees do have time on their side. Betances isn't a kid anymore, he'll turn 25 in Spring Training next year, but the club still holds one more minor league option for next season. They can send him down to Triple-A again to work on whatever he needs to work on, which apparently is a lot. The conversion from starting to relieving isn't the most difficult thing in the world — guys often say the biggest adjustment they have to make is to their warm-up routine. With a little less than a month to go in the minor league regular season plus a potential playoff run (Trenton has an eight-game lead in the division and should have no problem qualifying for the postseason), Betances has at least another five starts left to make this summer, likely more. Those innings are valuable.
The Yankees have given Betances 113 minor league starts and nearly 500 minor league innings to improve his ability to hit the strike zone, and so far it hasn't happened. He still misses bats (8.6 K/9 and 20.3 K% this year), throws hard, and actually has two very nice offspeed pitches in his curveball and changeup, but he has yet to harness that stuff. I think that unless some kind of light bulb clicks over the next few weeks, Dellin should go into next year as a regular old short reliever to see if he can make it work just by going out and letting it fly for one inning at a time. I respectfully disagree with Ashmore that they've been wasting time by not putting him the bullpen yet, but starting next spring they have to focus on extracting value from Betances however possible. A shift to relief is the next logical step.