Last night's win over the Rangers was headlined by Nick Swisher's grand slam and David Phelps' impressive return to the rotation, but new pickup Derek Lowe capped things off with a four-inning save to spare his bullpen mates. The veteran right-hander was flat out released by the Indians last week after two disastrous months — seriously, look how bad they were — but he made a strong first impression on the Yankees' faithful with his sinker, changeup, and slider in the four scoreless frames. It was his first save since 2001.
As much as we want to think that a simple change of scenery can lead to improved performance, that almost never is the case. A lot of work goes on behind the scenes, and prior to yesterday's game Lowe spoke about the work he did during the 12 days between being designated for assignment by Cleveland and signing with the Yankees. I trimmed some of the fat out of quotes, but otherwise they come courtesy of Chad Jennings and Brad Lewis …
"(Getting designated for assignment) was actually a blessing in a way to be able to go back down to Fort Myers and work with the guy I normally always work with and get straightened out. I called (agent Scott Boras) last Wednesday and said, 'I feel good enough to be able to go back and pitch the way I should.'

"When you lose your deception, you're in a world of hurt. I had to get back to hiding the ball better … I'm a huge tinkerer. I have done it my whole career. I try to fix things mechanically, and one little tinker turns into two, turns in to — basically, you almost get lost. I've done it my whole career. Sometimes it works and sometimes it doesn't … I literally said, 'I need a repeatable delivery.' There were some obvious glaring things I even knew that I was doing, that (since-fired Indians pitching coach) Scott Radinsky knew I was doing, but the side sessions weren't long enough to fix it … It was great to be able to spend two or three hours really understanding what you were doing wrong and how to correct it … I've always been a tinkerer, so it doesn't take a long time. It takes a good two or three days of hard work getting back right, looking at video and realizing what you have to do."
Lowe pounded the zone last night, throwing first pitch strikes to 11 of the 14 batters he faced (79%) and a strike with 33 of his 44 pitches (75%). Only thrice did he get into a two-ball count and only once a three-ball count. Throwing strikes was a bit of a problem during his two-month slump with the Indians (only 60% strikes during the 60.1 IP sample, league average is around 67%), though that's a chicken or the egg thing. Was he getting hit because he wasn't locating well, or was he not throwing strikes because he was getting hit? Either way, Lowe didn't run into that problem last night.
Thanks to the magic of PitchFX, we can take a quick look at where Lowe was locating the ball at various points this season. Here are his first nine starts with Cleveland, during which time he pitched to a 2.15 ERA (3.95 FIP) in 58.2 IP…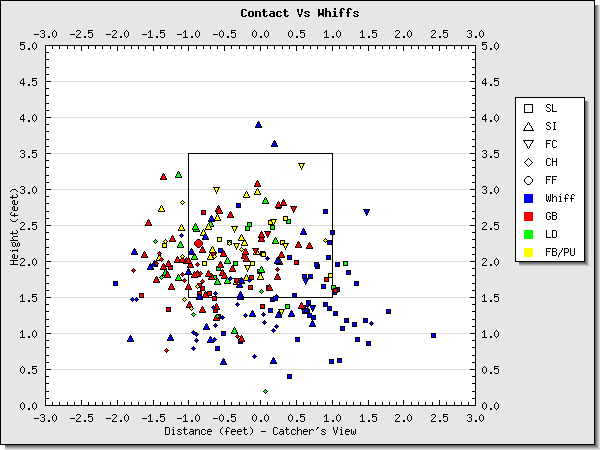 I wouldn't get too caught up in the various pitch types and whatnot, right now I just want to focus on the location. Even the balls that were hit are relatively down in the zone and away from lefties, the kind of pitch very few hitters can really drive. During these nine starts, Lowe allowed just two homers and 13 doubles for a .084 ISO against. Here are his next dozen starts, that 8.80 ERA (4.87 FIP) disaster period…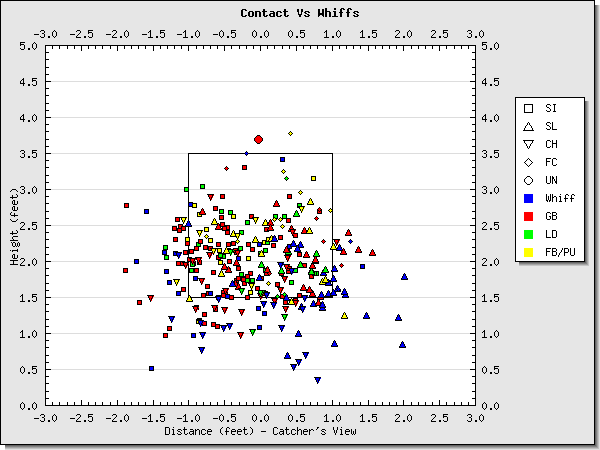 Again, just looking at the location, Lowe left way more pitches up in the zone and towards the middle of the plate. He allowed six homers and 21 doubles during these 60.1 IP, good for a .151 ISO against. When you're throwing a high-80s sinker that doesn't sink, the pitch gets clobbered. Lowe was still a little up in the zone last night, but he did a better job of staying out of the middle of the plate.
Now obviously one four-inning appearance doesn't mean much of anything, but it was certainly more encouraging than it would have been had he went out and gotten hammered again. Perhaps those adjustments last week helped him out, maybe it was being reunited with his former Dodgers catcher Russell Martin, or maybe it was just dumb luck and sample size noise. Either way, the Derek Lowe who was out there last night sure had the look of a potentially useful bullpen piece, the kind of guy who can soak up a few innings to spare the other relievers without letting the game get out of control.
PitchFX plots via Joe Lefkowitz's site.