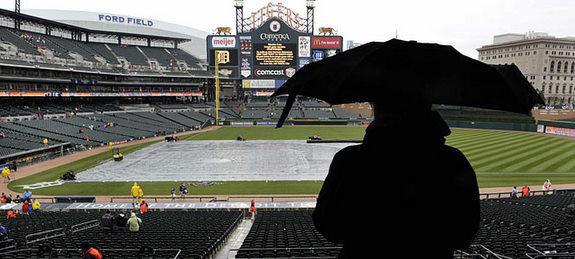 The first three games of this four-game series have been a nightmare — even last night's win seemed like it was pretty stressful. The weather gods may have mercy on the Yankees today though, because the forecast in Detroit is looking pretty ugly all afternoon. If they do need to postpone, the makeup game would likely be played on September 17th since that's the only mutual off day these two teams have the rest of the season. Hopefully it doesn't come to that. Here's the starting nine…
SS Derek Jeter
DH Nick Swisher
2B Robinson Cano
1B Mark Teixeira
3B Eric Chavez
CF Curtis Granderson
LF Raul Ibanez
RF Ichiro Suzuki
C  Chris Stewart
RHP Hiroki Kuroda
Today's game is scheduled to start a little after 1pm ET, but who knows with the rain. We'll keep you updated on any delays or other announcements. If they do play, you can watch on YES. Enjoy.
Update: The game is currently scheduled to start at 1:15pm ET.
Update Part Two: Scratch that, the game will not start at 1:15pm ET. No word on a new start time yet. This is going to be a fun afternoon I see.
Update Part Three: Now they're saying the game will begin at 1:35pm ET. This one might be a five-inning affair.