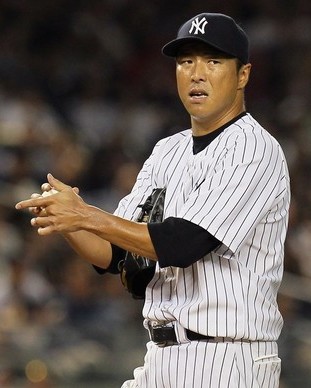 The Yankees have had their share of free agent pitching duds over the last few years, as guys like Carl Pavano, Jaret Wright, and Kei Igawa shuffled through the Bronx on big money contracts with little impact on the field. Hiroki Kuroda is the exact opposite. The veteran right-hander is on a bargain one-year deal and has been one of the very best pitchers in baseball this season. After all that time spent wondering if he could transition to the AL East and Yankee Stadium, he owns a 3.06 ERA (3.71 FIP) in 159 innings this year. That's impact.
Last night's complete-game shutout of the Rangers was Kuroda at his very best. He exploited a right-handed heavy lineup and a home plate umpire who was willing to call the ball off the outside corner a strike by pounding away with sliders. The YES booth joked that hitters would need a boat oar to hit some of the pitches Hiroki was feeding those guys, but the umpires made the same calls for both sides and only one really took advantage of it. Texas didn't hit a ball out of the infield until the fourth and didn't record a base hit until the seventh.
"One of the best lineups in the game right there," said Russell Martin the game. "You could see their best hitters taking weak swings; it just shows you that his stuff was that good today. A lineup like that, that's stacked like that, you might think they might run into a couple on any given day. But today he was just too dominant."
Kuroda has now pitched to a 2.81 ERA (3.43 FIP) in 141 innings since his fourth start of the season, coincidentally a stretch that started against the same Rangers he dominated last night. Those first three starts were a little up and down, but let's chalk that up to an adjustment period. I think he's earned the benefit of the doubt. It seems obvious that Kuroda has been the Yankees' best starter this year, especially given CC Sabathia's two DL stints and merely very good instead of great performance. Is it crazy to say that he's their best number two-type starter since the days of Roger Clemens, Andy Pettitte, and Mike Mussina in the early-2000s? It might be a stretch, but I don't think it's insane.
I feel like I had been tooting the Kuroda horn for about two years before the Yankees landed him this offseason, and it's kinda neat that he hasn't made me look like an idiot. Pretty much the only complaint I have about the guy at this point is that he's already 37, otherwise we'd be talking about a big fat multi-year contract extension to keep him around for the next few years. Then again, maybe that's not such a bad thing considering the general risk involved with pitchers. I'm sure the Yankees would welcome him back with open arms in the future if he's willing to keep taking one-year deals. I know I would.
Obviously last night is likely to be the high point of Kuroda's season — it'll be tough to top a two-hit shutout of the highest scoring team in baseball — but he's been so steady and effective that you can't help but feel good whenever he's slated to start. As Chad Jennings noted, Kuroda lead the Majors with six starts of at least seven innings and zero runs this year. That's unbelievable for a guy pitching in Yankee Stadium. Hiroki has been a bit overshadowed his entire tenure in pinstripes, dated back to the day he actually agreed to sign — otherwise know as the day Jesus Montero was traded for Michael Pineda. Kuroda is one of the many reasons why the Yankees have the best record in the AL, the rare free agent signing who is actually exceeding expectations.