The 2012 season has been an up and down year for the Yankees farm system, fitting given the extreme variability and uncertainty inherent in following the minor leagues.  While a number of prospects have taken big steps forward, injuries to several top prospects have overshadowed the farm's 2012 successes.  Injuries to Manny Banuelos, Jose Campos, and Mason Williams, likely three of the Yankees top five prospects, will prevent them from playing again this season, and both Campos and Banuelos have already missed substantial time.  Since the news on Banuelos and Williams is fairly recent, I figured it would make sense to take a look at how the injuries will affect their prospect status, and projected ascent through the minors.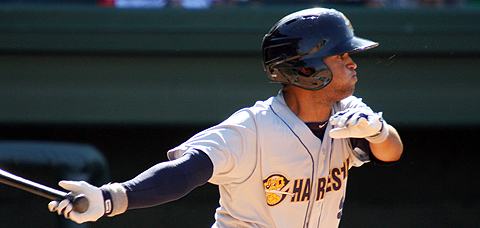 Mason Williams
Williams was recently sidelined with a tear in the labrum of his left (non-throwing) shoulder after diving to catch a ball in the outfield, and will miss the remainder of the season.  Williams' aggressive play in the outfield put him at risk of further shoulder dislocations if the tear was not repaired, so he went under the knife.  Mason likely has several months of rehab ahead of him, though since the tear does not appear to be a very serious one, it is believed that he will be back in time for Spring Training in 2013.
The injury likely won't affect Mason's prospect status in any substantial way, as he should be fully healed by 2013, and showed his stuff over a strong 2012 season.  He will still be a consensus top 50 prospect, and likely rank no lower than #2 in the Yankee system (depending on how bullish one is on Gary Sanchez).  However, it could slightly slow down his timeline to the Majors.  I think missing the last month or so of 2012 increases the likelihood that Mason begins 2013 in High-A Tampa rather than getting pushed to Double-A Trenton.  My guess is that he spends 2013 between Tampa and Trenton, starts 2014 in Triple-A Scranton (making his Major League debut late in the season), and joins the Yankees outfield full-time in 2015 (barring a trade).  Ultimately, it's not a big difference unless you were expecting Williams to be in the outfield in 2014 (when the austerity budget kicks in), but it shouldn't have much of an effect on his long-term value.  The injury likely decreases his trade value in the offseason, so if you were hoping that the Yankees would deal Williams in a package for Justin Upton, you may be out of luck.
Manny Banuelos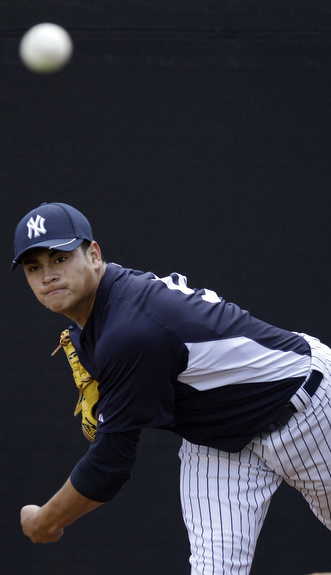 Yesterday, it was announced that Banuelos, who hasn't pitched in nearly three months because of elbow and back injuries, was going to be shut down for the season.  News like this often would ordinarily lead me to assume the worst, that the Mexican southpaw was facing imminent Tommy John Surgery.  However, Mark Newman downplayed the severity of the injury, comparing it to a "bone bruise," which leaves open the possibility that Banuelos could pitch in winter ball this year.  He reportedly has been throwing, which likely indicates that he may not need surgery (assuming there aren't any major setbacks).  Either way, it has basically been a lost season for Banuelos, and he still has a lot of work to do to prove that he can hold up under a full starter's workload.
The injury likely ensures that Banuelos will spend the vast majority of 2013 in the minor leagues.   He hasn't accumulated enough nnings for the Yankees to feel comfortable giving him a rotation spot, and he needs to prove that he can get his command back to where it was prior to 2011.  Banuelos hasn't exceeded 130 innings in any minor league season, so I imagine the Yankees will try to get him up to 150 or so next year, putting him on track to join the 2014 rotation if all goes well.  If Banuelos were healthy in 2012, he could have made a push later this season to join the rotation, or at very least get the opportunity to earn a spot in Spring Training 2013.  Banuelos probably would have been a top 50 prospect this year had he been healthy and effective, but his injury (validating the concerns of skeptics that a pitcher of Manny's stature may not be durable) likely reduces his prospect status somewhat.  He will still be one of the younger pitchers in the Triple-A International League next year, and has plenty of time to figure things out and become an effective major league pitcher.
There has been virtually no news on Campos and his mysterious elbow inflammation.  The lack of news is always disconcerting, though it goes with the territory in the lower minors.  However, if there isn't any serious structural damage, Campos could come into 2013 fully healthy and in better shape, which could allow him to have a successful season and re-establish himself on the prospect map.
While these injuries may set back Williams and Banuelos' timelines somewhat, neither of them are serious enough to merit worrying too much about their long-term future.  While labrum injuries can be death for pitchers, the fact that Williams' injury was reportedly not very severe, and on his non-throwing shoulder, bodes well for a complete recovery.  As for Banuelos, the lack of structural damage in his elbow is encouraging, and assuming there are no other problems that we haven't heard about yet, he should enter 2013 fully healed and ready to rock.  The rehab process required to get Williams and Banuelos back to normal will be a test of their dedication and work ethic, but ultimately, they will have to overcome much bigger challenges if they want to become successful big league players.