Unfortunately, the laws of reverse lock did not apply on Monday night. The Yankees started their worst pitcher against the Tigers' best pitcher and things played out exactly as you'd expect. That meant their 11th loss in the their last 17 games.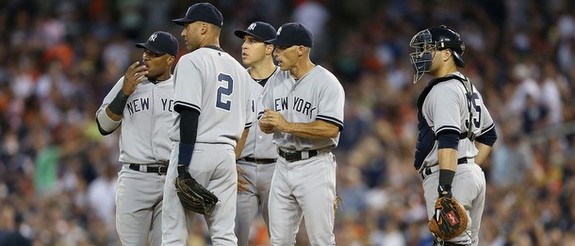 IvAAAn NovAAA
I suppose the good news is that he only allowed two extra-base hits instead of the customary five or six. Ivan Nova was awful yet again, allowing at least six runs for the second straight start, third time in five starts, and fourth time in seven starts. Eight of the last eleven men he faced had base hits and in his last 28 innings, Nova has put 52 men on-base. Fifty. Two. He's not even giving them a chance to win.
The Yankees aren't going to pull Nova from their rotation but his performance sure warrants a demotion to Triple-A. Outside of an absolutely stellar month of June (woo interleague play!), he looks exactly like the pitcher he was projected to be while coming up through the minor leagues — good stuff, spotty command, lack of deception leading to lots of contact. As an added bonus, Nova has shown the propensity to let a poor inning snowball into a disaster inning these last two starts. Ivan may "know how to win," but his team has now lost six of his last eight starts.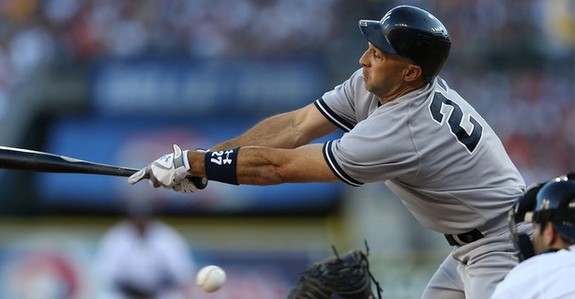 Offense Gets Some Help
The Yankees mustered just two runs off Justin Verlander, and they didn't come until after the right-hander dropped a flip from Prince Fielder at the first base bag in the fifth. The play would have ended the inning, but instead Curtis Granderson was safe and Derek Jeter and Robinson Cano followed with run-scoring singles. The two runs tied the game until Nova let things get out of hand the next inning.
Other than that, the Bombers didn't have much of an answer for Verlander, who struck out a season high 14. He whiffed four of the last five batters he faced and retired ten of the last 14 overall. Eric Chavez was the only one to put up much of a fight, going 3-for-4 with two doubles off the reigning AL Cy Young and MVP Award winner. Jeter and Cano chipped in a pair of singles each and that was pretty much it. The Yankees have gotten to Verlander quite a bit over the years — including twice this year already — but it just wasn't happening on Monday evening.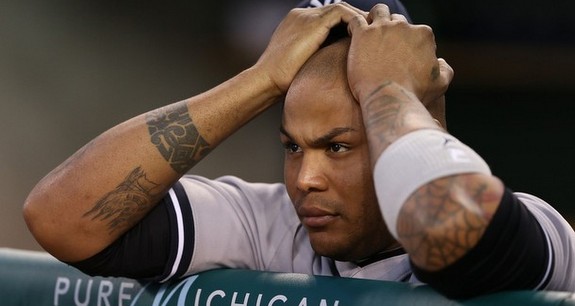 Leftovers
Joba Chamberlain made his second appearance since coming off the DL, allowing just two singles while striking out one in 1.2 scoreless frames. He threw 26 pitches (17 strikes) and averaged 95.8 mph with the fastball while topping out at 97.4 according to PitchFX. Joba again threw all four pitches, something he did last year before getting hurt but not in 2010. I wonder what's up with that. David Phelps threw a scoreless ninth with a strikeout despite allowing a baserunner and only throwing four strikes total. Hooray double plays.
Ichiro's exactly-one-hit streak came to an end in glorious fashion, with three strikeouts in four attempts against Verlander. Those are his first three strikeouts as a Yankee, a span of 53 plate appearances. He's yet to draw a walk. Granderson and Mark Teixeira — who clobbered a ball to right-center that would have easily been out in the Bronx but was caught in Comerica — also struck out three times apiece. Raul Ibanez drew the club's only walk of the night and Russell Martin chipped in a single.
Joe Girardi got into a rather heated argument with home plate ump Tony Randazzo in the middle of the third inning — Tony Pena had to literally step between them and bring Girardi back to the dugout — but the fact that he wasn't tossed indicates that Randazzo knows he made some goofy calls. Verlander was getting called strikes down-and-away to lefties all night and that didn't change either way after the argument. That strike zone wasn't the reason they lost, but it was a little ridiculous. Here, look.
It's just a footnote in that disaster fifth inning, but Martin has to catch that throw from Granderson on Austin Jackson's single. If he fields it cleanly, Jhonny Peralta was very likely out at the plate to end the inning and keep it to a one-run game. Instead it skipped on by and just added to ugliness. It hasn't exactly been a banner year for the team's backstops, either offensively or defensively.
Box Score, WPA Graph & Standings
MLB.com has the box score and video highlights, FanGraphs some additional stats, and ESPN the updated standings. Both the Rays and Blue Jays were idle, but both the Orioles and Red Sox won. Baltimore is now six back in the loss column, Tampa seven back, the Sox and Jays each ten back.

Source: FanGraphs
Up Next
Same two teams on Tuesday night in game two of this four-game series. That'll be Phil Hughes against Rick Porcello.