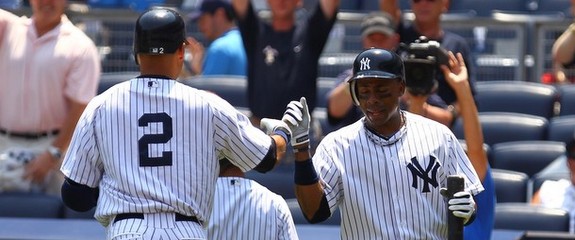 The Yankees have dealt with a number of significant injuries this season, including recent issues with Alex Rodriguez (hand), Mark Teixeira (wrist), and Nick Swisher (hip). A-Rod is on the DL and out until at least early-September, but the other two only missed a handful of games and have since returned to the lineup. Joe Girardi had to do some lineup shuffling in the meantime to get by.
One minor change that has stuck involves the top two hitters in the batting order — Curtis Granderson has batted leadoff for the last three games while Derek Jeter has hit second. It had been the other way around for the first hundred or so games of the season. Here is the skipper's semi-explanation for the switch, courtesy of Brian Heyman…
"Grandy falls in the category of he's one of our higher (on-base) guys, so that's why he goes there," Girardi said. "Well, you could say, 'Grandy is a power hitter.' Well, so is (Robinson Cano). So is Tex. So is Swish. So is (Raul Ibanez). So you say, 'Why don't you move him back?' Well, then who do I move up to the front with speed? You might say, 'OK, why don't you move (Ichiro Suzuki) up?' Well, his on-base is not as high as it's been in the past. So then you try to break up your left-handers with your switch-hitters and your right-handers, so it's not easy for them to get through the lineup.

"If we had all of our hitters present, Granderson wouldn't lead off. But with the injury to Alex, you have to make some adjustments."
The whole left/right thing seems to be a major factor factor here. Leaving Granderson in the two-hole means he and Cano would be hitting back-to-back, inviting other managers to bring in their top lefty specialist in the late-innings. That might not be a huge deal given how well Granderson has hit lefties since being #cured and how Cano has handled lefties historically, though Robbie has struggled against southpaws in 2012.
Anyway, Girardi actually broached the idea of flipping Jeter and Granderson way back at the start of Spring Training. I looked at it a little more in-depth then and said I was intrigued and that it was probably worth a shot, though that analysis is a bit outdated now given Brett Gardner's injury and some other factors. Grandy isn't the prototypical leadoff guy because of his mid-.200s batting average and strikeouts, but he draws a ton of walks (12.2%) and maintains a solid OBP (.342). Jeter has actually gotten on-base more often this season (.358) but he is a double play machine (16 GIDP already), so he's not an ideal number two hitter either.
Despite all that, I still think it's worth trying just because it could potentially get you that one extra plate appearance from Curtis in any given game, and that could be mean a run(s) with one swing. I do dislike the bunting potential though, Jeter does it on his own all the time. It's not even the giving up outs thing, bunting a runner over in front of Cano means he might get intentionally walked or just see fewer pitches to hit in general. Perhaps the answer is to have Granderson steal some more bases (just eight steals in eleven attempts this year) just to avoid the bunts and double plays.
Batting order is easiest thing to quibble with but for the most part the impact is small, at least minor moves like this one. If Granderson was batting ninth all of a sudden, that would be a problem. The Yankees have a decent-sized lead in the standings and will need to figure things out with A-Rod, who despite his diminished production was still was a threat in the middle third of the lineup. I don't think moving Granderson down into the middle of the order (and thus giving him fewer at-bats) is the best solution, but moving him up that one spot might be. If it turns out to be a problem because Jeter is hitting into double plays or something, then they can just go back to the way they had it before. It's a small tinker worth trying.