I have to say, I didn't think Monday's game would go that smoothly. David Phelps was coming in with a 75-80 pitch leash while Derek Lowe and his 8.80 ERA over his last dozen starts backed him up as the long man. Instead of collapsing against a powerhouse Rangers' offense, Phelps and Lowe carried the Yankees to an easy 8-2 win.

That's Mr. Phelps To You
Early on, it looked like the highlight of this game would be Phelps' pickoff move. The young right-hander picked a runner off first in the second and a runner off second in the third, and that came after he nearly caught Elvis Andrus a little too far off the bag in the first. Seven of the first 14 hitters Phelps faced reached base, including a David Murphy solo home on a pitch that wasn't all that bad bad. It was a breaking ball down and in, and he just golfed it out. The other run Texas scored came after an infield single, a walk, and a broken back bloop. It happens.
Phelps shook the rocky start off to finish very strong, retiring seven of the final eight hitters he faced to complete five full innings for his first time as a big leaguer. Had his pitch count not been limited, he almost certainly could have completed six innings and maybe even record an out or two in the seventh. Phelps struck out three, walked one, and threw 51 of 78 pitches for strikes (65%). I'm glad to see he made me look foolish merely hours after publishing this post. Good job kid, we'll see you again in five days.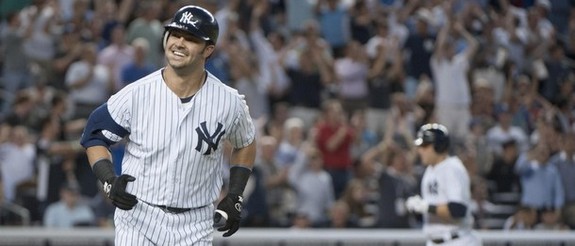 Swisher Slam
Trade deadline pickup Ryan Dempster held the Yankees down with two very efficient innings to open the game, but it all unraveled in the third. Russell Martin and Raul Ibanez led the inning off with singles, then advanced to second and third on Ichiro Suzuki's sacrifice bunt. It looked like he was trying to bunt for a hit, but they call Adrian Beltre the best defense third baseman in the game for a reason. He made a nice barehand play and got the out at first.
Dempster was in trouble and Derek Jeter worked him hard, fouling off a few pitches to turn a 2-1 count into a walk that loaded the bases. Nick Swisher saw a first pitch ball and a second pitch meatball, a little cement mixer that hung up in the strike zone. He clobbered it for a go-ahead grand slam into the second deck in right, a no-doubter off the bat. Because that wasn't enough, the Yankees immediately reloaded the bases against Dempster (walk and two singles) and tacked on another run with a Curtis Granderson sacrifice fly. Dempster managed to complete six innings, but he got hit really hard. Those five second innings runs were all New York would need.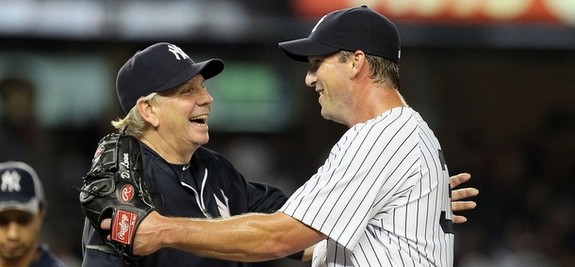 Lowe Rider
Phelps threw his five innings and the Yankees had a three-run lead, so Joe Girardi handed the ball off to the recently signed Lowe. The long-time starter agreed to return to his bullpen roots, and he looked mighty comfortable pitching in relief. Showcasing three very distinct pitches — upper-80s sinker, low-80s changeup, low-80s slider — the 39-year-old right-hander struck out four and allowed just two dinky singles in four scoreless innings of work. He and Phelps combined to retire 19 of the final 22 batters Texas sent to the plate.
Because he threw more than three innings, Lowe recorded a save in his first appearance in pinstripes. It was his first save since 2001, back when he was an All-Star closer with the Red Sox. Thirty-three of his 44 pitches were strikes (75%), 11 of 14 batters faced saw a first pitch strike, and half of his eight ball-in-play outs were on the ground. It's one appearance, but it certainly looks like Lowe can be of some use going forward. He and Phelps were pressed into duty and they did a phenomenal job against a great team. Bravo, you two.
Leftovers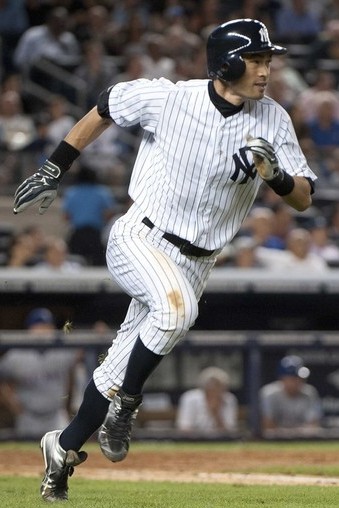 Eric Chavez missed this weekend's games with a sore back but he showed no ill-effects on Monday, clobbering a solo homer over the bullpen and into the right field bleachers off Dempster. He also chipped in a single and now has five straight multi-hit games, which is a new career-high. Chavez has been nothing short of amazing this season. This is some swan song.
Swisher and Raul Ibanez were the only other hitters with multiple hits, though Jeter (double), Mark Teixeira (single), Martin (single), and Ichiro (triple) all had a knock. Both Robinson Cano and Granderson took 0-for-3s, but Robbie walked and Grandy had the sacrifice fly. Dempster wasn't fooling anyone, especially the second and third time through the order.
The grand slam was Swisher's 200th career homer, giving the Yankees seven players with 200+ career homers — Swisher, Teixeira, Jeter, Ibanez, Chavez, Alex Rodriguez, and Andruw Jones. That is tied with the 2008 Yankees for the most 200+ homer guys on one team in baseball history, and Granderson is sitting on 197 career dingers. Safe to see this team will have eight 200+ homer guys in short order.
Box Score, WPA Graph & Standings
MLB.com has the box score and video highlights, FanGraphs some additional stats, and ESPN the updated standings. The Orioles were idle on Monday and the Rays are out playing the Mariners on the West Coast, so at worst, the Yankees will wake up on Tuesday with their five-game lead in the AL East intact. The magic number at the moment is 43.

Source: FanGraphs
Up Next
It'll be the Yankees and Rangers once again on Tuesday night, the second game of this four-game set. Hiroki Kuroda gets the ball against first-time All-Star Matt Harrison. Make sure you check out RAB Tickets for some last minute details if you want to catch the game.