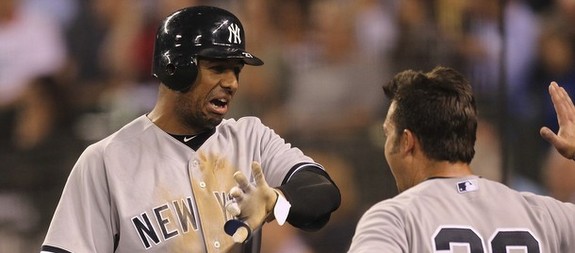 The Yankees lost more than just a game last night, as Mark Teixeira went down with a Grade I calf strain that will cost him no less than one week. Derek Jeter, as you may remember, suffered a Grade I calf strain last season and missed roughly three weeks. Hopefully the fact that he's five years younger than the Cap'n will hasten Teixeira's return to the lineup. Either way, the Yankees will be without their first baseman for an important stretch of games.
With the rosters set to expand on Saturday, don't count on the Yankees placing Teixeira on the DL. Chances are they'll play shorthanded for the next three games (Thursday's an off-day) before calling up some players from the minors to fill various voids. One of those guys should be outfielder Chris Dickerson, who we saw briefly last year but has spent this summer raking for the homeless Triple-A squad. He owns a .321/.421/.523 batting line (169 wRC+) in 316 plate appearances this year, including a gaudy .354/.464/.619 line since the All-Star break.
I've written about the potential usefulness of the 30-year-old Dickerson in the past, noting that he can hit righties (career .341 wOBA against big league righties plus a .323/.420/.568 line against them in Triple-A this year), steal bases (17-for-20 in stolen bases attempts in Triple-A this year), and play strong defense in all three outfield spots. Dickerson can't hit lefties though, so he is yet another platoon player in a lineup already featuring too many platoon players, but at this point the Yankees don't have any alternatives. Players who can hit both lefties and righties are hard to find this time of year.
With Teixeira out of the lineup, the Yankees would have four players for four spots against righties — Dickerson, Ichiro Suzuki, Raul Ibanez, and Eric Chavez. Chavez has to play third and Ichiro an outfield corner; that's the easy part. Having Dickerson around allows them to keep Ibanez at DH and put Dickerson in the other outfield corner while the switch-hitting Nick Swisher plays first. Against lefties they would have Andruw Jones, Casey McGehee, Jayson Nix, and the recently-acquired Steve Pearce for those same four positions: Jones at DH, McGehee at third, Nix in left, and Pearce at first with Swisher in his usual right field.
It's pretty easy to see where Dickerson fits in here. Without him, one of those four right-handed platoon bats is going to have to play against righties, and that's far from ideal. He'll add some much-needed speed — Ichiro is 4-for-7 in steal attempts as Yankee — and improve the defense overall while not being an automatic out against righties. The sorta tricky part is getting him on the 40-man roster, which is backlogged as it is. I'm planning to write more about the 40-man situation in a day or two, but calling up Dickerson probably costs Ramiro Pena or Justin Thomas their job. That's life though, these decisions are going to have to be made at some point anyway.
The Yankees catch a little bit of a break because they're scheduled to face two left-handed starters in the next three games, so they can wait until rosters expand on Saturday to recall Dickerson. They don't absolutely have to do it right now and set off a chain-reaction of 25-man roster moves. There's no way they'll be able to replace Teixeira's production, but adding Dickerson as a platoon bat is their best in-house solution at the moment. Maybe McGehee or Pearce or one of those other platoon guys gets hots and carries things for a bit, but I wouldn't count on it. Dickerson is mashing in Triple-A and offers the speed and defense elements as well. He's their best internal option with Teixeira on the shelf.