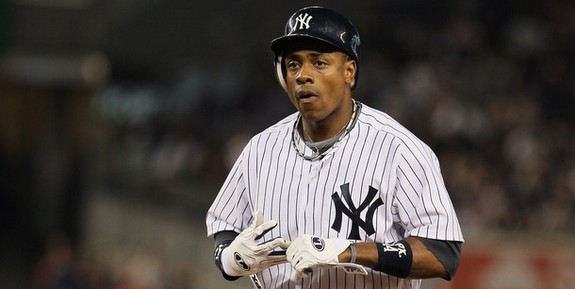 The Yankees went through a pretty rough slump a few weeks ago, starting out on the West Coast in Oakland and carrying over into the last homestand. They have started to get their mojo back though, most notably battling back to split a four-game series with the Tigers in Detroit after losing the first two games. They've won nine of their last 13 games overall, and two of those four losses came at the hands of Felix Hernandez and Justin Verlander. That will happen from time to time.
One player who has most certainly not gotten his mojo back is Curtis Granderson. The 31-year-old outfielder is stuck in a 1-for-18 rut at the moment, but this is something that goes back much further than the last week. Granderson is hitting just .205/.266/.419 since the All-Star break and .215/.306/.415 in his last 281 plate appearances (!) overall. That dates back to early-June, so we're creeping farther and farther away from small sample size territory. After hitting a robust .262/.364/.552 (146 wRC+) last year, Grandy is down to just .236/.330/.480 (116 wRC+) with roughly six weeks to go this year.
I've noticed two things about Curtis during this slide that may or may not be meaningful in terms of the root cause for this slump. For one, he's just flat out missing hittable pitches. We all know about the strikeout issues — 28.2 K% on the year and 30.6 K% during this 281 PA sample — but I'm talking specifically about pitches out over the plate that he's either fouling off, putting into play weakly, or just whiffing on. Here is a look at Granderson's strike zone plot during his 281 PA slump, courtesy of Joe Lefkowitz's site…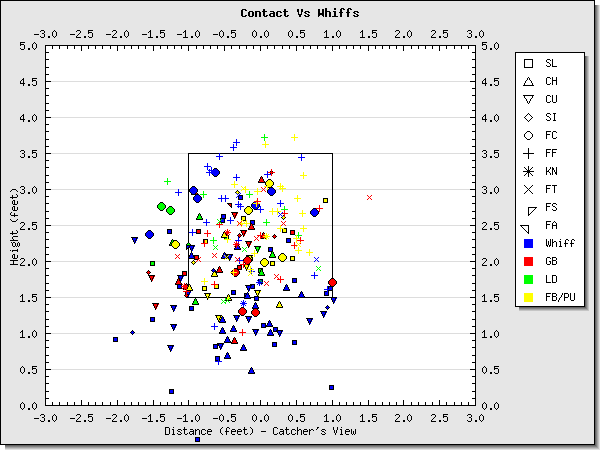 There's an awful lot going on here and a whole bunch of clutter, but just focus on the blue — those are the swings and misses. There's a whole bunch in the dirt from breaking balls and whatnot, but there's also a bunch right out over the plate. This isn't any kind of definitive proof that he's missing hittable pitches, but it certainly jives with the theory. Granderson has always swung and missed a bunch, that's just who he is, but some of those pitches — particularly the fastballs, the blue +'s — he should be hitting hard somewhere.
Secondly, Curtis doesn't seem to be pulling the ball as much as usual. Vince Mercogliano made the same observation last night, so at least I know my eyes aren't playing tricks on me. Last season, Granderson pulled 53.6% of his balls in play to right field while 30.1% went back up the middle and and just 16.2% went the other way to left. As you'd expect, he did most of his damage yanking the ball to right — 304 wRC+ pull, 120 wRC+ center, 26 wRC+ left. This season he's at 50.4% pulled (196 wRC+), 30.0% center (63 wRC+), and 19.5% opposite (64 wRC+). Not much of a difference in terms of quantity, but he isn't getting the same kind of results on balls back up the middle. Here's a look at his spray chart during this 281 PA slide, courtesy of Texas Leaguers…
That is a pretty evenly distributed spray chart, especially for a guy who is — or at least should be — a dead pull hitter. Earlier this season I noted that Granderson was hitting some more line drive singles to shallow left, but I don't think this is a case of a guy making a conscious decision to try to go the other way without getting the results, a la Mark Teixeira back in April and May. Granderson just seems to be fouled up, either physically, mechanically, mentally, whatever. He certainly isn't getting the results he has been getting for the last two calendar years, and you can see that something is off by watching him everyday. You don't need to be a hitting guru to see when someone isn't right, but you do need to be one to fix it.
Granderson's slump is something that predates his ill-fated stint as a leadoff hitter, and is something he and hitting coach Kevin Long need to figure out relatively soon. The work they did in August 2010 was almost literally an overnight fix; he went from being a straight platoon guy to an MVP-caliber hitter in the span of like, 36 hours. That isn't the norm though, these things tend to take some time. The Yankees are scheduled to face three real tough lefties — Derek Holland, Franklin Morales, and Jon Lester — from Thursday through Saturday, so that might be a good time to give Curtis some time off just to recharge the batteries. He can get off his feet (he's played the field a ton this year due to Brett Gardner's injury, so maybe he's just worn out), clear his head a bit, and hit the cages hard in an effort to get back to being the impact hitter he's expected to be. Right now, he's close to a dead spot in the lineup.