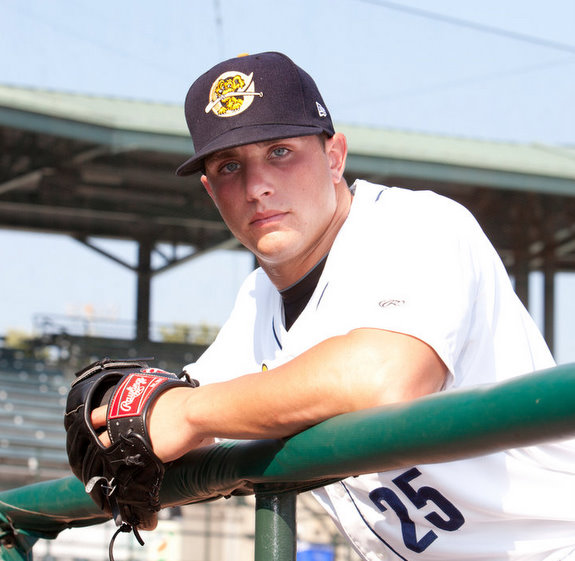 While the Yankees' development of starting pitchers has been considered a weak point for years, there is no doubt that the farm has produced some impressive relief arms.  In recent years, this includes Tyler Clippard (who came through the system as a starter), Mark Melancon (who struggled early this year, but was impressive last year), George Kontos (who has been impressive since being traded to the Giants) and of course David Robertson, once described by a scout as a "the baseball equivalent of a sociopathic murderbot from the future."
Evaluating relief prospects is often a tricky proposition, and going just on minor league statistics can mislead as much as it may inform.  There are plenty of examples from the Yankee system of organizational arms who posted silly minor league numbers, but never amounted to anything in the majors. Colter Bean, Josh Schmidt, and Edwar Ramirez (one of my all-time favorite prospects) are several examples of this phenomenon.  Bean and Schmidt were sidearmers who largely got by on deception, while Ramirez was a one-trick pony, relying heavily on a changeup that is perhaps the best I have ever seen (I kid you not).  Since most relievers are failed starters, draft pedigree is not often informative in determining which prospects to follow, and who will have success in the majors.
With all these caveats in place, it's still hard not to get excited about what Mark Montgomery has done this season.  Montgomery, the subject of a prospect profile back in November, has exceeded the loftiest expectations.  He is an 11th-rounder out of Longwood University in 2011, works in the low-90's with his fastball and boasts one of the best sliders in the minors that is already considered a plus major league pitch.  Because of that nasty slider, Montgomery's Twitter handle @snapdragonmonty is especially appropriate.  On the season, his first full one as a professional, Montgomery has been flat-out dominant.  Between high-A and AA, he's put up a 1.34 ERA, with 13.8 strikeouts/9 and 3.6 walks/9.  The strikeout rate is impressive, and evidence of how he has overmatched hitters thus far, and the walk rate is not bad for a power pitcher.
Because of his strikeout dominance and rapid rise through the minor leagues, David Robertson is probably the most appropriate comparison.  On paper, the numbers are very similar.  Throughout his minor league career, Robertson posted a 1.28 ERA, 12.6 strikeouts/9, and 3.5 walks/9.  Montgomery has posted a 1.41 ERA, with 14.7 strikeouts/9 and 3.4 walks/9.  The numbers are very close, favoring Montgomery slightly on the peripherals, though it is worth noting that he has only reached AA.  However, Montgomery is on a slightly different trajectory than Robertson because he debuted at 20 in his draft year, while Robertson didn't make his minor league debut until age 22 (the year after he was drafted, because he received an overslot bonus).
D-Rob was fast-tracked to the majors, spending less than two years in the minors before making his big league debut, where he quickly became a fixture in the Yankee bullpen.  Montgomery looks to be on a similar path, and he could be in the bigs as soon as September if the Yankees are interested in really pushing him.  With the return of Joba Chamberlain from injury, the incentive to push Montgomery to the majors may be reduced, since Joba fills a bullpen hole, and Montgomery would likely be reduced to pitching low-leverage innings on the big-league roster.  However, if the Yankees think that Montgomery could be an asset during the playoffs, I could see them swapping out Cody Eppley to give Montgomery a try.  Realistically, however, Montgomery will likely start 2013 in AAA, and if all goes well, could be knocking on the door to the bigs fairly soon.
Mike Ashmore and Josh Norris (the dynamic duo of Trenton Thunder beatwriters) have some great video of Montgomery embarrassing some AA hitters in a recent 4-strikeout outing.  I highly recommend checking them out, and thanks to Mike and Josh for all their hard work in acquiring them.  The nasty slider is definitely on display, and the Altoona hitters have no chance.  It's pretty clear from the videos that Montgomery is not getting by on gimmicks and trickery, but rather, bona fide major league stuff.  I don't know when Montgomery will make his Major League debut, however, if I were Brian Cashman I would have to think long and hard about giving Montgomery a taste of the majors to see if he could be an asset on the postseason roster.