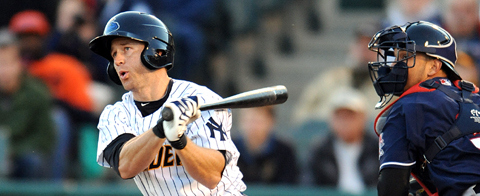 With back-to-back picks in the 2008 draft, the Yankees selected a pair of second basemen who have since developed into two of their better infield prospects. University of Virginia Cavalier David Adams signed for $333k as the team's third round pick that year while Tennessee high school shortstop Corban Joseph signed for $207k as the fourth rounder. Joseph moved to the other side of second base immediately and has never played even one inning at shortstop since turning pro.
The two players have more in common than just their position. They've both dealt with recent injuries — Adams the ankle, Joseph with a shoulder problem earlier this summer — and are hitting this year. The 25-year-old Adams owns a .313/.389/.433 batting line (134 wRC+) in 340 plate appearances for Double-A Trenton while the 23-year-old Joseph is at .275/.375/.469 (135 wRC+) with nearly as many walks (61) as strikeouts (62) in 435 plate appearances between Double-A Trenton and Triple-A Scranton. Adams does it from the right side of the plate, CoJo the left.
Both Adams and Joseph are quality middle infield prospects for the Yankees, but there's an obvious problem here: Robinson Cano is in the big leagues, and no one is taking his job anytime soon. The Yankees figure to re-sign him to what will essentially be a lifetime contract after next season, further blocking their top two upper-level middle infield prospects. They've had Adams work out at third base recently, something he will continue to do in the Arizona Fall League in a few weeks. As Kevin Goldstein noted yesterday, Joseph has neither the quickness or arm strength to handle the left side of the infield, so maybe the corner outfield is an option for him. I have no reason to think it is at the moment.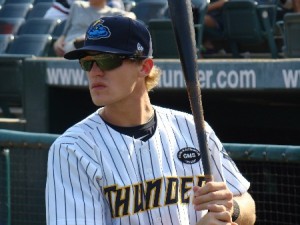 The Yankees have a logjam at second base and it's a very good problem to have. It's a difficult position to fill and the club is always going to need trade bait — heck, they already agreed to trade Adams two years ago only to have his medicals throw a wrench in things. Joseph has shown increased power this year and that's good news for a left-hander, but his lack of versatility is a negative. The biggest knock against Adams is the fact that he hasn't played a full, healthy season in three years now. He's on a strict four days on, one day off routine with Trenton just to stay healthy, and one of those four days on comes at DH. His teammates even started a good-natured Twitter account (@DayOffDave) to rag on him about his playing schedule.
I don't believe the Yankees will let Cano walk, but they do have two potential in-house replacements just in case talks blow up or something. More than likely, one of Adams or Joseph will get traded and the other will get a chance to hang around as a spare infielder. It's almost like a poor man's version of the Brian Roberts-Jerry Hairston Jr. debate in Baltimore a decade ago. There are no shortage of clubs out there looking for a quality young second baseman, and it's up to the Yankees to decide whether Adams or Joseph is the one worth keeping long-term if it comes down to picking between the two.