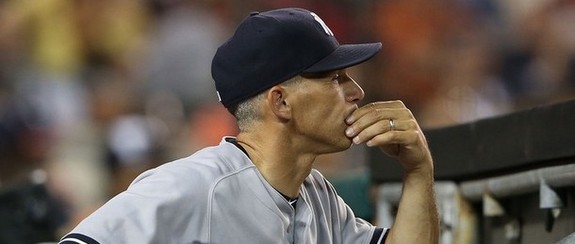 The Yankees slogged through yet another one-run loss last night, their eighth such defeat during this 6-12 stretch that dates back to the start of the West Coast trip in Oakland. They went from having a 13-9 record in one-run games to a 13-17 record in the span of two weeks. It's unbelievable how they continue to fall short in tight games like this, it really is. I suppose the good news is that they haven't been getting blown out of the water during this ugly 18-game stretch, but that really doesn't make me feel any better.
Rather than put together an organized, reasonable, and well-thought-out post on the Yankees' struggles, I'm just going to riff a bit. This seems more therapeutic.
* While the Yankees are busy embarrassing themselves in one-run games, the friggin' Orioles are now 23-6 (!) in those affairs following last night's extra-innings win. They've won a dozen straight extra-inning games, dating back to their first home series of the season when the Yankees beat them in extras twice. Maybe it's luck, maybe it's just good timing, maybe they're just oh so clutch, but whatever it is it sure is annoying. At some point the other shoe will drop, and hopefully it will happen before next season.
* You know what else is annoying? The Yankees' pitchers seem to give back every run the offense gives them in the span of an inning these days. Phil Hughes did it last night, Ivan Nova did it the night before, Nova did it again in spectacular fashion in his last start before that … the whole "shutdown innings" thing seems to have gone out the window. This has become one unwelcome habit. Maintaining a lead for more than one inning should not feel like a miracle.
* Last night's start notwithstanding, Hughes has pitched pretty well for the last three months or so. I'm going to have a little more on him later today at some point, but for now I'm just going to post a slightly scary graph…
That is Phil's strikeout rate as the season has progressed, and as you can see it's been trending downward. I didn't expect him to flirt with a whiff-per-inning all season, but after last night's showing he's down to 7.66 K/9 (20.0 K%). It wasn't that long ago that he was among the AL's top five with a 4.00 K/BB ratio, but it's now down to a still strong 3.61. It keeps going down though.
* The Yankees have absolutely missed Alex Rodriguez, who even in his declining state serves as a steady contributor in the middle of the lineup. But did you know that during his absence, a span of 12 games, the replacement third basemen have hit a combined .359/.409/.744 with four homers? Obviously it's a small sample, but damn. That's pretty awesome. Only problem is that most of the other positions are hitting like they're blindfolded.
* Eric wrote about this last week, but I can't help but look around the league at the trade deadline. Every other AL contender — the Angels, Rangers, Tigers, and White Sox — all improved themselves in significant ways via trade. The Yankees got Casey McGehee and the reanimated corpse of Ichiro Suzuki. I despise the whole "the best trade they could make is getting their own players back and healthy" idea, it seems to lazy. I want to think that 40-year-old Andy Pettitte will come back to reinforce the pitching staff and that 37-year-old A-Rod to will return to anchor the lineup, but I just don't buy it. Settling for Ichiro may hurt more than it helps.
* I think my ideal lineup right now would have a top five of Derek Jeter, Nick Swisher, Robinson Cano, Mark Teixeira, and Curtis Granderson. The more I think about Granderson leading off the less I like it only because his power is wasted with Ichiro and the catcher batting ahead of him. Plus it's not like Curtis has been doing a great job of getting on-base himself these last few weeks. The lineup doesn't mean much in the grand scheme of things, but I am a fan of tinkering. It could mean a lot in an individual game.
* Of course, my proposed top of the lineup means a whole bunch of lefties will be stacked in the lower third, and the baseball universe might collapse upon itself if that happens. Seriously though, who cares? With McGehee, Andruw Jones, and Jayson Nix, the Yankees have right-handed pinch-hitters aplenty on the bench. Having a strong group of reserves is only an advantage if you're willing to use them liberally.
* The lead in the division is down to five games in the loss column over Baltimore, the smallest it's been since the end of June. Five games is a scary number because it seems so small compared to the nine and ten-game leads New York held a few weeks ago, but five games is pretty significant. Do you know when the Yankees held their first five-game lead last year? September 19th, after their 152nd game of the season. The magic number to clinch the division is just 49. Losing 12 of 18 and still being able to have a lead that size is pretty awesome … if that's the right word.