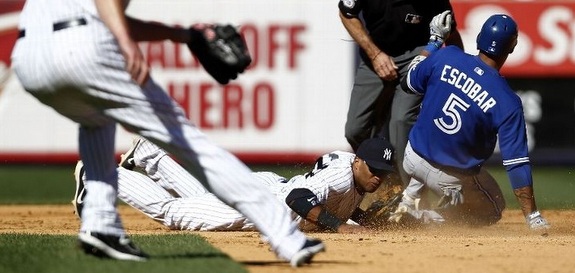 These last nine games have been just brutal. The Yankees have lost six of the nine, including three to the lowly Indians and Blue Jays. Those games should be gimme's — I probably would have been a little bummed out if they had only won four of the six. Instead, they got just three. The injuries have been piling up and their impact is starting to catch up with the club, particularly offensively. There's only so many platoon players you can sandwich into one lineup. Anyway…
1. This goes without saying, but the next ten games are enormous. Three at home against the Orioles, three at the Rays, then four at the Orioles. That's make or break type stuff for New York and Baltimore. If one of them wins seven or eight of ten, they'll probably be sitting atop the AL East in two weeks. On the other side of the coin, seven or eight losses will really bury someone. If all three clubs kinda tread water these next two weeks, it's good for the Yankees since they're already in first place. Obviously I would like to see them increase their division lead during that time, but staying in first place is most important thing.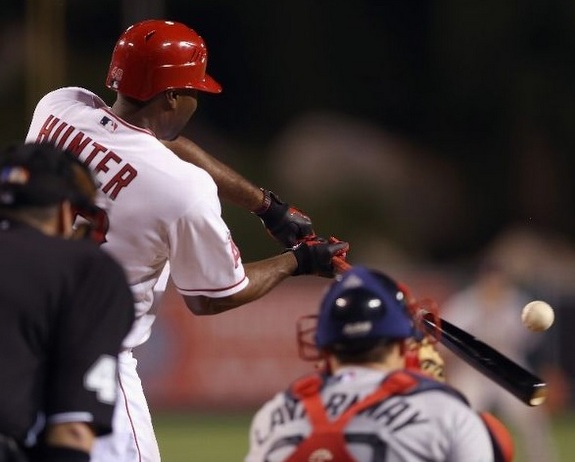 2. The Angels are a ways back (with a lot of teams ahead of them) in the Wild Card chase and I wonder if (hope?) they'd be willing to trade Torii Hunter to the Yankees like, today. Mark Teixeira and Alex Rodriguez aren't coming back anytime soon and the Bombers need the extra bat for these upcoming games. Hunter is having a decent year (.294/.347/.430) and he'd give the Yankees someone capable of hitting both lefties and righties (splits), which I consider a glaring need. They could continue to play Nick Swisher at first and not have to deal with Raul Ibanez/Andruw Jones-level defense in right as well. Hunter has expressed interest in playing for the Yankees recently, though I have no idea if he's been passed through trade waivers yet. He's due to become a free agent after the season and the Angels could save about $3M by dumping him on New York for September. The only problem is time: they would have to swing a trade by midnight tomorrow for Hunter to be eligible for the playoff roster. I wouldn't get my hopes up.
3. Since the start of August, David Robertson and Rafael Soriano have combined for a 2.22 ERA (2.64 FIP) with a 7.67 K/BB in 24.1 innings. The rest of the bullpen? They've combined for a 4.97 ERA (3.45 FIP) with a 2.92 K/BB in 41.2 innings. I actually thought the second batch of numbers would be much worse than that. Boone Logan has been the team's third best reliever all season, and Joe Girardi really doesn't have another reliable right-hander in the bullpen other than his two top guys. Derek Lowe and Cody Eppley are far too hittable while Joba Chamberlain has zero control (nevermind command) coming off Tommy John surgery. Maybe Cory Wade will be effective when he rejoins the team next month, but otherwise the only other right-handed relief help on the way is David Phelps when Andy Pettitte gets healthy and returns to the rotation. I shouldn't even say "when," I should say "if."
4. Be honest, did you really think Derek Jeter would be hitting .321/.363/.448 through the team's first 130 games when the season started? Even if you completely bought into his second half last summer and felt that the mechanical fix he made while on the DL cured him of all his ills, this still feels like 90th-percentile outcome stuff. Thirty-eight-year-old middle infielders just aren't supposed to hit like this. In fact, Jeter's 118 OPS+ is the sixth highest by the full-time shortstop that age behind two guys: Luke Appling (1947 and 1949) and Honus Wagner (1912, 1915, 1916). The only other middle infielders in the last 50 years with a 117 OPS+ at age 38 (or older) are second baseman Jeff Kent (123 in 2007) and Joe Morgan (136 in 1982). This is historic stuff from the Cap'n. Shortstops this age just aren't supposed to be this productive.