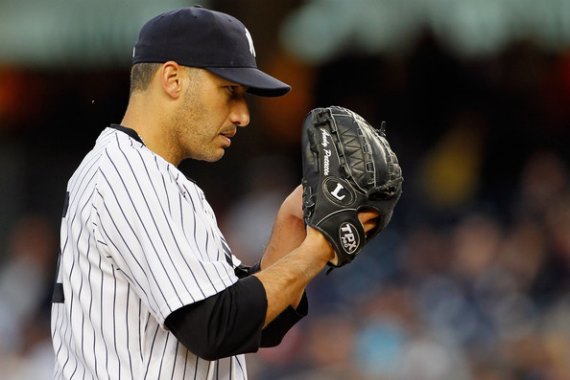 With a win last night courtesy of an absolute gem by Hiroki Kuroda, the Yankees' record stands at 69-47.  Despite their recent stretch of mediocre play, the Yankees are in great shape.  The win puts them a game and a half ahead of the Rangers for the best record in the American League, and a comfortable six games ahead of their closest competitor for the division, the Rays.  The Orioles are also hanging in there at six games back, surpassing the expectations of many (yours truly included) who thought that their hot start was a mirage.  The Red Sox, who I figured would be the Yankees' biggest threat coming into the season, have been far from that.  Those of you with Schadenfreude may enjoy reading Jeff Passan's sensationalistic account of the clubhouse problems facing Boston this season, and in particular, their star players' discontent with Bobby Valentine.  As for the last place Blue Jays, they have been decimated by injuries this season, and were never really a factor.
Considering the position of the other teams in the division, the Yankees are sitting pretty.  While a six-game lead is a nice margin, it is still close enough that the Yankees (and Yankee fans) shouldn't get complacent.  As we have seen in recent years, the stretch run can be a crazy time of year, and the large number of in-division games remaining can cut into the seemingly most secure leads.  While I am usually optimistic in my writings and ruminations, today I decided to take a look at the reasons the Yankees shouldn't get too comfortable in the catbird seat.  Just to make things clear, I do think the Yankees will likely win the division, but I wanted to explore a few of the potential barriers that remain.
 Injuries
The Yankees are missing a number of key contributors, including Alex Rodriguez, Andy Pettitte, and CC Sabathia.  Sabathia's injury is apparently not too serious, and he should be back relatively soon.  There may be a little rust, but if his elbow is healthy, he should be the reliable ace the Yankees have depended on since he signed.  While Rodriguez and Pettitte are on track to return before the end of the season, it may be optimistic to expect them to be in midseason form down the stretch.  Given Andy's advanced age and the location of Alex's injury, I expect the Yankees to take it slow with both of them, and ensure that they don't run them out there until they are fully recovered.  Consequently, they may not be in peak form for some potentially big series coming up.
The Yankees have been fortunate that the replacement players have filled in capably for the injured stars, but it may not continue.  Eric Chavez has been a revelation this season, looking like the Chavez of old at the plate and showing that he can still pick it a 3rd base.  However, given his well-documented injury issues, overuse is a legitimate concern, as the extra playing time could cause him to break down or become less effective.  Jayson Nix is OPS'ing nearly 100 points over his career average, and while I think some of that has to do with effectively platooning him to face primarily left-handed starters, there is room for regression.  While Kuroda has been a rotation anchor (and a great Twitter meme), the rest of the Yankee rotation has shown the ability to toss up the occasional stinker.  The inconsistency of Hughes, Nova, and Garcia, along with the youth and inexperience of Phelps, could create the potential for a rough stretch if they all blow up at the same time.
The Rays
The Rays may be six games back, but coincidentally, they have six games remaining against the Yankees.  Their strong pitching staff could give the Yankees fits if they start firing on all cylinders, which is certainly a legitimate possibility.  Matt Moore has turned it on of late, posting a brilliant outing last night, and looking more like the up-and-coming ace he was predicted to become after his strong debut in 2011.  The trio of David Price, James Shields, and Jeremy Hellickson are all capable of keeping the Yankee offense in check, and sometimes, absolute dominance.  Evan Longoria, Tampa's best offensive threat, recently came back from a long absence due to injury, and his return could energize Tampa's lineup and provide much-needed punch in the heart of the order.  If Longoria gets off to a hot start, his production combined with Tampa's pitching could put them on a run (like their seven-game win streak that was snapped last night).
The Orioles
Yes their success to this point seems somewhat fluky and hard to fathom, but the fact of the matter is that the Orioles have hung tough all season.  They have gotten offensive production from their key players, most notably Adam Jones.  The recent callup of stud prospect Manny Machado (who has raked in his first four games since making his major league debut) could add some energy and punch to a lineup that featured Wilson Betemit as the everyday 3rd baseman. Wei-Yin Chen and Jason Hammel have been solid in the rotation, but the other three starters have been pretty mediocre.  The Orioles have covered for this weakness very effectively by having a strong, deep bullpen.
The Machado callup was a fairly aggressive one, since he just turned 20, was in AA, and wasn't exactly lighting the world on fire there.  By rushing Machado to the majors, Baltimore is sending a pretty clear signal that they are going for broke this year, and are going to do whatever it takes to earn a playoff spot.  This may include calling up another phenom in 19 year-old Dylan Bundy, who was recently promoted to AA.  While there is substantial risk inherent in relying on two minor league callups with limited upper level experience, strong debuts by both could make the Orioles a very dangerous team come September.  The Yankees play them four more times, and should look to at least split the remaining games in order to avoid losing ground.
Despite my discussion of some pessimistic themes in this post, I think in all likelihood the Yankees should take the division.  Boston's struggles this year have definitely given me an added sense of security about the Yankees' path to the playoffs, but the fact is, Baltimore and Tampa are both close enough to make things interesting if they get on a hot streak and play the Yankees tough in their matchups.  The injuries to several key players on the Yankees does create some uncertainty, and the Rays and the Orioles are in decent position to capitalize on a Yankee slump if some things break their way.  I'm hoping none of the things I am concerned about in this post come to pass, but regardless, it should make for some interesting September baseball.