The Orioles had a chance to sweep the Yankees in the Bronx for the first time since 1986, but the Bombers avoided that fate and put an end to the four-game losing streak with a thorough beatdown of Baltimore on Wednesday afternoon.

Early Runs
The Yankees scored five runs in the first inning on Tuesday, but the bats went into hibernation after that while Ivan Nova coughed it all up. Wednesday's effort was more spread out, with two runs in the first, two in the second, and seven in the third. The Yankees went a combined 7-for-13 with runners in scoring position, including a grand slam by Robinson Cano to cap off that seven-run third inning. Six different players had run-scoring plate appearances during those first three innings. It was an all-out assault against Zach Britton. Poor kid threw 80 pitches to get eight outs.
Luck or Maturity?
Phil Hughes wasn't overly dominant — nine hits and two walks — in his six innings of one-run ball, but it was an effective outing nonetheless. The Orioles put the leadoff man on-base in the fourth (first two hitters reached), fifth (first two hitters reached again), and sixth (just one), but they didn't score a single run. It seems like Hughes has done that a lot this year, put the leadoff man on and pitch out of the jam. Is it luck/timing, or maturity? It's probably a little of both, but either way it's still good to see him pitch out of  jams that would have spiraled into multi-run innings in previous years.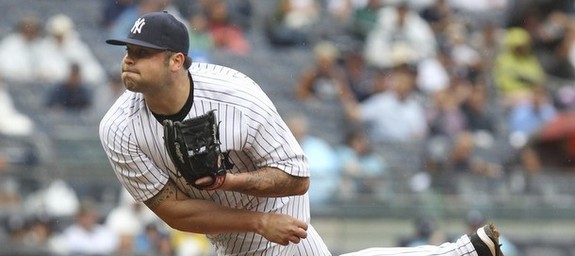 Joba Returns
After nearly 14 months on the shelf, Joba Chamberlain finally got back on a big league mound in this game. He didn't pitch all that well, allowing a solo homer to the first batter he faced and two runs on four hits in 1.2 innings overall, but it's still great to see him back out there. There's obviously lots of rust to shake off — I like that he went out for that second inning of work — but he threw all four pitches in the outing and averaged 92 on the gun. The Yankees need another non-matchup reliever in a big way and they seem to be counting on Joba to be that guy.
Leftovers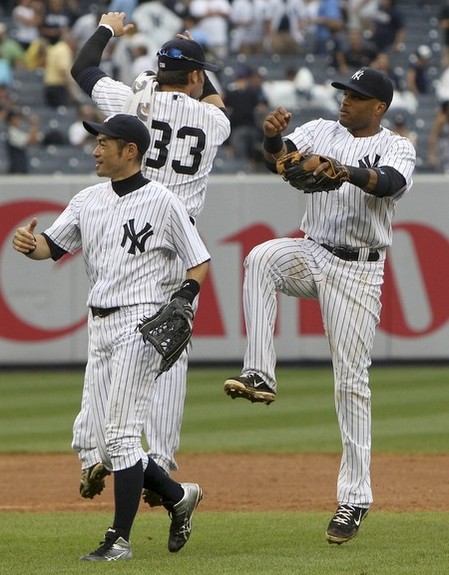 Ichiro Suzuki played his first game in left field in more than decade, making one nice leaping catch at the wall to rob an extra-base hit. He also went 1-for-5 at the plate to extend his exactly-one-hit streak to nine games, the entirety of his Yankees career. The two deep fly balls he hit in his first two at-bats might have left the park with better weather, but who knows.
Derek Jeter had three hits for the second straight day, on the heels of a .346/.375/.439 showing in June. The Cap'n doesn't walk or hit for much power these days, but there aren't many better at piling up a sheer volume of base hits like this. Led by Jeter, the top four hitters in the order went a combined 9-for-17 with a double (Nick Swisher) and two homers (Cano and Curtis Granderson).
Casey McGehee's debut in pinstripes went well — he drew two walks against the lefty Britton and went 0-for-2 with a sacrifice fly and two ground ball double plays in his three trips to the plate against various right-handed relievers. That's pretty much they're going to get out of him. The Yankees scored double-digit runs for just the sixth time this season, and the 12 runs are the second this year most behind the 15 they scored in The Great Fenway Comeback.
Clay Rapada struck out the two lefties he faced and David Robertson recorded the last two outs of the ninth for an uneventful end to the game. The Orioles went a combined 0-for-15 with runners in scoring position, but based on how we treat the Yankees when they do stuff like that, Baltimore just sucks in those situations and we give no credit to the pitchers. So I guess that means it's luck for Phil? Eh, whatever.
Box Score, WPA Graph & Standings
MLB.com has the box score and video highlights, FanGraphs some additional stats, and ESPN the updated standings. The lead in the division is back up to seven games in the loss column with 58 to play.

Source: FanGraphs
Up Next
The Yankees are off on Thursday and will welcome the Mariners to the Bronx for a three-game series starting Friday night. CC Sabathia and Kevin Millwood are scheduled to kick that one off. Check out RAB Tickets for some deals to get you in the door this weekend.