Coming into this four-game series against the other best team in the AL, I would have been perfectly cool with a split. The Yankees have done one better with a game to spare, taking the first three games from the Rangers is rather convincing fashion. Wednesday night's win came after what was nearly a two-hour rain delay.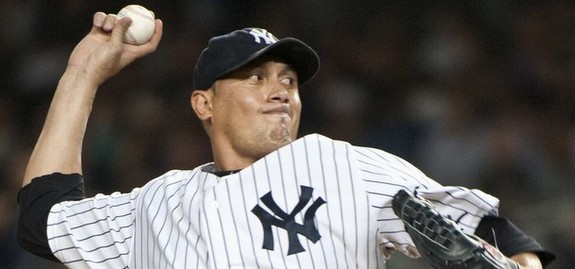 A Good Sweat
Since returning to the rotation early last month, Freddy Garcia has pitched to a 3.70 ERA (4.29 FIP) that looks a lot like the 3.62 ERA (4.12 FIP) he posted last season. On Wednesday's night he held the high-powered Rangers' offense to just two runs on four hits and a walk in 6.2 innings, striking out six and recording 18 of his 20 outs on the infield. The two runs scored on solo homers from Josh Hamilton, the second of which was one of the deepest homers ever hit at the New Stadium. It landed more than halfway up the right field bleachers. The other one paled in comparison despite landing in the second deck.
Hamilton is going to hit his homers, that's unavoidable it seems, but Freddy did a great job keeping the rest of the Texas offense off balance. He escaped a bases loaded situation in the fourth — after Eric Chavez made a rare bad play by trying to go for two when he only had the play at first, so both runners were safe — by getting Geovany Soto to ground into a 6-4-3 double play. Jayson Nix and Nick Swisher deserve credit for the turn at the base and the stretch at first, respectively. Garcia has been rock solid following his disaster April, and this time he did it against a great offense. He's very quietly stabilized the rotation.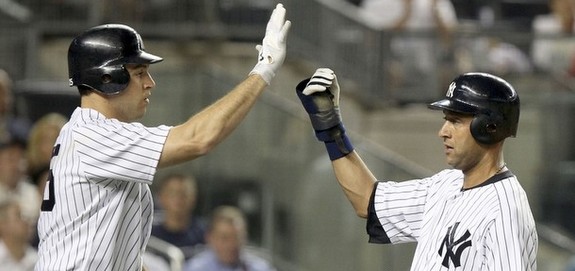 One Big Inning
On Monday it was a five-run third inning, on Tuesday it was a three-run seventh inning, and on Wednesday night it was a three-run third inning, with all three runs coming on base hits rather than those evil homers. Nix and Derek Jeter led the inning off with singles — Nix had stolen second so Jeter's knock put men on the corners — and then the middle of the order went to work. Nick Swisher has killed the Rangers with dingers all series, but this time it was just a bloop double to no man's land along the left field line. Curtis Granderson followed with a relatively deep sacrifice fly, and Chavez bailed out Mark Teixeira (strikeout) with a two-out, two-strike single to the opposite field to plate that third run.
The Yankees actually managed to put 16 (!) runners on-base in eight offensive innings, but they had a little RISPFAIL problem (3-for-11), bounced into some double plays, and had a handful runners thrown out on the bases. The first inning was the only inning they went down in order, and in four of the other seven offensive innings they put the leadoff man on-base. This one had the feel of a game where those stranded runners might come back to bite them, but they didn't because the pitching has been so excellent.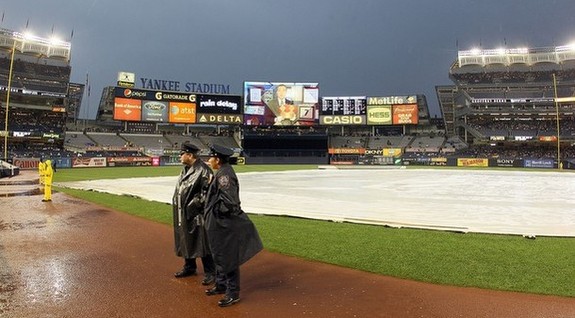 Leftovers
The bullpen trio of Boone Logan, David Robertson, and Rafael Soriano threw 2.1 innings and actually retired all eight men they faced. First base ump Marty Foster gave the Rangers an extra life in the ninth by ruling that Chavez's throw pulled Swisher off the bag at first on Nelson Cruz's ground ball. Replays showed that Swisher had kept his foot on first, but I guess it's no big deal since the next batter grounded out harmlessly to end the game. After all his trouble with 1-2-3 innings earlier this year, Soriano nailed down his first 1-2-3-4 inning of the season for the save
Forgive me while I gripe, but I would have liked to see a pinch-hitter for Raul Ibanez against left-hander Robbie Ross with men on first and second and two outs in the seventh. He walked so it doesn't really matter, but we've been seeing Ibanez left in to face lefties in the late-innings of close games all season and it bugs me. The easy move to make would have been Andruw Jones (outfielder-for-outfielder), but the best move would have been pinch-hitting Casey McGehee. Once the inning is over, you stick McGehee at first and move Swisher to the outfield. Eh, whatever. Moot point.
You know what else? I actually thought having Jeter bunt with men on first and second with no outs in the eighth was a good idea. The goal there is to just get an insurance run since they already had the lead. Instead, Jeter pops the bunt up, Mike Adams lets it drop, and they manage to turn it into a double play. See what happens when I advocate for a bunt? The baseball gods are cruel.
Chavez just continues to be a one-man army, going 3-for-3 with a walk to raise his season line to a stout .303/.362/.547. Ichiro Suzuki and Nix combined for four infield singles (two each) at the bottom of the order while Ibanez singled and had two walks. That's a combined eight times on-base from the 6-7-8-9 hitters. The only batter in the lineup not to reach base was Teixeira, who struck out three times in four trips to the plate.
Box Score, WPA Graph & Standings
MLB.com has the box score and video highlights, FanGraphs the advanced statistics, and ESPN the updated standings. As you've surely heard by now, Felix Hernandez threw a perfect game against the Rays on Wednesday afternoon, so Tampa is seven games back. I'm not joking, Felix might have had the best stuff I've ever seen in a single game. Here's the video if you don't believe me. He was out of this world. The Orioles beat the Red Sox (again), so they're six back. The Yankees became the first AL team to win 70 games on Wednesday, and the magic number to clinch the division is down to just 40.

Source: FanGraphs
Up Next
The Yankees will look to complete the four-game sweep on Thursday afternoon, when Ivan Nova gets the ball against Derek Holland. Hopefully Nova can build off his strong start in Toronto.  If you want to catch the matinee live, then check out RAB Tickets for some last minute deals.