The Yankees suffered a really brutal loss on Monday night, but good teams turn the page in a hurry and move on to the next day. New York rebounded well on Tuesday night, with a tight but very well-pitched 2-1 win over the Blue Jays in game two of their three-game set.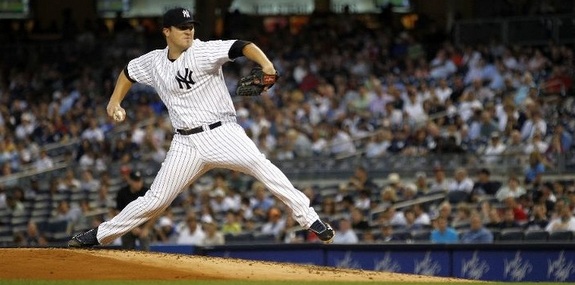 Hughes Steps Up
The middle relief has been shaky and the offense sometimes nonexistent, but Phil Hughes really stepped up on Tuesday to throw seven strong innings against a team that smacked him around the park a little more than two weeks ago. After emphasizing his changeup the last two times out, Hughes broke out a slider against Toronto and used it to hold their right-handed batters to just four hits and two walks in 22 at-bats with five strikeouts. One of those four was the requisite solo homer, but otherwise he held those guys in check after they battered him around for most of the season.
Phil didn't do it alone though, he got some huge help from Robinson Cano in the form of an inning-ending double play in the sixth. Cano jumped to snag Yunel Escobar's line drive before firing to third to double off Colby Rasmus. It was an insane play, he got rid of the ball in a heartbeat. Hughes allowed just one run in seven innings, his third consecutive start of at least seven innings and no more than two earned runs. The Yankees needed some length out of their young right-hander after the beating the bullpen took last night, and he really responded with exactly what they needed.

Manufactured Runs
With runs proving difficult to come by these last few games (Monday night notwithstanding), the Yankees went back to the drawing board and scored their two runs the old fashioned way: they manufactured them. Jayson Nix got it all started with one out in the third, singling through the 5.5 hole before moving up to second on Ichiro Suzuki's infield single. A Derek Jeter sacrifice fly got him over to third, then Nick Swisher came through with yet another big two-out run-scoring single. He's had quite a few of those lately.
The Yankees did it again the next inning, thought this time it started with a Steve Pearce leadoff walk. He advanced to second on a wild pitch, slid over to third on Russell Martin's ground out, then came in to score on Curtis Granderson's sacrifice fly. The first rally needed three base hits to score one run while the second had zero hits to score that same one run. Baseball! Those were the only two runs the Yankees would get and ultimately need.
Leftovers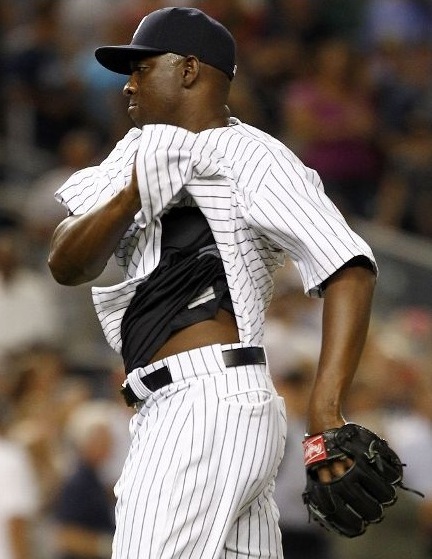 Rafael Soriano was out of his mind good in the ninth despite pitching for the third straight day. He ran his fastball up to 96 and got swings and misses on all three sliders he threw. You can tell there was some anger behind those pitches, he was absolutely filthy. David Robertson, also pitching for the third straight day, chipped in an easy and efficient eighth inning. Those two retired all six men they faced and Soriano whiffed a pair. Between them and Hughes, ten of the last eleven Blue Jays made outs.
Pearce became the first player to made his Yankees debut as the cleanup hitter since Glenallen Hill back back in 2000. He went 0-for-2 with the walk and a strikeout. The three through seven hitters went a combined 0-for-17 with Pearce's walk and four strikeouts. The 8-9-1-2 cycle of hitters went 5-for-13. The Yankees didn't have a single extra-base hit on the night, instead opting for some timely singles.
I thought home plate ump Ed Hickox had a pretty tight strike zone, particularly the outside corner to right-handed batters. PitchFX confirms that I'm not crazy, but the zone wasn't as severe as I expected. Anyway, Hughes struck out the final batter he faced for his 500th career strikeout. Congrats to him.
Box Score, WPA Graph & Standings
MLB.com has the box score and video highlights, ESPN the updated standings. The Orioles won while the Rays lost, so those two clubs are now three and five games back in the AL East, respectively. The magic number to clinch the division is 31.

Source: FanGraphs
Up Next
CC Sabathia will make his second start off the DL in the rubber game on Wednesday afternoon, when he'll be opposed by fellow southpaw J.A. Happ. I gotta think Soriano and Robertson will be unavailable, so lots of innings from the big guy and lots of runs from the offense will be appreciated. Check out RAB Tickets for some last minute deals if you want to catch the matinee.