What was once ten is now zero. The Yankees lost to the Rays (again) while the Orioles beat the Blue Jays (again) on Tuesday, meaning the two teams are now tied atop the AL East with identical 76-59 records. Lost in all this is the fact that New York is now just two games up on the second Wild Card slot. There's no more cushion, folks.

Two Runs Then Nothing
It was important for the Yankees to get out to a fast start on Tuesday, simply for their own peace of mind. Robinson Cano provided a pair of quick runs with an opposite field two-run dinger four hitters into the game, driving in Nick Swisher after he drew a two-out walk. That was exactly what the Yankees needed, a little breathing room early. Unfortunately, they never scored again.
Chris Dickerson managed to get to third base with two outs in the second (walk, stolen base, wild pitch), but Chris Stewart couldn't bring him home. Derek Jeter (single) and Curtis Granderson (hit-by-pitch) reached base to open the third, but a strikeout and a 1-6-3 double play ended the threat. The Yankees were never really heard from again. Right-hander Alex Cobb retired 14 of the next 15 men he faced and the last ten overall, stifling the Yankees by generating ground ball after ground ball (13 grounders, three fly balls, five strikeouts) with his offspeed stuff. Sixteen of the last 18 men the Bombers sent to the plate made outs. If Cano's dinger sparked the team, they sure had a funny way of showing it.

Two-Strike Freddy
The Yankees needed innings out of Freddy Garcia on Tuesday, both quality and quantity. Instead they got five runs in 5.1 innings, including three homers. The best part: all three homers came in two-strike counts. The other best part: the other two runs were scored by baserunners who reached base in two-strike counts. Garcia managed to get two strikes on 13 of the 24 hitters he faced (not counting hitters who put the ball in play in a one-strike count), and seven (!) reached base. That's just abysmal.
Freddy put nine men on-base in his 5.1 innings, meaning he's retired just 42 of the 68 hitters he's faced in his last three starts. That's a .382 OBP for the opposition and it's terrible. He didn't give his team much of a chance in this one, giving back one of those two first innings run in the span of two batters before the homerun derby started in the third. So much for the Rays struggling against finesse pitchers who change speeds and work the corners, eh?
Leftovers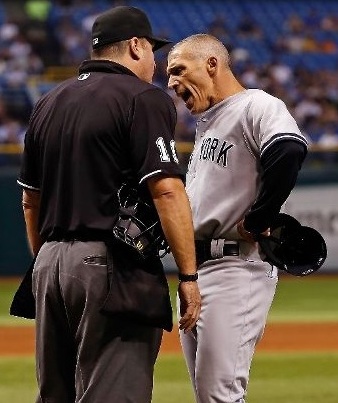 Joe Girardi got tossed in the middle of the fourth after Dickerson appeared to call time before taking a called strike three to end the inning. I couldn't really see what happened from where I was sitting, but Girardi didn't go down without a fight. That much I saw. If it was an attempt to fire the team up, I give him credit for the effort even though it failed miserably. For what it's worth, he declined to comment about the ejection and wouldn't even acknowledge the reason for the argument after the game.
For the fifth straight game, the Yankees finished with no more than six hits. That's their longest such streak since 1990 (!), and if you can remember back that far, that team was horrible. Like 95 losses horrible. They've scored no more than three runs in nine of their last 13 games, which is also horrible. The Yankees struck out nine times against three Tampa pitchers, walked once, and had the lone hit-by-pitch as well. Going back to the start of the Orioles series, this all-important ten-game stretch, the Bombers have a team .246 OBP. Stewart has a .273 OBP this season, for reference.
If you're looking for some silver lining, pretty much the only thing I have to offer is that Cody Eppley retired all five men he faced while Joba Chamberlain threw his first 1-2-3 inning since coming off the DL. He actually looked pretty good, but one outing means nothing as far as his return to effectiveness. In between those two, Clay Rapada walked the only man he faced. It's the third time in his last six outings he's failed to retire his assigned batter.
Box Score, WPA Graph & Standings
MLB.com has the box score and video highlights while ESPN has the updated standings. As you already know, they're now tied for first and just two games up on the second Wild Card. So much for an easy September.

Source: FanGraphs
Up Next
The Yankees will try to salvage the final game of this miserable series on Wednesday night, when Hiroki Kuroda opposes Matt Moore. Save us HIROK, you're our only hope.