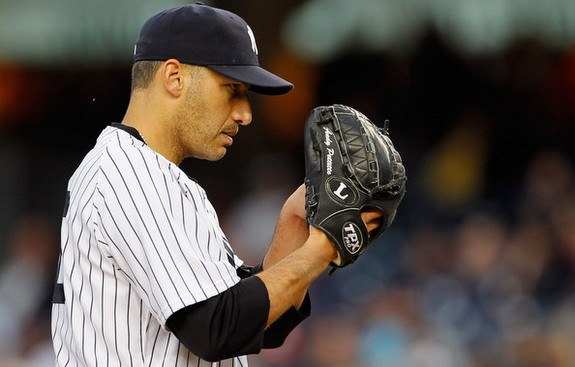 Mother Nature threw a wrench into things last night, but Andy Pettitte will finally get back on the mound for the Yankees this afternoon. The team went just 37-35 during his absence, and it's probably not an accident that the second half slide began not long after Pettitte got hurt. He was pitching like a bonafide ace, and you can't replace that kind of performance. Here's the starting nine…
LF Ichiro Suzuki
1B Nick Swisher
2B Robinson Cano
DH Alex Rodriguez
CF Curtis Granderson
C  Russell Martin
3B Eric Chavez
RF Raul Ibanez
SS Eduardo Nunez
LHP Andy Pettitte
This afternoon's game is scheduled to start a little after 1pm ET and can be seen on YES. Enjoy.
Derek Jeter Update: Prior to the game, Joe Girardi said his plan is to have Jeter (ankle) play shortstop in the second game of the doubleheader. That is subject to change depending how he feels during pre-game workouts, of course.
Brett Gardner Update: Girardi also said that as of right now, there are no plans to activate Gardner (elbow). He'd be limited to pinch-running and late-inning defense roles anyway.