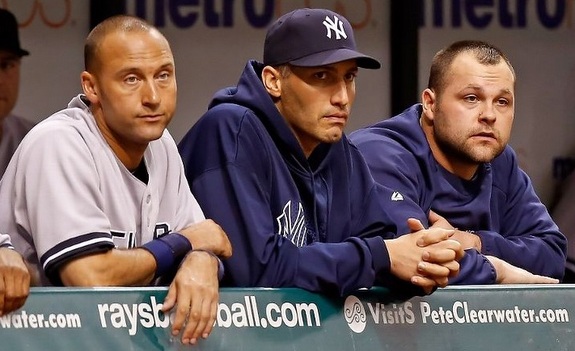 The Yankees have played impossibly bad baseball for a little less than two months now, ever since they went out to the West Coast and got swept in four straight one-run games by the Athletics. It's easy to forget that they'd won five of their first six games after the All-Star break immediately prior to that road trip. New York was ten games up after beating the Blue Jays on July 18th and 48 days later, they're tied for the division lead for the first time since June 11th. It's ugly.
A fall from grace like this takes a total team effort. The starting pitching needs to be bad at times, the offense needs to be bad at times, and the bullpen needs to be bad at times as well. Lately all three seem to have performed poorly simultaneously. Here's a quick breakdown of some things that have gone wrong during his 48-day slide…
The Bottom of the Order
As a team, the Yankees have hit .253/.315/.416 as a team during this stretch, which is almost exactly league average. This is a team that hit .265/.339/.467 in their first 91 games of the season, which was approximately 15% better than league average. Quite a fall.
Most of the blame goes to the bottom third of the order, the 7-8-9 hitters. Those three spots have combined for a .236/.286/.374 batting line during these 48 days, which is just unfathomably bad. The primary offenders have Raul Ibanez (.202/.284/.356), Russell Martin (.230/.304/.377), and Ichiro Suzuki (.273/.299/.402 as a Yankee) just because they've spent the most time hitting there. Once upon a time, guys like Nick Swisher and Brett Gardner were batting in the bottom third of the order. That level of lineup depth has completely disappeared.
Too Many Homers
Since opening up that ten-game lead on July 18th, the pitching staff has allowed 54 homers (!) in 44 games. That's a 1.25 HR/9 as a team, and don't just blame Yankee Stadium — they've surrendered 27 dingers in 22 road games (1.29 HR/9). Obviously Phil Hughes (1.96 HR/9) is the poster boy of the homer problem, but David Phelps (1.35 HR/9), Freddy Garcia (1.76 HR/9), and even CC Sabathia (1.44 HR/9) should not be absolved of blame. The one guy keeping the ball in the park is the one guy everyone thought would have trouble doing so before the season: Hiroki Kuroda (0.66 HR/9).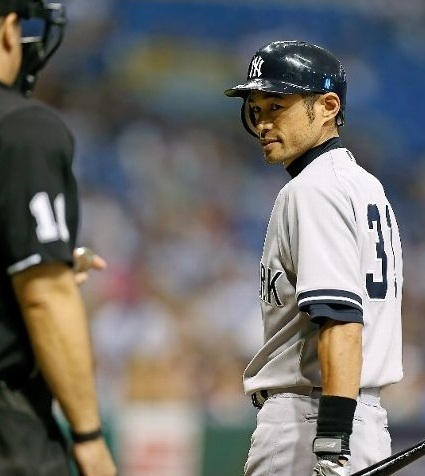 The Trade Deadline
This kinda ties into everything else, but the Yankees didn't make a single significant move to improve the team at midseason. When Ichiro is your impact acquisition, you failed. Casey McGehee and Steve Pearce were brought in to hit lefties and they haven't done much of that in their limited time. Rather than seek out the quality middle reliever they needed following the loss of Mariano Rivera, the Yankees opted to wait for Joba Chamberlain while supplementing with Chad Qualls and Derek Lowe. Those three have combined for 16 runs allowed on 44 baserunners in 18.2 innings during this 48-day stretch. The help the team needed was not the help it acquired.
Losing to the Losers
During these 44-games, the Yankees have played seven series and 21 total games against teams with a sub-.500 record. They've won just 12 of those 21 games. That's a winning record obviously, but they haven't fattened up their record enough against the clubs their supposed to beat. The old mantra is pound away on the bad teams while playing even against the good teams, but the Yankees haven't really held up the first end of the bargain (or the second, for that matter). Sixteen of their final 27 games will be played against clubs with a losing record, and they need to do better against those teams than they have been.
Injuries!
I hate using injuries as an excuse but you can't ignore their impact. Of these last 44 games, Alex Rodriguez has played in just eight and Mark Teixeira just 32. Andy Pettitte, Gardner, and Rivera have obviously played in zero. It's common sense that older players are more prone to injury but some of those injuries are just flukes. Mo tripped while running. Andy Pettitte got hit by a comebacker. A-Rod took a pitch to the hand. Do younger players not get hurt long-term in those situations? Eh, that's very debatable given he nature of the injuries. The point is that's an awful lot of lost talent to overcome.
* * *
There are plenty of other factors that led to the Yankees blowing their big, cushy lead — Curtis Granderson's three-month long slump, Robinson Cano's complete inability to drive in any runner besides himself on a homer, every reliever not named David Robertson or Rafael Soriano, etc. — but those five factors above really stand out to me. The most frustrating part is that the Yankees have typically excelled in those departments in recent years. The bottom of the order was always productive, the pitching staff always found a way to keep the ball in the park relative to what was expected given the division and ballpark, and they did so much damage against sub-.500 teams that people actually thought it was a fault. This kinda stuff was never really a problem, but I guess this now is just the perfect storm.