Despite all the RISPFAIL, this was an awesome win. The Yankees topped the Blue Jays by the score of 2-1 on Wednesday night, a few hours after beating them in the first game of the doubleheader. Hard to top two wins in one day … or six wins in seven games for that matter.
The Ichiro! Show
As painful as it can be to sit through a fading star's decline years, there's nothing quite as fun as watching them turn back the clock for a day. Ichiro Suzuki carried the Yankees all day on Wednesday, going 3-for-4 in the afternoon game and 4-for-4 with four steals (!) in the nightcap. His seventh and final hit of the day plated the game-winning run in the bottom of the eighth, a little bloop single to the opposite field to score Curtis Granderson from third. Nothing fancy, which is pretty much the story of Suzuki's career.
Perhaps the most impressive part of the four-hit game is that all four hits came off left-handers — the first three off Ricky Romero and the fourth against Aaron Loup. The Yankees acquired Ichiro to essentially be a platoon left fielder, but Andruw Jones has been so brutally ineffective in the second half that Suzuki will be pressed into full-time duty going forward. This effort certainly gave everyone some confidence in his ability to contribute against pitchers of either hand. Oh, and Ichiro became the first Yankee to steal four bases in one game since … you're not going to believe this … Tony Womack back in May 2005. He actually did it twice in the span of four days. Crazy.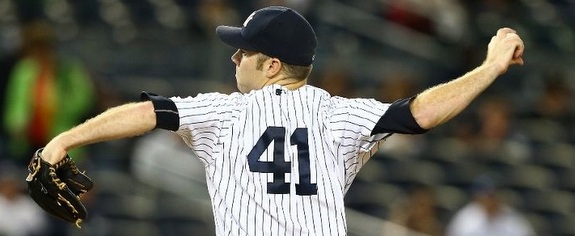 Big Phelp
The Yankees needed some length out of David Phelps after running through their core relievers in the afternoon game, and he responded with 6.2 innings of one-run ball on a career-high 110 pitches. He surrendered just three singles and three walks while striking out six, and ended his outing by retiring 13 of the final 16 men he faced. Boone Logan had to bail him out of a bases loaded, two outs situation in the seventh, but otherwise Phelps cut right through a lineup that featured zero players with an OBP north of .325.
I thought the key for David was his curveball, which helped him escape a 35-pitch second inning after allowing just one run. He leaned on the pitch heavily the second and third through the order, throwing it 27 times for 19 strikes. Seven of those 19 were swings and misses, another seven called strikes. That's pretty awesome, the pitch was definitely working for him. With a Game Score of 67, this was the best start of Phelps' young big league career (not that Game Score is any kind of definitive stat, just convenient). It'll get overshadowed because of Ichiro!, but he was dynamite.
Double #Untuck
You really have to give it up to Rafael Soriano. Dude nailed down a four-out save in the afternoon then came back for more in the nightcap, tossing a perfect 1-2-3 ninth inning for his second save in six hours or so. I actually thought his stuff looked nastier in the second game than in the first, so maybe that was an adrenaline thing. Either way, majors props to Soriano, who's been a godsend for the Yankees in the wake of Mariano Rivera's injury. He racked up saves #41 and #42 on Wednesday.
I don't want to leave anyone out, so Logan deserves similar praise for appearing in both games. He retired the only man he faced in Game One before chipping in a scoreless inning in Game Two, including a big ground ball out to escape that bases loaded jam in the seventh. That was the biggest out of the game I think, rather easily too. Cody Eppley got the win by striking out the only man he faced, so hooray for that. Great job by the bullpen to take care of business in two close games.
Leftovers
The Yankees scored their first and only other run of the game in the second, when Chris Stewart doubled in Casey McGehee (remember him?) with a two-out line drive down the line. That was a big and frankly unexpected hit. Stewart also threw out Rajai Davis trying to steal in the third and it wasn't even close, he had him gunned down by a few feet. Add in two walks and you've got a damn productive day from the backup catcher.
I feel like it's worth mentioning that all three runs in the game scored after the runner reached base on a walk. Romero walked four of the first eleven men he faced and five in six innings overall, but the Yankees didn't capitalize enough. It was an annoying repeat of the Jon Lester game from a week ago, when he walked everyone but never paid for it. Three-for-14 with runners in scoring position — including multiple fails by Derek Jeter, Curtis Granderson, and Alex Rodriguez — is how you put 16 men on-base in eight offensive innings (and steal seven bases as a team!) and only score two runs.
Jeter singled on Romero's first pitch of the game, his 200th hit of the season. He tied Lou Gehrig for the most 200-hit seasons in franchise history with eight, and he's eight hits away from tying Pete Rose for the most hits by a 38-year-old player in baseball history. Wowza. The Cap'n also has a 13-game hit streak.
Box Score, WPA Graph & Standings
As always, MLB.com has the box score and video highlights while ESPN has the updated standings. The Rays pounded the Red Sox, so they remain seven back in the loss column in the division race. The Orioles are out in Seattle facing Felix Hernandez and the Mariners, so if they win they'll and their win means they remain one back in the loss column. The magic number is down to 14 and could drop to 13 if Baltimore losses.

Source: FanGraphs
Up Next
These two teams will wrap up this series with just one game on Thursday. Phil Hughes will get the ball against former Yankee Aaron Laffey in the nightcap. Check out RAB Tickets if you want to catch that one live.