That loss stings. The way the Yankees lost wasn't particularly painful, it wasn't a walk-off or something gut-wrenching like that, but they had a lead as late as the seventh and failed to convert that into a win and increase their division lead. Bah.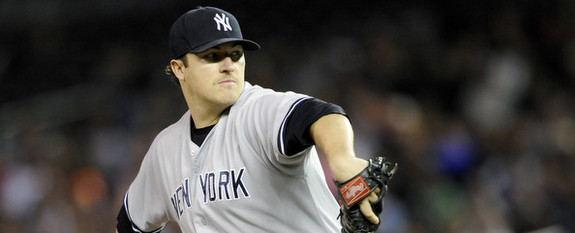 Tough Luck
Phil Hughes and his terrible mustache didn't pitch nearly as poorly as his pitching line — 6.2 IP, 6 H, 4 R, 4 ER, 1 BB, 4 K — would lead you believe. He allowed a run in the fourth on a bloop/Raul Ibanez defense combination, but otherwise cruised through the game until things got hairy in the seventh. Ryan Doumit led off the inning with a legit single to center, then Chris Parmalee worked a hard-fought eleven-pitch walk to put men on first and second with no outs. A pop-up and an infield single later, the bases were loaded with one out.
Nine-hole hitter Pedro Florimon whacked his first career homer on Monday night, but he's not really much of a power thread. Hughes still managed to fall behind him 3-1 with the bases loaded, though two high fastballs for swinging strikes set him down for the second out. Florimon walked 33 times unintentionally in 472 minor league plate appearances this season, and I think that anyone with a modicum of plate discipline would have taken either the 3-1 or 3-2 pitch for ball four to force in a run. Phil got away with it though, and rather than get a chance to escape the jam Joe Girardi pulled the plug with four straight lefties due up and his pitch count at 99.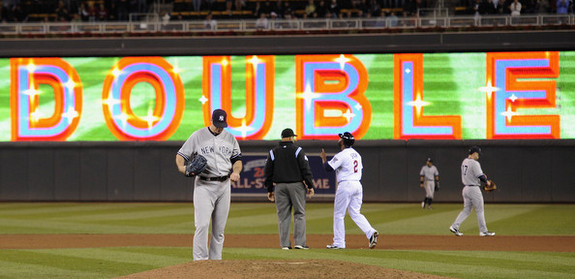 They're Not Saying Boone, They're Saying Boo
Maybe appearing in every other game for the first five months of the season wasn't such a great idea after all. Boone Logan assumed that bases loaded, two outs jam from Hughes and promptly allowed three straight lefties to reach base, but not before uncorking a wild pitch to allow a run to cross the plate. Denard Span tagged him for a double, Ben Revere drew a walk, then Joe Mauer hit a single. Just like that, the 3-1 lead became a 5-3 deficit.
Now there is no shortage of second-guessing opportunity here. Span hits lefties better than righties and Hughes had retired him all three times (on ground balls) earlier in the game, but at the same time the right-hander was leaving a lot of pitches up in the zone and had already thrown 25+ pitches in the inning. Span isn't much of a power threat but Phil is certainly capable of giving up a homer to anyone at any time. At the end of the day, not matter which move you think was the correct one — leaving Hughes in or going to the bullpen — the loss falls squarely on the shoulders of Logan. The primary lefty specialist can't allow the first three lefties he faces to reach base. That's the ballgame right there.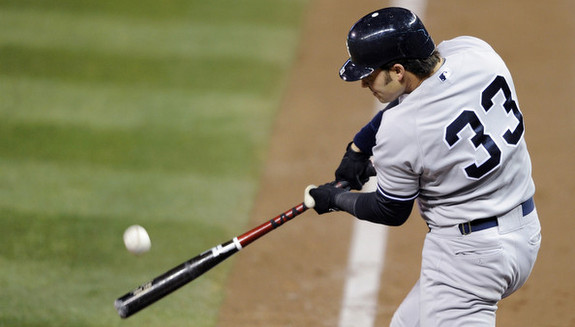 Leftovers
The Yankees scored all four of their runs on homers, which is entertaining because Target Field is supposed to be a pitcher's park. Nick Swisher opened the scoring with a two-run homer in the fourth, his third straight day with a dinger. Russell Martin hit a solo shot on the first pitch of the seventh, then Andruw Jones delayed the inevitable with a solo shot with two outs in the ninth. You can't even blame RISPFAIL for this one, they only had one at-bat in those situations (Swisher fouled out to end the first with men on the corners).
In hindsight, the two strike 'em out, throw 'em out double plays look much bigger considering the final score. Ichiro Suzuki and Martin were thrown out trying to steal second to end the third and fourth innings, respectively. Alex Rodriguez and Raul Ibanez did the strikeout honors. I get sending Ichiro, but Martin? I know he's fast for a catcher, but you're pushing it there.
Robinson Cano came into the game in a 3-for-25 skid but singled in each of his first three at-bats. He drew a walk the fourth time up. A-Rod and Curtis Granderson continued their struggles with a pair of 0-for-4s. The 9-1-2-3 stretch of hitters went a combined 2-for-16, so Cano didn't have much of an opportunity to do damage with men on-base. Being held to two runs in six innings by Esmerling Vasquez is quite annoying.
Derek Jeter waited until his final at-bat to get a hit on Monday, but on Tuesday he took care of business his first time up. The single to right extended his hitting streak to 19 games, the third longest of his career and longest since 2007. Ichiro singled later in the game, and his hitting streak is at a much more modest eight games.
Box Score, WPA Graph & Standings
MLB.com has the box score and video highlights while ESPN has the updated standings. The Orioles lost to the Blue Jays thanks in part to former Yankee Aaron Laffey, so the lead in the AL East remains two in the loss column. Really would have been nice to stretch that to three. The Rays beat the sad, sad Red Sox and are five back. The magic number to clinch the division is down to seven while the magic number for a playoff spot is still just five. So close.

Source: FanGraphs
Up Next
Same two teams in the rubber game on Wednesday afternoon, when CC Sabathia will look to build on his dominant start against the Athletics. He'll be opposed by right-hander Sam Deduno. The matinee starts at 1pm ET.