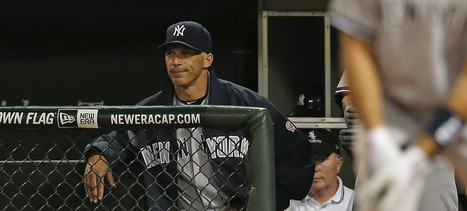 The Yankees are mired in a brutal second half slide that has seen them lose 27 of their last 52 games and blow a ten-game division lead. They still remain tied atop the AL East because the Orioles can't seem to find a way to break through to take over sole possession of first, but any time a team crashes as hard as the Bombers have, the manager's job security will come into question. Fair or not, it happens.
Two weeks ago I said that I would be surprised if Joe Girardi keeps his job through the winter if the Yankees miss the postseason only because situations like that call for a scapegoat, and the manager is as good a scapegoat as any. Ken Rosenthal wrote yesterday that Girardi is "a good manager who doesn't deserve to be fired" while also acknowledging that he's likely to be on the hot seat if the Yankees fail to make the postseason. Although Girardi was hand-picked for the job by Brian Cashman and Hal Steinbrenner and remains under contract through next season, I can't imagine a second playoff-less season in five years would sit well.
It's probably worth noting that Girardi has had some blow-ups in recent weeks — he lashed out at a fan in Chicago and got into a shouting match with Joel Sherman after calling him into his office — which were very uncharacteristic. Could the stress of the collapse be getting to him? Maybe, maybe not. We'll never know, but the narrative can be spun any way you choose. Point being, the two incidents could give the brain trust more of a reason to part ways with their skipper of five years after the season if there is no October baseball in the Bronx.
What happens to Girardi if the Yankees miss the postseason?