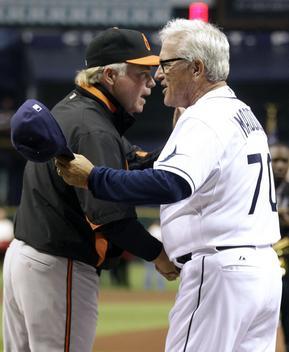 Despite last night's win, the Yankees are still in the middle of a borderline disaster ten-game stretch that has seen them go just 2-4 in the first six games. Their big and comfortable AL East lead has disappeared and right now they're just one game up with 26 to play. We're used to the Yankees battling the Rays for the division crown, but the Orioles are new to the mix this season after 15 years of being non-competitive. Because of that recent history, it's easy to write them off. Heck, I did it pretty much all season up until about two or three weeks ago.
In a lot of ways, these current Orioles are similar to the 2008 Rays, who just snuck up on everyone and became good all of a sudden. I think the young talent on that 2008 Tampa team — Evan Longoria, Jamie Shields, David Price, B.J. Upton, Carl Crawford , etc. — is way more impressive than what they have going on in Baltimore, but Buck Showalter has his team in the race in early-September and they deserve a ton of credit for that, even if Nate McLouth is batting third.
It's obvious this four-game weekend series with the Orioles has enormous division title implications, but we can't forget that the Rays are right there as well. They're three back in the division, one good weekend from taking over first place. All three of the AL East contenders have different strengths and weaknesses, and yet they're all essentially in the same position with roughly four weeks to go. The Yankees are fortunate that because they're currently in the lead, they control their own destiny and theoretically don't need help from anyone else.
Anyway, with a few hours to go before first pitch tonight, I figured it was a good time to see who you folks consider to be the biggest threat to the Bombers in the division race. Both the O's and Rays are dangerous but I personally believe one of those two clubs is more dangerous than the other. You might feel differently, so let's find out…
Who is the biggest threat to the AL East crown?