For the fourth straight year and 11th time in the last 12 years, the Yankees have won 90 games. Their 8-2 win over the Twins on Wednesday afternoon gave the Bombers the series win, but more importantly it inched them ever closer to a playoff berth and a second straight AL East crown.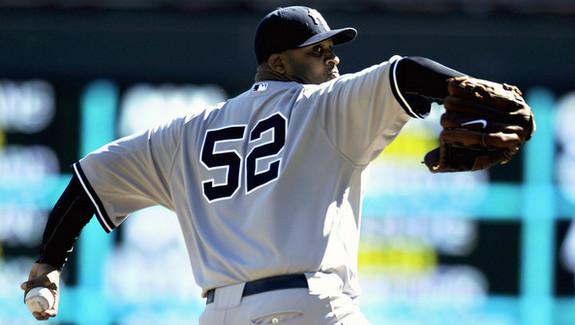 CC on Cruise Control
The second half has been a bumpy road for CC Sabathia, but he dominated the Athletics last week and carried that over against the Twins on Wednesday. He allowed just two runs — on singles by former Yankees farmhand Matt Carson and Pedro Florimon, the second of which deflected off of Sabathia's leg and away from Robinson Cano at second — in eight innings, striking out ten against just two walks. At one point he retired 14 of 16 batters faced and ended up throwing 118 total pitches.
Sabathia struck out the side on ten pitches in the fourth inning, so he was dangerously close to an Immaculate Inning. He also struck Joe Mauer out three times on nine total pitches (!) before getting a first pitch ground out in his fourth at-bat. It's only the sixth time in Mauer's 1,059-game career that he's whiffed three times in one game (!!), and Sabathia joins Ryan Dempster and former 21-game loser Mike Maroth as the only pitchers to singlehandedly strike him out three times in a single game. CC is now the only guy to do it twice. More importantly though, he's starting to round into form and that's very, very good news for the Yankees.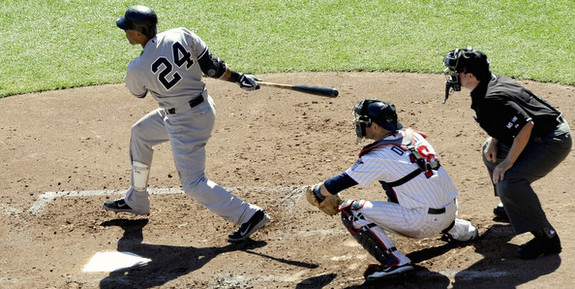 Bring In The Lefty? Six-Run Third
The third of three Twins starters probably no one heard of coming into the series, right-hander Samuel Deduno lasted just five outs and 30 pitches due to a left eye issue. Ron Gardenhire replaced him with left-hander Brian Duensing, which seemed like a problem for the Yankees because six of their nine starters were lefties. Duensing struck out Raul Ibanez to end the second inning, but it was all downhill for the 2009 ALDS Game One Starter from there.
After Chris Stewart opened the third with a ground out, the left-handed Chris Dickerson grounded a two-strike single back up the middle to start the rally. Ichiro Suzuki followed with a single to almost the exact same spot, then Derek Jeter drew a walk to loaded the bases. The day's 3-4-5 hitters plated five total runs with a two-run double to right (Cano), a one-run single to right (Nick Swisher), and a two-run triple into the right field corner (Curtis Granderson). Granderson scored on a wild pitch as Eric Chavez was being walked, then Duensing's day was over after retiring Ibanez for the second time. Of the seven left-handed hitters the southpaw faced, five reached base. Ibanez was the only one who didn't. I guess that strategy backfired.
Leftovers
Jeter took an 0-for-4 with a walk, so his hitting streak came to an end at 19 games. It was the third longest streak of his career. The Cap'n has still reached base in a season-high 27 games though, and that's the fifth longest single-season streak of his career. Pretty neat. Ichiro extended his hitting streak to ten with a 2-for-4 afternoon.
Dickerson plated some extra insurance runs with a two-run blast off the facing of the right field upper deck in the sixth inning. I'm telling you, the guy can hit righties. He can also play some strong defense in all three outfield spots and is a high-percentage base-stealer. Not calling him an All-Star or anything, but C-Dick is a better player than most people realize. Ichiro, Cano, Ibanez, and Dickerson all had two hits while Swisher (single, walk), Chris Stewart (single, walk), and Chavez (two walks) all reached twice as well.
Cano had himself a nice day at the plate with the two-run double, but he also turned several nice plays in the field as well. Some were solo jobs coming in on ground balls, but on two occasions he teamed up with Swisher on relay plays at the bag, like the play above. Brett Gardner also got into the game in the ninth inning, taking over in left field for the final three outs. He didn't have to make any plays because Cody Eppley didn't allow anything to be hit out of the infield.
Chavez forgot how many outs there were in the fifth inning, simply stepping on third base and trotting towards the dugout with runners on first and second with one out. I don't think it would have been a double play anyway because he was playing back and the speedy Florimon was running down the line, but still. He can't be making mistakes like that. Sabathia escaped the inning unscathed but had to throw four extra pitches, assuming the double play would have been turned.
The six runs the Yankees scored in the third was their fourth highest-scoring inning of the season. They've scored seven runs in one inning on three separate occasions this season, including in both the seventh and eighth innings of the 15-9 comeback win in Fenway Park. They also plated seven in one inning as part of a big win over the Orioles on August 1st.
Box Score, WPA Graph & Standings
MLB.com has the box score and video highlights while ESPN has the updated standings. The magic number to clinch the division is down to six while the magic number to clinch a postseason berth is just four. Those numbers could drop further tonight depending on what happens with the Orioles, Rays, and Angels.

Source: FanGraphs
Up Next
It's off to Toronto for the final road series of the season. The Yankees will open the four-game set against the Blue Jays on Thursday night, when Ivan Nova squares off against Brandon Morrow.