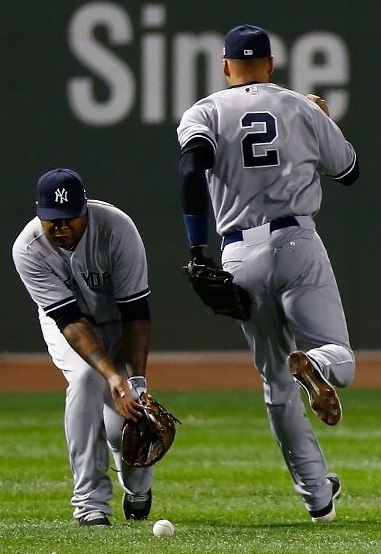 Perhaps the most memorable September in (recent) Yankees history wasn't even one that was worth remembering. The 2000 squad went 13-17 in September, losing their final seven and 13 of their final 15 games to end the season. That club still managed to win the division — by three games after being nine up as late as Game 143 — and eventually went on to win the World Series, however. I can only imagine what the reaction to that September slump would have been had the internet existed in its current state back then.
Anyway, this September collapse isn't like that 2000 "collapse" at all. In fact, this isn't even a September collapse. It started way back in late-July and has dragged on for weeks now. The struggles this month — four wins in ten games — have the Yankees tied atop the AL East for the fourth time in the last week. They haven't been more than two games up in the division since the first of the month and have won just one (!) of their last six series. This isn't quite a full blown 2011 Red Sox collapse — they won just seven games total in September — but let's not kid ourselves, they aren't doing much better.
Bad Septembers are nothing new for the Bombers, especially of late. The Yankees lost their final four games of last season and eleven of their last 21 games overall, but they were assured a playoff spot either as the division winner or wildcard. Their lead was too big heading into September. The 2010 team lost eight of its final eleven games and 17 of 30 in September (and October since the regular season spilled over), but again they still qualified for the postseason without much of a problem. Over the last three seasons, the Yankees are just 33-35 (and counting) in the final month of the regular season.
The poor finishes are a relatively new phenomenon for the Bombers. They went 20-11 in September (and October) in 2009 despite having little to play for and plenty of reasons to rest their regulars before the playoffs. The 2008 team is the only Yankees squad to miss the postseason in the last 17 years, but they still managed to go 17-9 during the final month of the season. New York had a winning record in September every season from 2001-2009, and I'm not talking one or two games over either. Their worst September record during that nine-year period was 18-12 in 2006.
For whatever reason, the Yankees haven't had much success in September these last three years. Maybe it's just the randomness of baseball, but after nine years of one thing and three of the other, I tend to think there's something else going on. It's say to say they're just an old team and their core players get worn out, but their best players this month have been Derek Jeter and Alex Rodriguez. We could argue all day about the root causes of these bad Septembers, specifically this one right now, but the Yankees have to turn things around and soon. The wildcard situation isn't as friendly as before and the overall race for playoff spots is too tight to sleepwalk through another September.