The Yankees have fallen into an unfortunate pattern of late. They aren't just losing games, they're losing games in what feels like the same way night after night. They push across a run or two early, the other team then takes the lead, and the Yankees never really bother to get back in it. Maybe I'm just crazy and that hasn't happened at any time other than last night. Either way, the pitching staff owns a solid 4.04 ERA (4.01 FIP) since the All-Star break but the offense has been unable to pick them up far too often.
"We've got start doing some things," said hitting coach Kevin Long following last night's game. "We might start having some guys bunt that you don't normally see bunt. That might have to be the case right now until we get it going … We're going to talk about that, and we're going to address some of those things, and we'll see if we can't turn it around … We'll stay at it. We'll keep battling. I think the biggest concern here is we've lost our cushion. We've got to turn it around, and we've got to turn it around in hurry."
Long specifically mentioned the third inning of last night's game as an instance in which they may try a bunt going forward. Derek Jeter (single) and Curtis Granderson (hit-by-pitch) put men on first and second with no outs, but Nick Swisher (strikeout) and Robinson Cano (1-6-3 double play) couldn't advance them any further. If a similar situation arises tonight, Swisher could be asked to bunt the runners into scoring position so Cano could theoretically drive them in with an out. Easier said then done, obviously.
I think you all know by now that I'm no proponent of the small ball, but I'm strangely okay with the Yankees changing their approach right now. Common sense says that if you're struggling to score runs, the last thing you want to do is volunteer outs to the defense. That said, it's quite obvious that whatever the Yankees are doing these days just isn't working. There are too many black holes at the bottom of the order to keep things status quo. They aren't changing things up just for the heck of it, this is a club that has scored a whopping 36 runs in their last dozen games, an average of exactly three runs per contest. I don't care how great your pitching is, no team wins with that kind of offense.
There are three important things the Yankees must keep in mind about this shift to a small ball approach. First of all, they have to be smart about picking their spots. They can't just blindly bunt whenever they get a man on first with no outs. Early in the game they need to continue to play for multiple runs and make the pitcher work a bit, because taking advantage of a pitcher willing to walk his way into trouble is the best way to generate offense. Not by helping him with a free out before the rally can really get started. Later in a close game, sure, go for the small ball if needed. First time and a half through the order? That can be counterproductive.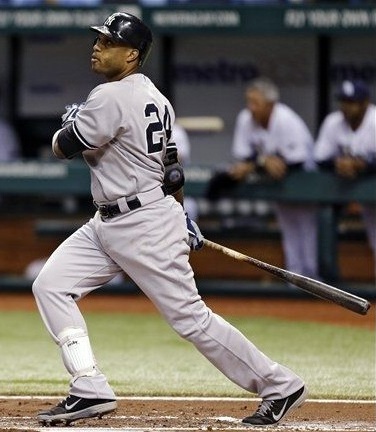 Secondly, they have to do with the right players. Jeter, Swisher, Granderson, Cano, Mark Teixeira (when healthy), and Alex Rodriguez shouldn't be bunting. The Cap'n has hit the ball far too well this season to be giving away outs and the other guys are still very capable of hitting the ball out of the ballpark at any given moment. I know as well as you that Granderson strikes out a ton, but if he bunts runners over with men on first and second with no outs, I just might lose it. Save the small ball stuff for the guys that are actually automatic outs, the Raul Ibanezes and Andruw Joneses, the Russell Martins and Chris Stewarts, the Ichiros and the Suzukis.
Lastly, this should be a temporary measure. No team bunts and small balls its ways to the World Series, so the Yankees shouldn't expect that to happen. I can't even recall the last time a small ball team won the title and the Yankees sure as hell aren't going to advance through the AL portion of the playoffs one run at a time. They have to get back to mashing the ball like they did earlier this year, but until that happens this is the best possible solution. It shouldn't last longer than it has to.
There was always a kernel of truth to the "too many homers!" criticism, but it was never expressed correctly. Obviously hitting homers is the best possible team a thing could do, but the Yankees lacked the diversity to score in other ways. Losing Brett Gardner's speed exacerbated the problem, as did other injuries that pushed all-or-nothing reserve players like Ibanez and Jones into more prominent roles. Teixeira's steady decline from a complete hitter into a pure slugger has contributed to this as well. Going to the other extreme and playing small ball isn't necessarily the solution, but it seems like the best the Yankees can do until they're able to change some personnel this winter.
Changing things up like this immediately after the division lead is blown reeks of desperation — "It's not desperation, it's about playing baseball," said Long last night — and there's a decent chance it's too late for the adjustment to have any meaningful impact. I don't really believe that but I do acknowledge it's a possibility. I've already advocated playing Chris Dickerson and Eduardo Nunez over some of the guys currently stinking up the bottom of the lineup just to get some live bodies into the game, and at the end of the day a shift to a small ball approach is the same thing. They're trying something different in an effort to spark the offense. It's much better than the alternative of just sitting around and waiting for everything to click again.