The all-important ten-game stretch against the Orioles, Rays, and Orioles again is finally over. The Yankees went into this thing three games up and came out one game up, so I suppose it wasn't a complete disaster. Either way, they needed Sunday's blowout win over Baltimore in the worst way, just to breath easy for a change.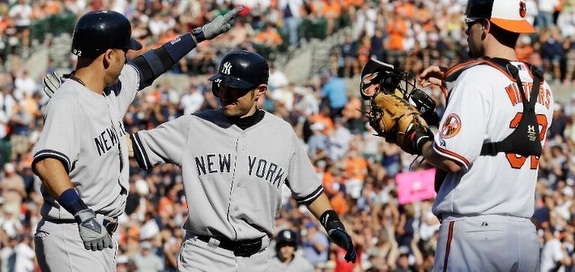 Walks & Weak Contact
Left-hander Zach Britton came into this start on the heels of four consecutive brilliant outings, walking just seven in 28.2 total innings. The Yankees were far more patient than the Tigers, White Sox, and Blue Jays (twice) though, drawing five free passes off the southpaw in just 3.1 innings. Two of those five walks came with the bases loaded in the four-run fourth inning, an inning that featured one hard hit ball — Alex Rodriguez's leadoff single off the top of the short wall in right. Britton threw nearly as many balls (40) as strikes (41) in the game.
It wouldn't call it a small ball rally, it was more of a Murphy's Law rally. The three batters after A-Rod all drew walks before Andruw Jones struck out, then Jayson Nix (bloop to shallow right-center) and Ichiro Suzuki (infield single on a so-called Baltimore chop) plated more runs with dinky hits. Derek Jeter worked a walk to force in the fourth and final run of the inning (and Britton's day), the seventh baserunner among the first eight Yankees sent to the plate that inning. Four runs, four walks, three singles, three strikeouts, one well-struck ball. Works for me.
Four-Inning Freddy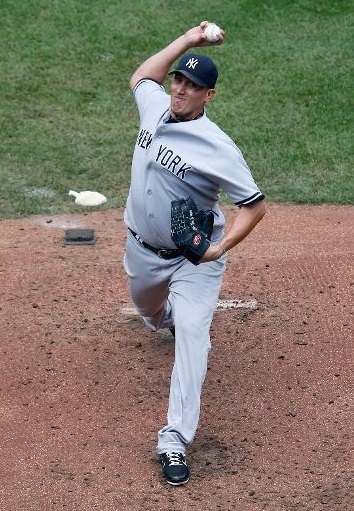 There's a decent chance Freddy Garcia has made the final start of his Yankees' career and at the very least, has thrown his last meaningful inning of the season now that Ivan Nova is healthy. For the third time in his last four starts, Garcia failed to complete five innings of work and this time he couldn't even complete four. The Yankees spotted him five runs early, but four of the first five hitters in the fourth reached in two-strike counts — walk, hit-by-pitch, double, pop-up, single — and ended his afternoon.
The three runs in 3.1 innings means Freddy has now allowed 15 runs in just 17.2 innings during his last four starts, including four homers and 31 total baserunners. Garcia was rock solid for a few weeks following Andy Pettitte's injury, but he's fallen apart of late and the Yankees can't afford to keep running him out there now that they're stuck in a division race. If he starts next turn through the rotation, I'll be stunned.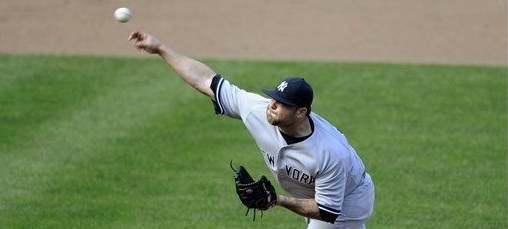 Shutdown Bullpen
The bullpen has been a weakness in recent weeks and when you ask them to record 17 outs, it's easy to be a little nervous. Rather than implode, the relief corps stepped up in a huge way to completely shut the Orioles down once Freddy left the game. Joba Chamberlain cleaned up the fourth with two big strikeouts before chipping in a scoreless fifth, then Boone Logan cut through the middle of the order in a scoreless sixth. Cory Wade followed with a perfect seventh and eighth, looking an awful lot like his April and May self rather than the guy he was in June before being sent down. Derek Lowe wrapped things up with a perfect ninth. The final ten Orioles made outs, and all told the bullpen allowed one hit and two walks in 5.2 scoreless innings while striking out ninth. Fantastic job, fellas.
Tack-On Runs
It's been a long time since the Yankees played a laugher, at least one in which they were doing the laughing. The Bombers blew the game open in the sixth, seventh, and eighth innings, starting with a Curtis Granderson solo homer to center. He plated two more runs with a bases-loaded, two-strike blooper in the seventh, an enormous hit that turned a three-run game into a five-run game. The five-run eighth featured a Jeter two-run homer to right-center, a Russell Martin single, and a Granderson double. The desperately-needed rout was on.
Leftovers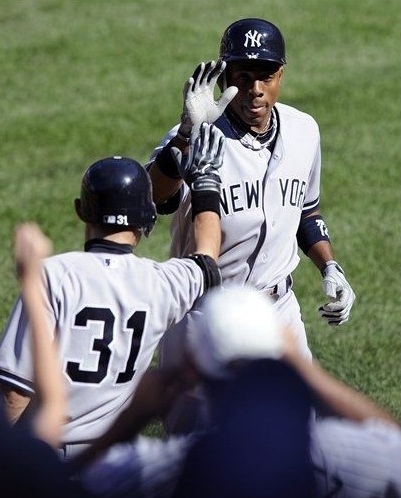 Jeter (single, homer), A-Rod (single, walk, bit-by-pitch), Robinson Cano (two singles, two walks), Martin (two singles, walk), and Ichiro (two singles) all reached base multiple times after starting the game. Nick Swisher walked but otherwise took an 0-for-4 to run hit hitless streak up to 28 at-bats. That's rough. Nix was the only starter to play the entire game as Joe Girardi emptied his September-reinforced bench to rest the regulars in the late innings. It's been a long, long time since the Yankees were able to pull someone for rest in a game.
Granderson became the first Yankee to pick up three hits off the bench since Jorge Posada last June. Posada replaced Mark Teixeira at first base in the very first inning of that game against the Red Sox after a hit-by-pitch, so he had eight offensive innings to do it. Curtis did it in four. The last player before Posada to have three hits off the bench was Brett Gardner, who did it twice in the span of a week back in May 2009.
The ten-run margin of victory was New York's largest of the season, eclipsing the nine runs they beat these very same Orioles by on August 1st. After scoring just 19 runs in the first six games of this ten-game stretch, the Yankees pushed across 31 runs in the last four games. The win evened the season series at nine apiece, so the Bombers avoided their first season series loss to Baltimore since 1997.
Box Score, WPA Graph & Standings
MLB.com has the box score and video highlights while ESPN has the updated standings. The Rays pounded the Rangers thanks to three homers from B.J. Upton, who of course I sat in fantasy. The Yankees are back atop the AL East by one game while Tampa remains two back. The magic number is down to 22, so I think I'm going to throw the counter up in the sidebar tomorrow.

Source: FanGraphs
Up Next
The Yankees are off on Monday and will head up to the Boston for a three-game set with the last-place Red Sox. Hiroki Kuroda and Jon Lester will open that series on Tuesday night.