Important late-season series between the Yankees and Red Sox are nothing new, but this one has nothing to do with the standings between the two clubs. New York is tied atop the AL East and locked in a tight race with the Orioles while Boston is buried in last place, 20-something games out of first.
What Have They Done Lately?
Lay down for Baltimore, mostly. The Red Sox just got swept in a three-game series in Camden Yards that was so pathetic is appeared as though they were trying to lose. Maybe they were. Boston has lost five straight and nine of their last ten. At 69-90 (-51 run differential), they have the third worst record in the league and have secured the franchises first 90-loss season since 1966.
Offense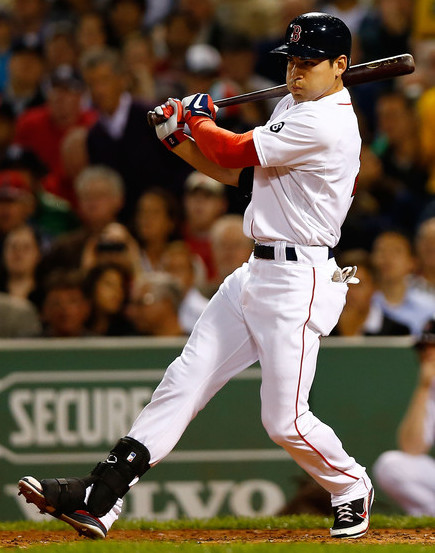 The 4.6 runs per game average looks solid, but most of the damage was done a long time ago. David Ortiz (166 wRC+) and Will Middlebrooks (121 wRC+) are on the DL while Adrian Gonzalez (114 wRC+) is in Los Angeles and Kelly Shoppach (96 wRC+) is in Flushing. Since the big trade with the Dodgers, a span of 33 team games, the Red Sox have averaged just 3.4 runs per game. That's unfathomably bad.
Among the players still on the roster, the best is Dustin Pedroia (111 wRC+) and I don't think it's particularly close. Cody Ross (114 wRC+) actually has better numbers, but I'm sure we'd all rather see him up in a big spot than Pedroia. At least I would. Pretty easily too. Jacoby Ellsbury (88 wRC+) has had a miserable and injury-plagued year, but he can still be dangerous. Jarrod Saltalamacchia (97 wRC+) hits homers and nothing else, plus both Scott Podsednik (83 wRC+) and Ryan Lavarnway (25 wRC+) get regular at-bats as well.
The rest of the lineup is a collection of retreads, has-beens, and never-wases. Pedro Ciriaco (88 wRC+) has killed the Yankees this season but done little else at the plate. James Loney (66 wRC+) and Mauro Gomez (93 wRC+) split time at first while Jose Iglesias (17 wRC+) and Mike Aviles (73 wRC+) do the same at short. Daniel Nava (103 wRC+) has had a nice-half year, and the rest of the active position player crop includes outfielders Ryan Kalish and Che-Hsuan Lin, infielders Ivan DeJesus Jr. and Danny Valencia, and third catcher Guillermo Quiroz.
Pitching Matchups
Monday: LHP CC Sabathia vs. RHP Clay Buchholz
One of the few bright spots in this disaster of a second half for the Red Sox has been Buchholz. The 28-year-old right-hander has pitched to a 4.22 ERA (4.46 FIP) in 187.2 innings overall, but that is broken down into a 5.53 ERA (5.20 FIP) in the first half (86.1 IP) and a 3.11 ERA (3.47 FIP) in the second half (101.1 IP). Buchholz still doesn't miss as many bats as his stuff says he should (6.09 K/9 and 16.1 K% with no improvement in the second half), but he limits walks (2.97 BB/9 and 7.9 BB%) and gets ground balls (48.0%). He uses a low-to-mid-90s four-seamer and an upper-80s cutter to set up his low-80s changeup and upper-70s curveball. Buchholz has one of the best changeups in baseball, a pitch that anecdotally gives the Yankees fits. They tagged him for six runs in six innings (including five homers) back in April, but that was a different pitcher.

Tuesday: RHP Ivan Nova vs. LHP Jon Lester
It's not quite a Ricky Romero disaster season, but this will be the final start of Lester's worst season as a full-time big leaguer. He's set new career worsts in ERA (4.94), FIP (4.14), strikeout rate (7.41 K/9 and 19.3 K%), and homerun rate (1.12 HR/9) while maintaining his usually strong walk (3.01 BB/9 and 7.9 BB%) and ground ball (48.8%) numbers. Lester is a three-fastball (low-90s four-seamer, low-90s sinker, upper-80s cutter) pitcher who backs them up with a mid-80s changeup and mid-70s curveball. The Yankees have seen both the good and bad versions of the 28-year-old left-hander this year and throughout recent seasons. There's no secret here.
Wednesday: RHP Hiroki Kuroda vs. RHP Daisuke Matsuzaka
Six years after being declared the world's best pitcher not in MLB, Matsuzaka will be making his final start for the Red Sox in the final game of the season. The 32-year-old owns a 7.68 ERA (5.53 FIP) this year and a 4.47 ERA (4.34 FIP) during his big league career, hardly what Boston expected when they sunk nine figures into him. Dice-K has racked up the strikeouts this year (8.10 K/9 and 19.4 K%), but he still walks too many (3.95 BB/9 and 9.5 BB%) and doesn't get enough ground balls (39.9%). His stuff is pretty much back to normal after Tommy John surgery, meaning a low-90s four-seamer, an upper-80s cutter, and an array for offspeed pitches: low-80s slider, low-80s changeup, mid-80s splitter. The Yankees have not seen Matsuzaka this year but have seen him enough in recent years to know that he'll work himself into trouble.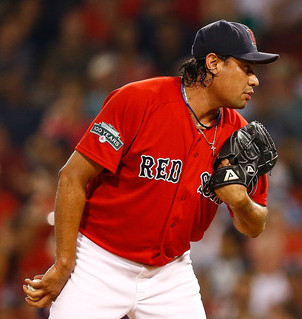 Bullpen Status
Well, if nothing else, closer Andrew Bailey (3.46 FIP) is well-rested following the Red Sox's latest stretch of awfulness. Right-hander Junichi Tazawa (1.82 FIP) and left-hander Andrew Miller (3.18 FIP) form a pretty dominant setup tandem, though Vicente Padilla (3.98 FIP) and Craig Breslow (2.51 FIP) will see some late-inning time as well. After all the roster turnover and whatnot, the bullpen is the strength of this Boston team.
Working the middle innings are old friends Mark Melancon (4.70 FIP) and Al Aceves (4.21 FIP), ditto funky left-hander Rich Hill (2.84 FIP). Scott Atchison (2.51 FIP) has pitched well, Clayton Mortenson (4.46 FIP) less so. Daniel Bard (6.38 FIP) is a disaster, and the rest of the bullpen is filled out by September call-ups Pedro Beato and former Yankees draft pick Chris Carpenter. Given the enormity of this series, I imagine Joe Girardi's typical bullpen management is going out the window and he'll use whoever he needs to use to win in all three games. Check out our Bullpen Workload page for usage details, then check out Over The Monster for the latest and greatest on the Red Sox.