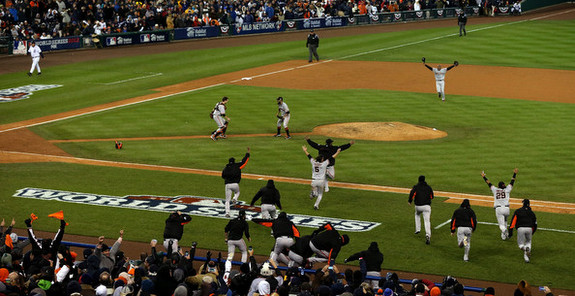 The World Series was quick and frankly not all that entertaining, at least not compared to the last few Fall Classics. It was an incredibly one-sided series for the Giants, who deserve major kudos for winning two championships in the last three years. Few (if any) teams can match their four-man core of Matt Cain, Madison Bumgarner, Buster Posey, and Pablo Sandoval going forward.
Anyway, with the end of the World Series begins the start of the offseason. Players officially became free agents today, though they won't be able to sign with new teams for another few days. Here is the full schedule for the upcoming offseason…
This Wednesday (October 31st): Option decisions are due. The Yankees have already exercised their options for Robinson Cano, Curtis Granderson, and David Aardsma, so the only decisions left involve Rafael Soriano (likely to opt-out) and Pedro Feliciano (likely to be declined).
This Friday (November 2nd): Deadline for teams to make free agents a one-year, $13.3M qualifying offer. Nick Swisher is "extremely likely" to receive one, ditto Soriano if he opts out. Hiroki Kuroda, Andy Pettitte, Mariano Rivera, and Russell Martin are all qualifying offer candidates as well.
This Saturday (November 3rd): End of the exclusive negotiating period, so free agents can now sign with any team as of 12:01am ET.
November 7-9th: GM Meetings in Palm Springs, California. There may be a handful of moves made around the league during these three days, but for the most part the meetings are about laying groundwork for the rest of the offseason.
November 9th: Deadline for players to accept or reject qualifying offers. Any player who rejects the qualifying offer and signs with a new team will earn his former club a compensation draft pick.
November 12-15th: Major awards are announced. Click here for the full awards schedule.
November 20th: Deadline for teams to set their 40-man roster for the Rule 5 Draft. Right-hander Brett Marshall is New York's most notable Rule 5 eligible prospect this offseason.
November 30th: Deadline for clubs to offer contracts to players with less than six full years of service time, otherwise known as the non-tender deadline. A fresh new batch of free agents will hit the market on this day.
December 3rd-6th: Winter Meetings in Nashville. All hell will break lose this week.
December 6th: The Rule 5 Draft during the final day of the Winter Meetings. The Yankees have selected two players (one righty and one lefty reliever) in each of the last two drafts.
January: Deadline for each side to submit arbitration filing figures. The player submits one salary, the team another. Last year's deadline was January 13th but the exact date of this year's is unknown.
February: Arbitration hearings throughout the month. The two sides can agree to a contract at any point prior to the hearing, even after submitting figures. The Yankees haven't gone to an arbitration hearing since beating Chien-Ming Wang and saving $600k prior to the 2008 season.
The next few days will be kinda busy for the Yankees thanks to all the contract options and qualifying offers. They're losing a number of significant players to free agency this winter, so expect this offseason to be the team's busiest since the 2008-2009 spending spree.