Because the Athletics pushed the Tigers to the full five games in the ALDS, it will be Doug Fister and not Justin Verlander on the mound in Game One of the ALCS tonight. Verlander threw a complete game in the Game Five win over the Tigers and will instead have to wait for Game Three to face the Yankees. That's a break for New York, but Jim Leyland is still running a quality starting pitcher out there to open the series.
The Yankees actually drafted the 28-year-old Fister with their sixth round pick back in 2005, but the 6-foot-8 right-hander did not sign and instead returned to Fresno State for his senior season. The Mariners drafted him in the seventh round a year later and traded him to the Tigers at last season's trade deadline. Fister made two starts* against the Yankees in last year's ALDS, allowing six runs in 4.2 innings in Game One and one run in five innings in Game Five.
* Technically he pitched in relief of Verlander in Game One, which was suspended due to rain in the middle of the second inning. That whole thing was just a mess.
2012 Performance vs. Yankees
| Date | Tm | | Opp | Rslt | Dec | IP | H | R | ER | BB | SO | HR | HBP | BF | Pit | Str |
| --- | --- | --- | --- | --- | --- | --- | --- | --- | --- | --- | --- | --- | --- | --- | --- | --- |
| Aug 9 | DET | | NYY | L,3-4 | | 6.1 | 8 | 2 | 2 | 1 | 4 | 0 | 0 | 27 | 109 | 67 |
Fister dealt with an oblique injury (and a subsequent setback) early this season and it caused him to miss Detroit's first two series against the Yankees, though he did pitch in that four-game series in Comerica Park in early-August. He left his start in line for the win, but Mark Teixeira and Eric Chavez hit back-to-back homers off Joaquin Benoit in the eighth before Rafael Soriano pitched out of a first and third with no outs situation in the ninth. The Yankees had just started their second-half slide and I remember that win being a real nice lift.
Pitch Selection (via Brooks Baseball)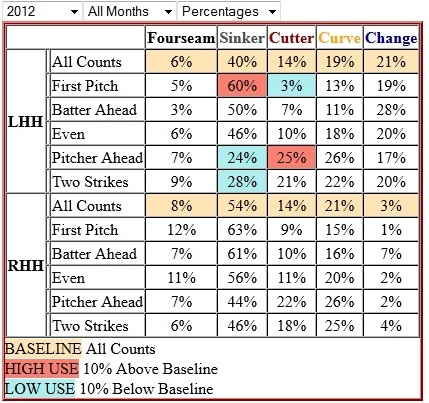 Guys like Fister are basically 4.5-pitch pitchers, meaning a sinker-baller who will throw the occasional get-me-over four-seamer but not use it as a regular weapon. He's very textbook in the sense that he'll go sinker early in the count and offspeed late, especially against left-handers. Fister is huge and lanky, creating a lot of deception with his delivery and it makes his upper-80s sinker play up. The slider (mid-80s), changeup (low-80s), and curveball (mid-70s) sit right where you would expect them to. Fister has a generic repertoire but is very unique due to his size and deception, if that makes sense.
Performance & Results
| | TBF | wOBA | FIP | K% | BB% | GB% | FB% | LD% | HR/FB% |
| --- | --- | --- | --- | --- | --- | --- | --- | --- | --- |
| vs. RHB | 286 | 0.276 | 3.83 | 19.6% | 8.4% | 60.7% | 19.9% | 19.4% | 15.4% |
| vs. LHB | 387 | 0.316 | 3.13 | 20.9% | 3.4% | 44.4% | 31.3% | 24.3% | 10.0% |
For the first three seasons of his career, Fister was a pure ground ball guy who didn't walk anyone and didn't miss any bats. He reinvented himself a bit this season, his first full year with the Tigers, by throwing some more changeups and curveballs instead of just pounding away with the sinker. His overall walk rate (2.06 BB/9 and 5.5 BB%) remains phenomenal and he's still getting a ton of grounders (51.0%), but now he's striking out more batters than ever (7.63 K/9 and 20.4 K%). Grounders, strikeouts, and no walks sure is a great recipe for success.
As you can see from the table, Fister is really tough on right-handers. They have a hard time elevating the ball against him, but he will make the occasional mistake and let it be hit out of the park. Left-handers have an easier time getting the ball airborne, but Fister has been extra stingy with the free passes against batters on the other side of the plate. The Tigers have a very sketchy infield defense that has come back to bite the sinker-balling right-hander a few times this season, and the Yankees figure to have more lefties than righties in the lineup regardless of whether Alex Rodriguez starts. Part of me wonders if starting Brett Gardner would be a good idea given his left-handedness, his speed, and his ability to slap the ball on the ground and into that defense. Then again, he hasn't started a game in over six months now.
I mentioned this morning that the Yankees really need to be patient and work the count against Detroit's starter so they could get into that questionable bullpen as soon as possible, but that will not be easy against Fister. He ranked 25th out of 65 AL pitchers (min. 100 IP) with 3.74 pitches per batter faced this year, which is identical to Hiroki Kuroda for some perspective. The guy pounds the zone, so working the count is going to be tough.