If there was ever a loss that could make you feel like the Yankees will never win another game, this is it. The Bombers made a miraculous ninth inning comeback only to blow Game One of the ALCS in extra innings thanks to some very questionable bullpen decisions and defense. Oh, and Derek Jeter broke his left ankle and will miss the rest of the postseason. That's as bad as one baseball game can get right there.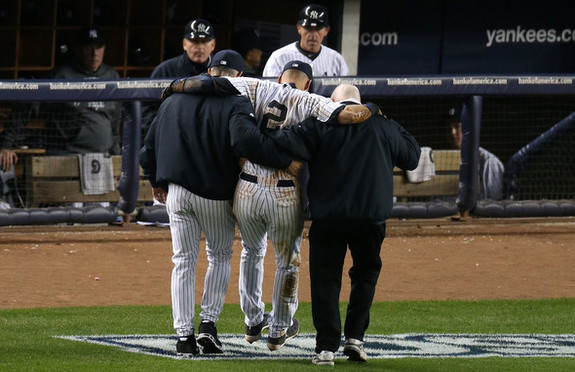 Down Goes The Captain
By itself, the loss was demoralizing. The Yankees made a four-run comeback in the ninth inning against one of the most insufferable players on the planet only to eventually lose the game in extra innings. That's awful enough. Losing Jeter, the undisputed leader of the club in every possible way, to a season-ending ankle injury makes a demoralizing loss utterly unbearable.
The play itself was fairly innocent, a Jhonny Peralta ground ball to Jeter's left in the 12th inning. He shuffled a step or two over to field the ball, took a false step, and crumbled right to the ground. As we all sat there and waited for Derek to get up like he always does, he stayed down. Joe Girardi and the trainer came out to see him and had to carry him off the field. When Derek Jeter gets carried off the field, you know it's bad. After the brilliant season he had, seeing the Cap'n get carried off the field like that was truly heartbreaking. The ALCS felt so irrelevant all of a sudden.
This Ain't April, It's The ALCS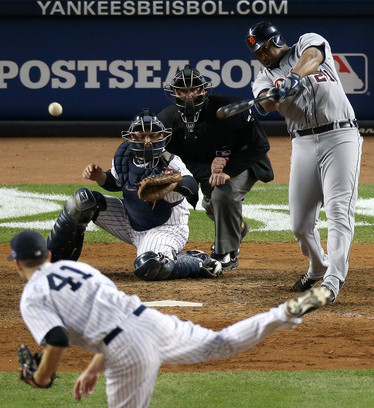 Okay, back to the actual game. I have absolutely no idea what Girardi was doing with his bullpen moves. CC Sabathia twirled a complete game on Friday, so everyone out there was rested. Workload isn't a problem. With the Yankees down two runs with two outs in the top of the seventh, the first reliever out of the bullpen was … Derek Lowe. And he faced Miguel Cabrera too. As if that wasn't crazy enough, he struck him out! On three pitches!
Bringing in Lowe to face the best hitter in the world in a close playoff game is a total "bad idea but it worked" move that Girardi got away with, but he decided to leave Lowe in the game for the eighth inning as well. He surrendered a solo homer to Delmon Young to make it 3-0 before giving up a double to Peralta. In came Boone Logan, who retired the left-handed hitter (Andy Dirks) only to allow the right-hander hitter (Avisail Garcia) to single in the fourth run in an 0-2 count. Cody Eppley and Clay Rapada tag-teamed the ninth inning of a postseason game still with grand slam distance, if you can believe that. The duo combined for a scoreless inning.
Once the game went to extra innings, Joe Girardi rightfully went to Rafael Soriano (scoreless tenth) and David Robertson (scoreless 11th). The problem is that both guys only threw one inning each, which meant the rookie David Phelps opened the 12th having to face both Cabrera and Prince Fielder. How Robertson is not left in to at least face those two is beyond me. Phelps predictably allowed the Tigers to take the lead and that was the ballgame. Girardi managed the game like he was still in the regular season, trying not to overwork his relievers so they would be available in Game Two. Just awful.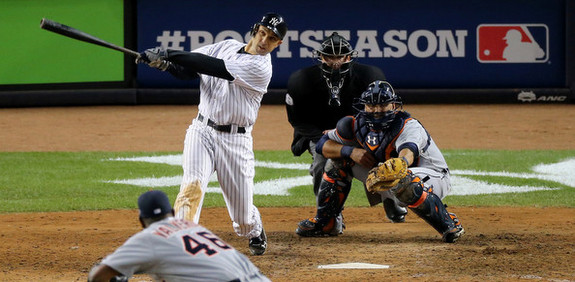 Raul Ibanez, Hero
Pretty much the only two hitters in the lineup who are consistent threats at the plate right now are Mark Teixeira and Ibanez. Teixeira singled and walked twice, including ahead of Ibanez after falling behind in the count 0-2 to Jose Valverde with two outs in the ninth. I know Valverde is terrible, but that was an enormous at-bat. Raul worked the count deep before unloading on a belt-high fastball in a two-strike count, hitting yet another massive homer to tie the ballgame at four. Ichiro Suzuki had chipped in a two-run dinger off Valverde of his own earlier in the inning to make it 4-2.
Ibanez does nothing but get just enormous, jaw-droppingly clutch hits in huge moments. He's been everything everyone's ever thought about clutch times about a thousand. Since September 22nd, that 13-inning game against the Athletics, Ibanez is 21-for-51 (.412) with seven homers, five of which either tied the game or gave the Yankees the lead in the ninth inning or later. He's the first player in baseball history to hit three homers in the ninth inning or later in a single postseason. My goodness.
Get 'Em On, Don't Get 'Em In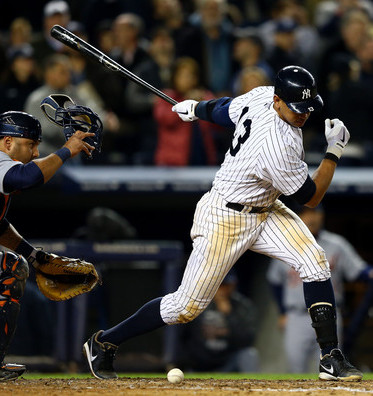 Tigers started Doug Fister was asking for it. The man who walked more than two batters in just three of his 26 regular season starts walked three of the first five batters he faced, bringing (who else?) Alex Rodriguez to the plate with the bases loaded and two outs to the ninth. Peralta made a nice flopping (he didn't dive, he flopped) stop to his right and flipped the ball over to second just time for the force out to end the inning. For the second time in a week, A-Rod hit a ball hard with men on-base in the first inning only to have a defender make a nice play to end the inning.
Three consecutive singles off Fister loaded the bases with two outs in the second inning, but again the Yankees didn't score. This time you can blame first base umpire Rob Drake, who incorrectly called Robinson Cano out on the would-be infield single. Cano lined a ball literally off Fister (hit him in the wrist) that deflected to Peralta, who threw it over to first. Here's visual evidence showing that Robbie beat the throw. Instead of having one run in and Teixeira up with the bases loaded, Fister was out of the inning. Game-changing call.
Because blowing two bases loaded situations wasn't enough, they did it again in the fifth. Teixeira (error by Omar Infante) and Ibanez (double) started the inning and gave the bottom of the order of chances to plate some runs with outs. Rather than getting the job done, the next four (!) batters failed to put the ball in play. A-Rod struck out (and didn't even run to first base on the dropped third strike), Nick Swisher drew a walk (to load the bases), Curtis Granderson struck out, and Russell Martin struck out to end the inning.
The Yankees also had a man in scoring position in the eighth (Granderson struck out) and the tenth (Martin and Jeter flew out) while also stranding miscellaneous runners along the way. As a team, they went 3-for-13 (.231) with runners in scoring position and stranded 13 runners in 12 innings. It was a truly pathetic display of offensive ineptitude in a postseason full of them. There is no way to describe this garbage now, they're pathetic.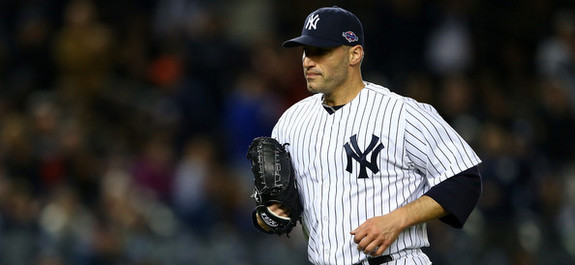 Leftovers
Andy Pettitte pitched well, more than well enough to win — two runs in 6.2 innings. Both runs came in the sixth, when Austin Jackson tripled into a little advertisement corner in shallow right field (I can't ever recall seeing a ball hit there) to leadoff the inning. With a man on third and n outs, you just accept that run is going to score and try to avoid the big inning. Instead, Girardi had Cabrera intentionally walked and it came back to bite him when Fielder and Young followed with singles. I know you're playing for the double play, but intentionally putting runners on-base in front of Prince friggin' Fielder is begging for trouble. Andy deserved better.
Although Ibanez hit the game-tying dinger, the team's best hitter on the night was Ichiro. He went 4-for-6 with his own two-run dinger. Teixeira reached base four times (single, two walks, error), Ibanez three times (double, homer, walk), Martin twice (two singles), Swisher twice (double, walk), and Jeter twice (single, walk). Cano took an ugly 0-for-6, the fifth of his career and second in the last three days. He hasn't reached base on something other than an intentional walk since the first inning of Game Two against the Orioles. Granderson went 0-for-4 with a walk and the third base mashup of A-Rod (0-for-3 with a strikeout) and Eric Chavez (0-for-2 with a strike) was as unproductive as usual.
The go-ahead run scored after Phelps walked Cabrera to start the 12th inning, which was about as predictable as it gets. Fielder moved Miggy up to second with a fielder's choice, and the go-ahead run scored when Young lined a ball out to right field that Swisher completely misplayed. Replays showed that he basically just overran the ball and he claims he lost it in the lights, which could easily be true, but frankly no one cares at this point. He's having another dreadful postseason and now his struggles at the plate seem to have been carried out to the field. Phelps should have never been pitching to those hitters in the first place, but Swisher shares a big part of the blame as well.
Box Score & WPA Graph
MLB.com has the box score and video highlights. The Yankees have actually scored more runs in the ninth inning or later (11) this postseason than they have in innings one through eight (nine). Comebacks are really awesome but that is a major problem.

Source: FanGraphs
Up Next
So now what? The Yankees come back for Game Two on Sunday afternoon and try to put this disaster of a day behind them, I suppose. Jeter's injury sucked that much air out of the balloon. Hiroki Kuroda will start that game on short rest, something he's never done before in his career. With the off-day coming Monday, expect Joe Girardi to use his bullpen liberally if needed, hopefully better than he did in Game One. Anibal Sanchez will get the start for the Tigers in the 4pm ET start. Check out RAB Tickets if you want to catch the game.