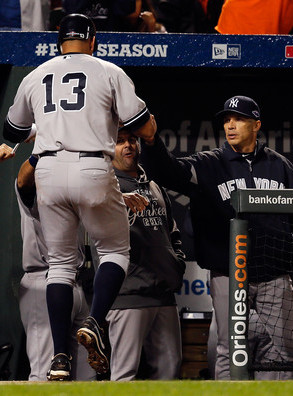 If you've been reading my stuff for the last few years, you know I'm a big fan of tinkering with the lineup throughout the season. Mark Teixeira stinks in April? Fine, drop him down a spot or three and give the hot hand a few more at-bats. Raul Ibanez is hitting well? Great, maybe bump him up so he gets a chance to do damage with more men on-base. Lineups aren't all that important in big picture, but they can very important in one individual game or, by extension, a short playoff series.
The Yankees have used almost the exact same lineup for the first two games of the ALDS, which means a top six of Derek Jeter, Ichiro Suzuki, Alex Rodriguez, Robinson Cano, Nick Swisher, and Mark Teixeira. Jeter and Ichiro have done a swell job of setting the table, going a combined 7-for-17 (.412) with a double in the two games. They generated a first inning run in both games and outside of the Cap'n's inning-ending ground ball to third with the bases loaded in the fourth inning last night, they've come up with some timely hits.
Teixeira has also produced well in the ALDS, with a pair of two-hit games (plus a walk thrown in). All four hits are singles, though at least two would have been doubles for someone with even average speed. Tex isn't the fastest guy in the world to start with, but his calf injury has him in the Jorge Posada and miscellaneous Molinas pantheon of slowpokes. Cano has a run-scoring double in each game and Swisher reached base three times in Game One before coming up empty in Game Two.
And then there's A-Rod, the most polarizing player in recent Yankees history and everyone's favorite whipping boy. He drew a walk and struck out three times in Game One, then singled in struck out twice more in Game Two. Robert Andino stole a surefire run-scoring single away from him in the first inning last night with a diving stop at second, a hard-hit ball just hit to the wrong place. A-Rod is a career .271/.380/.484 hitter in the postseason, including .254/.381/.463 with the Yankees, but his failures get magnified more than anyone else's.
So, naturally, after two disappointing games to open the playoffs there is talk of moving him down in the order or even benching him for the Eric Chavez. That second idea is a little ridiculous but the first one isn't, yet Joe Girardi maintains that he won't change the lineup because he "(believes) these guys are going to come through." It's the standard stock answer he's been delivering all year, and on a number of occasions he switched up the lineup despite indications that no moves were coming. There's no reason for Girardi to be truthful about this stuff, announcing that any hitter will be moved in the lineup serves zero benefit.
Now, there are valid reasons to move A-Rod down in the order for Game Three of the ALDS (and beyond), but you don't need to focus on his recent playoff performance (.169/.282/.203 since 2010) for evidence. Frankly, what he or anyone else did in 2010 is pretty irrelevant in 2012. The case for moving A-Rod down comes from his performance since coming back from the hand injury, which features a .261/.341/.369 batting line in 129 plate appearances. I've mentioned this before, but hand injuries tend to linger. If he doesn't have enough strength in that left hand following the broken bone, he won't be able to grip or swing a bat properly. That certainly appears to be the case now as Alex just isn't hitting for any power.
So the question now becomes where do you move him? Flip-flopping him and Teixeira seems like a fine idea if you buy into Teixeira turning it around following his slow return from the calf injury, or they could just move A-Rod down to sixth and bump everyone up a peg, allowing Cano to bat third. The generic lineup optimization answer is that the best hitter should hit fourth because the number three hitter will come up with the bases empty and two outs quite often, but as I said earlier, Jeter and Ichiro have been a two-man wrecking crew atop the lineup for the last four weeks or so.
Moving Cano up to third makes sense and it really doesn't matter who the Yankees have hitting behind him because it won't prompt the Orioles to pitch to him in a big spot anyway. Unless the Yankees reanimate the corpse of Babe Ruth, Robbie will be pitched around no matter what in a big spot. Finding someone to take advantage of those situations behind Cano is important and I have no idea who that is — Teixeira? Swisher? Ibanez? Russell Martin? Who knows. It's not A-Rod at this point, who simply is missing hittable pitches and not really driving the ball when he connects. There are valid reasons to move him down in the batting order, and they stem from his hand injury and his performance since coming off the DL. Not his recent playoff history.