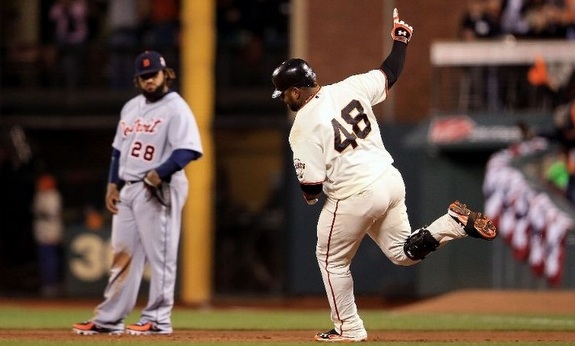 The Giants creamed the Tigers in Game One of the World Series last night to take a 1-0 series lead, as their (substantial) advantages in the bullpen and on defense were on full display. It certainly did hurt that Pablo Sandoval hit three homers either, the second three-homer game in AT&T Park history. The first? Kevin Elster back in 2000, the first official game ever played in the building. You know, you just can't predict baseball, Suzyn.
Detroit will give the ball to Doug Fister in Game Two tonight, hoping he can give them all the innings Justin Verlander was unable to last night. Madison Bumgarner gets the ball for San Francisco after having a start skipped in the NLCS just because he's worn down and losing effectiveness. He'll be on ten day's rest with a full bullpen behind him. A two games to none series lead would not insurmountable, Yankees fans sure know that, but it would be a commanding lead even as the series shifts back to Comerica Park.
Anyway, here is your open thread for the evening. First pitch is scheduled for a little after 8pm ET and can be seen on FOX, plus the Thursday NFL game is the Buccaneers at the Vikings. Talk about either game or any other non-politics topic here. Go nuts.