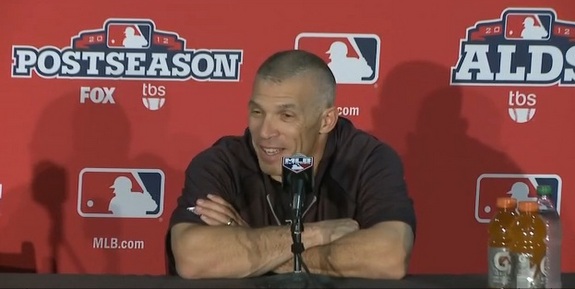 Joe Girardi held his ALDS Workout Day press conference — which was broadcast live on MLB.com — this afternoon at Camden Yards. There were a lot of general questions about playing the Orioles and all that stuff, but here are the newsworthy items…
Girardi announced that Andy Pettitte will indeed start Game Two behind CC Sabathia. Hiroki Kuroda and Phil Hughes will then follow in Games Three and Four, respectively.
Girardi said the primary reason was Pettitte's and Kuroda's workloads. They wanted to give Kuroda, who threw a career-high 219.2 innings this year, some extra rest while not letting Pettitte go too long between starts. Splitting up the lefties wasn't a huge concern.
The Yankees have more or less finalized their ALDS roster, but they are not announcing it just yet. It's not due until 10am ET tomorrow, and Girardi said it is still subject to change.
Jayson Nix, who worked out at Yankee Stadium yesterday, is a possibility for the roster according to the skipper. Casey McGehee, Chris Dickerson, and David Aardsma have all confirmed that they are not on the roster in some way.