I think this is the third time in the last two weeks that I've called a game the best win of the season, but I'm doing it again anyway: Tuesday's walk-off win over the Red Sox was the best win of the season. These last few weeks sure have been fun.
Raul Ibanez, True Yankee™
Ibanez has had a number of big hits for the Yankees this season, most notably his recent two-homer game off the bench against the Athletics. That game featured his first pinch-hit homer of the season, and this game featured his second. Eduardo Nunez had gone 2-for-3 with a double earlier in the game, but Joe Girardi called him back to the bench with a man on first and no outs in the ninth, opting to use Ibanez against the right-handed Andrew Bailey. The skipper was going for the kill.
Bailey went all fastball against Ibanez, throwing a first pitch four-seamer for a called strike and a second pitch cutter for a called ball. Raul fouled off the third pitch cutter to set up the unfavorable 1-2 count, but Bailey made a mistake and … well … bailed him out. Ibanez turned on the thigh-high 93 mph four-seamer on the outer half, the same pitch he took for strike one, for a line drive, game-tying, two-run homer to right. It was probably a Yankee Stadium cheapie but it wasn't a wall-scraper, landing two or three rows back. The true line drive blast was just another big hit in a season full of 'em. Ho hum.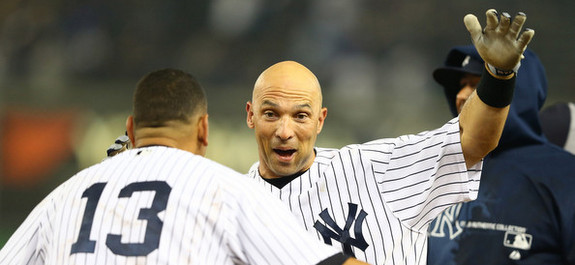 Straight To Monument Park
Oh but way, Ibanez was not done. The Yankees and Red Sox traded zeroes for a few extra innings, and it looked like the two clubs were headed to the 13th when Andrew Miller got an 0-2 count on Frankie Cervelli with two outs in the 12th. Instead of just bowing out, Cervelli — in his first plate appearance of the season — worked Miller hard and drew a big two-out walk. Seriously, going 0-2 to a walk is no easy task and Frankie deserves a ton of credit. The Yankees don't win the game without him.
Curtis Granderson, the kind if hitter that Miller should eat alive with his slider, followed Cervelli's walk with one of his own. His came on four pitches, however. That brought Ibanez to the plate, and again you'd expect Miller to put him away with his slider. Instead, he got cute with an 0-1 fastball that was down in the zone but caught a little too much of the plate. The result? Well, look…
Nothing fancy, just a ground ball through the hole the other way off a tough left-hander to win the game. It's exactly the type of hit you would not expect Ibanez to get. The dude has been unbelievable this season. FanGraphs says Raul has been worth just 0.1 WAR this year, but by my count he's been worth at least two wins these last two weeks. (h/t @MichaelMase)
Phelps Does His Part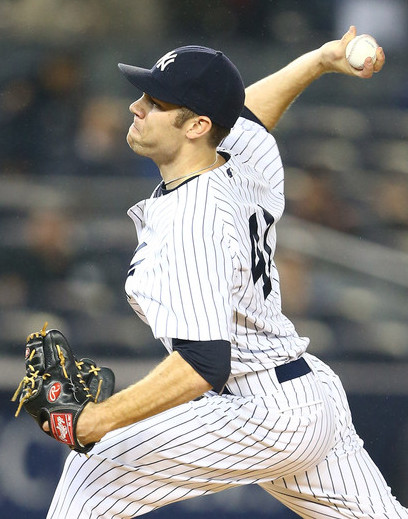 David Phelps made this start because Ivan Nova pitched his way out of the rotation, and he gave the team what they needed by allowing just two runs in 5.1 innings. Both runs scored in the very first inning as Dustin Pedroia doubled in Jacoby Ellsbury and Cody Ross plated Pedroia with a sacrifice fly. All of that happened within the first four batters of the game, then Phelps went on to retire 15 of the next 17 and 16 of the next 19 men he faced. He settled in very nicely before exiting the game with a man on first and one out.
The 25-year-old Phelps finished the season at 99.2 innings, so he was one measly out shy of become the first true first-year pitcher — so not counting Nova last season — to throw at least 100 innings for the Yankees since Chien-Ming Wang in 2005. Prior to Wang you have to go back to Orlando Hernandez in 1998 and Andy Pettitte in 1995. Phelps was rock solid in whatever role he was used and certainly took advantage of the opportunity he was given out of Spring Training. Remember, if Michael Pineda hadn't gotten hurt, Freddy Garcia would have been the long man and Phelps would have started the year back in Triple-A.

Bullpen On Parade
Once Phelps exited the game, Girardi predictably and rightfully went to his core relievers. Boone Logan escaped the sixth inning jam with a fly ball and a strikeout before giving way to Joba Chamberlain. Joba allowed a single to immortal Pedro Ciriaco with one out, and he immediately stole second. A line out to right and a big, big strikeout of Jacoby Ellsbury followed. David Robertson struck out two in a perfect eighth, and then came Rafael Soriano for the ninth.
The Yankees were down 2-1 when the closer entered the game, and the first batter he faced — the awful James Loney — launched a solo homer to right for an important insurance run. Soriano has now allowed five homers in his last 15 appearances (16 innings), which is a concern. He recovered to complete the inning and then tacked on a scoreless tenth for good measure. It was Rafi's first outing of more than four outs of the season, and his 43 pitches were his most since back in 2005. Given all that's on the line in Game 162, I'm sure he'll be available. Maybe not for two innings, but available.
Once Ibanez knotted the game up at three and Soriano threw his second inning, Girardi gave the ball to Derek Lowe, who has very obviously climbed the bullpen pecking order. I think he may be in the Circle of Trust™ at this point. Lowe put men on-base in both the 11th and 12th innings, but rebounded both times to escape the inning. All told, the bullpen allowed just the one run (Loney's homer) in 6.2 innings of work, giving the offense a chance to both tie and win the game. They've been leaky at times this year, but the relief corps has really stepped it up in crunch time.
The Goat, And I Don't Mean "Greatest Of All-Time"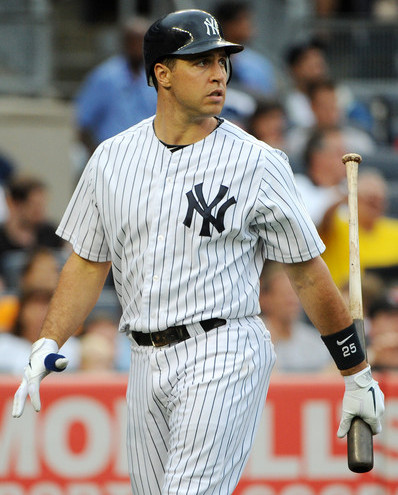 Batting Mark Teixeira ahead of the molten hot Robinson Cano after he'd spent the last six weeks injured was not go down as one of Girardi's brightest ideas, and it came back to bite him multiple times. Jon Lester was teetering on the brink of disaster all night — just like his last start against the Yankees — but yet again the Yankees couldn't cash the check he was writing. They had the leadoff man on-base in three of his five innings and at least two men on-base in four of those five innings, yet only scored one run.
Teixeira gets the majority of the blame because he ended three of those five innings, including two with double plays with men on the corners. All three of those outs were identical as well, weak little ground balls tapped right to the shortstop. The icing on the cake was the ninth inning pop-up with the bases loaded, a 2-1 fastball right out over the plate that somehow broke Teixeira's bat. I know Mark Melancon has pretty good stuff, but I'm not sure how that happens. At -.618 WPA (!), this was the second worst game of the season (among all player in MLB) and the worst of Teixeira's ten-year career. Insanity.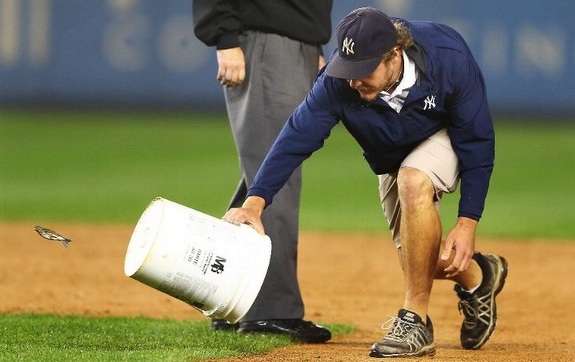 Leftovers
Underrated moment of the game: Brett Gardner getting picked off first to end the eighth. It was a big play not necessarily because it ended the inning and a potential rally, but because it allowed Granderson to leadoff the ninth against a right-hander instead of batting against the lefty Craig Breslow. Granderson has greatly improved against southpaws these last few years, but you'd still rather have him facing a righty. Curtis singled to open the ninth and one batter later, Ibanez tied it up with his homer.
The Yankees almost won the game in the 11th inning when Alex Rodriguez hit a deep drive to left-center that Ellsbury hauled in on the warning track for the final out. It was the best ball Alex has hit in a while and frankly, it's a ball he puts in the seats two or three years ago. Nick Swisher was on first and would have scored the winning run even if the ball clanked off the wall for a double. Other than that, A-Rod went 2-for-5 with a walk in the game, and both hits came with men in scoring position and didn't score a run. I think the Yankees lead the league in those.
Derek Jeter went 2-for-6, extending his on-base streak to 33 games. That is the second longest single-season streak of his career following a 42-gamer back in 2000. Cano also went 2-for-6, extending his multi-hit game streak to eight. Both hits came during the first nine innings, so he didn't need the benefit of extra innings to keep the streak alive. Bernie Williams — ten games in 2002 — has the longest multi-hit game streak in franchise history. Teixeira was the only starter with out a hit while Russell Martin (1-for-4) and Ichiro (1-for-5) were the only other starters without multiple hits. Sixteen hits and five walks in 12 offensive innings is quite a bit of baserunners.
Logan made his 80th appearances of the season, setting a new franchise record for a left-handed pitcher. He got two outs to clean up the sixth inning in relief of Phelps. The only other relievers in team history to appear in 80+ games in one season are Tom Gordon (2004), Paul Quantrill (2004), and Scott Proctor (2006). That doesn't exactly portend good things for Boone's left arm going forward.
The Yankees came into the game sporting an 0-58 record when trailing after eight innings, so they picked a good time for their first win. I mean, it really should be two wins following the extra innings comeback against the Athletics two weeks ago. Coming back from four down in the 13th qualifies as a big comeback in my book.
Box Score, WPA Graph & Standings
Now that is a fun graph. MLB.com has the box score and video highlights while ESPN has the updated standings. Jamie Shields threw the game of his career (9 IP, 2 H, 1 R, 1 ER, 0 BB, 15 K) against the Orioles but still lost 1-0 because his teammates are terrible. The Yankees still lead the AL East by one game though, and they'll clinch the division crown on Wednesday with a win or an Orioles loss. A win also clinches the best record in the league regardless of what anyone else does. Pretty awesome to control your own destiny.

Source: FanGraphs
Up Next
It's the final game of the regular season. Kinda hard to believe, no? Hiroki Kuroda and Daisuke Matsuzaka will square off in what I unofficially count as the ninth game featuring two Japanese-born starters in big league history. Don't quote me on that. Check out RAB Tickets if you want to catch the Wednesday night game.