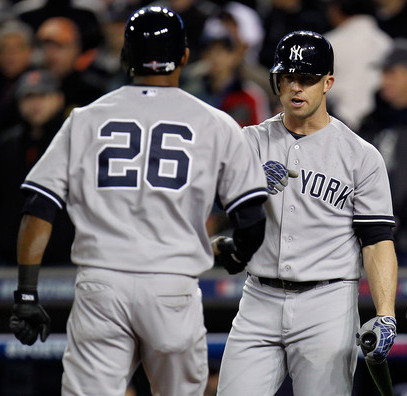 Joe Girardi has had to tinker with his lineup far more than I'm sure he would have liked this postseason, and it was all out of necessity. Alex Rodriguez simply has not hit right-handers at all, and the duo of Curtis Granderson and Nick Swisher went from middle of the order thumpers to bottom of the lineup automatic outs. He inserted both Brett Gardner and Eduardo Nunez into the starting lineup last night and was mostly rewarded, as Nunez drove in their only run with a solo homer while Gardner had some of the team's best and longest at-bats. The Yankees still lost though.
I expect tonight's lineup to be very similar to last night's with maybe one or two minor changes. Maybe Swisher is back in the starting lineup and Granderson sits, something like that. Either way, I think the stretch of 9-1-2 hitters — Nunez, Gardner, Ichiro Suzuki — will remain the same to give the team some speed on the bases. They didn't use that speed at all last night though, as Ichiro singled twice and didn't bother to steal second either time even though the one thing Justin Verlander will let an offense do is steal a base. I understand that every base-runner is precious when you're struggling to score, but I felt the situation called for pushing the envelope.
Max Scherzer is a bit more stingy with the stolen base than Verlander, but that doesn't necessarily mean the speed game should come out of the playbook. Frankly it doesn't make sense to play Nunez and Gardner and not have them try to steal when they do reach base. Obviously the whole getting on-base thing is quite important, but Scherzer hasn't been himself lately and is probably the least effective Tigers' starter right now. If last night's ninth inning mini-rally is going to carry over to today, it will be because Detroit's starter is still dealing with some nagging shoulder issues and can't reach back for 95+ when in a jam.
Desperate times do call for desperate measures, and Girardi did sorta take those measures with his lineup moves last night. If he keeps Nunez and Gardner in the lineup for Game Four, even if they don't bat back-to-back, the club has to try to take advantage of their speed. I'm surprised they have yet to lay a bunt down towards Miguel Cabrera at third or even Prince Fielder at first, but if Scherzer is pitching well the first time through the order it might be a shot in the middle innings. The Yankees have to try to generate some offense in different ways tonight and hopefully going forward later in the series, and taking advantage of the fresh legs (both Nunez and Gardner missed a big chunk of time with injury this season) could be one way to do it.