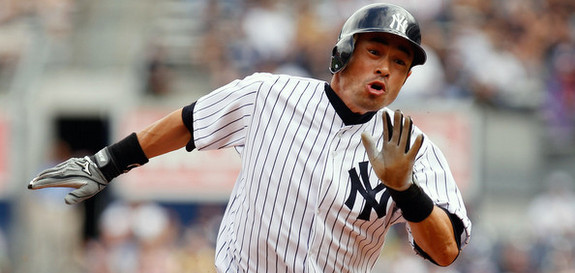 I was very skeptical when the Yankees acquired Ichiro Suzuki from the Mariners prior to the trade deadline. He could still run and play strong defense, but his  offensive production had really cratered these last two years. From the start of last season through the date of the trade, Ichiro hit just .268/.302/.342 in nearly 1,100 plate appearances. That's not a small sample, and at 38 years old, I thought he was done as even a league average hitter.
The Yankees made the trade and I suppose they believed three factors would help spark Ichiro's bat. One, he was going from a last place team to a legitimate World Series contender. Ichiro had 10-and-5 no-trade protection and had to approve the deal, which he obviously did. That was at least an indication that he was looking forward to the opportunity to play meaningful games again. Two, he was moving out of cavernous Safeco Field and into hitter friendly Yankee Stadium. Three, they were going to limit his exposure to left-handed pitchers by platooning him.
Ichiro started his Yankees' career with a 12-game exactly-one-hit streak, but through his first 41 games and 140 plate appearances with the team he had hit just .271/.297/.398. Yankee Stadium did help him hit some homers (three to be exact), but he was only 4-for-7 in stolen base attempts and really didn't provide that game-changing speed on the bases. My expectations were low and I was still pretty underwhelmed. Worst of all, the Yankees were slipping in the standings and their one notable trade deadline acquisition wasn't having much of an impact.
That all started to change about a month ago. The Yankees were wrapping up an important ten-game stretch against the Orioles and Rays with four games in Baltimore, a four-game series in which Ichiro went 8-for-14 with a stolen base and three multi-hit games. In a three-game series against the Blue Jays two weeks ago, he went 9-for-12 with three doubles, a homer, and four steals. All four steals came in the middle game, a 4-for-4 effort in which the fourth hit drove in the game-winning run. At one point he had six hits in six straight plate appearances against left-handed pitchers as well.
Since the start of that series in Baltimore, Ichiro has hit .417/.411/.560 with nine steals (in eleven attempts) in 24 games and 90 plate appearances. That has raised his batting line with the Yankees to a stout .327/.339/.461 in 230 plate appearances, and his season batting line to a respectable .284/.309/.391 in 653 plate appearances. He has eleven multi-hit games in his last 24 contests, which is Ichiro of old stuff. Exclamation point Ichiro. Ichiro!
The hot hitting as prompted Joe Girardi to bump Ichiro up in the lineup, and he now hits second rather than eighth or ninth. The move has added some length to the batting order, and in a lot of ways it has recreated the Derek Jeter-Johnny Damon dynamic of 2009. Ichiro doesn't hit for the kind of power that Damon did in 2009, nor does he walk or work deep counts as often, but he's a far better defender and is creating more havoc on the bases. With the resurgent Jeter leading off and the hot hitting Ichiro behind him, the Yankees have two high-contact, high-average hitters setting the table for the big power bats.
I was really skeptical at the time of the trade, but Ichiro … ahem, Ichiro! … has gone on to prove me and every other doubter wrong these last few weeks. It's not like he's hitting .300 or something during a hot homestand, he's hit over .400 for nearly four weeks while saving runs with his glove and taking extra bases with his legs. Ichiro has more than replaced Brett Gardner at this point, the very man whose injury created the need for the trade in the first place. He's also gone from the world's most famous complementary player to a key cog in an offense that has averaged 6.3 runs per game since he moved up in the batting order.