There is nothing worse than an underachieving team, and the Yankees certainly have an underachieving offense at the moment. The pitching staff has been just fantastic as a whole in the postseason, more than giving the team a chance to win each time out. The offense has been miserable aside from the occasional outburst (ninth inning of ALDS Game One, anything Raul Ibanez does, etc.) though, and it's reasons number one, two, and three that they're in a 2-0 hole in the ALCS.
The worst offender has not been Alex Rodriguez or Nick Swisher or Curtis Granderson, it's been Robinson Cano. The same guy who was so molten hot for the final few weeks of the season and one of the very best hitters in all of baseball. He's currently riding an 0-for-26 (!) stretch that is the longest single postseason hitless stretch in baseball history, and he hasn't reached base on anything other than an intentional walk since the first inning of ALDS Game Two. That's just hard to believe, and yet the majority of his plate appearances seem to end like this…
Anibal Sanchez threw an offspeed pitch on the outer half that Cano tried to pull, resulting in a weak grounder to second. When Robinson is not swinging right, he generates a ton of outs on ground balls to the right side of the infield. Raul Ibanez was the same why earlier this season, and Hideki Matsui is probably the poster boy for the 4-3 put out slump. It's not a pleasant thing to go through, either for the players or the fans who watch.
"You have to make adjustments," said Joe Girardi following yesterday's loss. "We know what they are doing to us. They are not going to put it on a tee for us. We know that. We are more than capable of scoring runs and have done it a number of times this year. We have to make adjustments."
Cano's weak grounders to second are the perfect example of what Girardi is talking about as far as making adjustments. Here is his spray chart since Game Two of the ALDS (via Texas Leaguers), which is the start of this miserable slump that is suffocating the offense…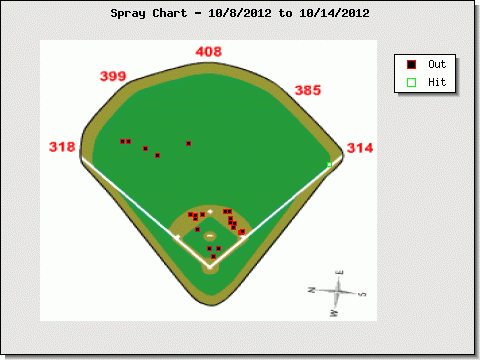 That's 22 total balls in play — the one hit in the right field corner was his first inning double in ALDS Game Two — and eight grounders to the right side. The three balls hit in front of the pitcher's mound are likely a symptom of the same problem, lunging out and trying to pull the outside pitch, so this covers more than half of his ball-in-play outs during this slide. Here are the pitches that Cano has swung at during this stretch…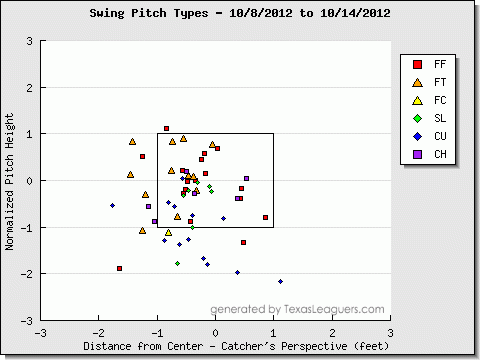 Now here are the pitches that he's taken for either balls or strikes…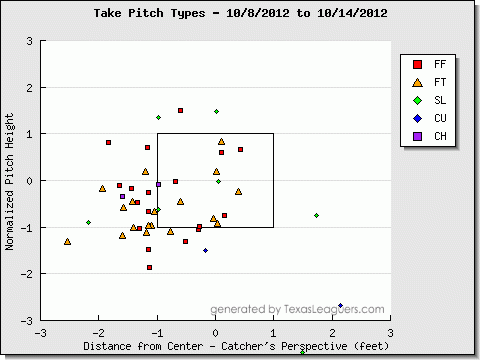 Everything is on the outer half, like 90% of the total pitches I'd say. Something extreme like that. I'm guessing that at least some of those pitches on the inner half where intended to be outside as well, but the pitcher just missed his location. We've got a ~30 plate appearance sample here of how pitchers are attacked Cano, and it's away away away. Thirty plate appearances is far too long to make an adjustment, which is what Girardi was talking about yesterday. The hitters have to adjust to way they're being pitched, it's Hitting 101.
I know this looks like I'm piling on Cano but I honestly don't mean it that way. This is a team-wide problem and Robbie is both the club's best and least productive hitter, so he's easy to single out. Plus his problems are easier to identify since, well, all of his at-bats seem to end with ground balls to the right side. As Jeff Sullivan pointed out today, Cano has made some very good contact and driven balls to the opposite field during this massive 0-fer but has yet to be rewarded with hits. I think anytime a hitter goes through an 0-for-20-something there is an element of bad luck coming into play, just think about the line drive off Doug Fister in the second inning on Saturday. That play results in a hit what, nine times out of ten? Forty-nine times out of 50? I don't know exactly, but the answer is along the lines of "a lot."
We could go through almost every hitter in the lineup and find some kind of pattern with their hitting failures, whether it be right-handed fastballs to A-Rod or left-handed breaking balls to Granderson. It feels like everyone in the lineup has an Achilles heel that is being exposed this last week, yet the adjustments are not coming. We know Cano can take pitches on the outer half a to the opposite field and not just for singles either, the dude has been hitting rockets to all fields since the day he was called up. It just hasn't happened yet. These adjustments are far easier said than done of course, but like Girardi said they need to be made otherwise the Yankees won't have a prayer of extending their season beyond Wednesday.