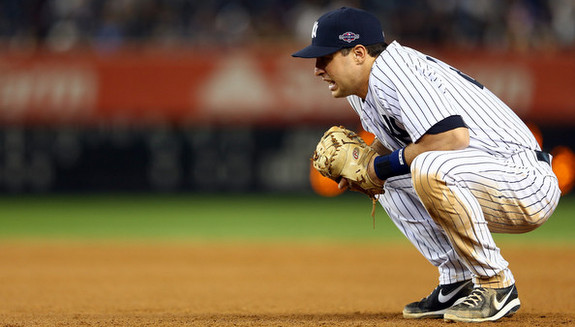 We're still a few days away from the beginning of true free agency, in which players can actually sign with new teams, but that's kind of a pointless date anyway. Baseball isn't the NFL or NBA or NHL, when the best players typically sign on the first day of free agency. We'll have to wait a few weeks before the hot stove really picks up. Until then, here are some scattered thoughts on the upcoming offseason…
1. I've mentioned a few times already that I'd like to see the Yankees acquire a few more contact-oriented hitters this offseason, but I feel like I should explain why. It has to do with Alex Rodriguez's continued decline and Mark Teixeira's continued devolution, which have robbed the Yankees of two all-around hitters. One or two low-average, high-power players is perfectly fine, but five or six is pushing it. Adding a player (or two, preferably) capable of hitting for a high average to balance things out seems like a pretty good idea. I'm not a fan of going in extreme opposite direction and getting an all-contact/no-power guy, so in a perfect world they'd find a Johnny Damon-type who can hit for average/make contact and drive the ball out of the park. Those guys are few and far between though, which is why Johnny is a borderline Hall of Famer.
2. It's going to be very important for the Yankees to have a strong bench next year, specifically a good utility infielder. Alex Rodriguez is going to miss several weeks with an injury at some point, that's a given these days, plus Derek Jeter will be coming off his ankle surgery and might not be able to step back into the field full-time right away. Having someone (better than Eduardo Nunez) capable of stepping in and playing the left side of the infield for a few weeks at a time seems imperative. Jayson Nix did a fine job in 2012, but I doubt he's that guy. The Yankees always have trouble signing bench players, so a trade may be the only way to go.
3. The construction of the bench is going to depend quite a bit on right field. If the Yankees bring in another left-handed hitter for that spot, they'll absolutely need a right-handed hitting outfielder on the bench. Adding a right-handed (or switch) hitter creates some flexibility though. The fourth outfielder could be lefty or righty, ditto the backup infielder. Heck, if the fourth outfielder is the lefty bat off the bench and Eric Chavez retires, maybe bringing Casey McGehee back to serve as the backup corner infielder makes sense. It won't be easy to do much better in free agency, and he could step in at first or third and play everyday no problem in case of injury. McGehee will be non-tendered (or traded before the non-tender deadline) in all likelihood, but there is a scenario in which the Yankees could keep him.
4. Don't underestimate the minor league contract market. Even if the Yankees bring back Hiroki Kuroda and/or Andy Pettitte, there will still be concern over Michael Pineda's injury and Ivan Nova's brutal second half. Bringing in a starter or two as minor league free agents and stashing them in Triple-A for a few months — the new Collective Bargaining Agreement implemented a uniform June 1st opt-out date, remember — makes sense. Same goes for the bullpen, the extra depth to bring the gap between big league bullpen and MLB-readiness of Chase Whitley and Mark Montgomery will be a nice thing to have. There's no such thing as too much pitching, you know that.