Over the next few weeks we're going to spend some time reviewing the entire 2012 season, which featured another division title and unfortunately another disappointing playoff exit.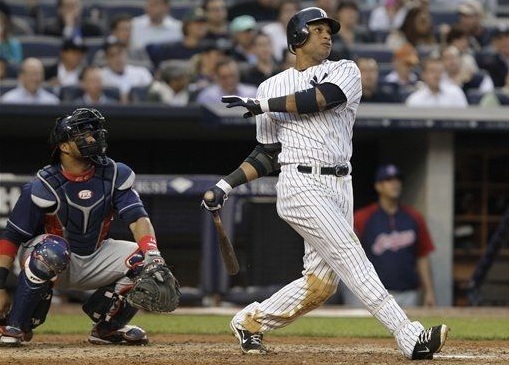 Despite all of the attention given to the pitching staff in the offseason, the Yankees actually came into the season with more questions in the batter's box than on the mound. Would Curtis Granderson hit for the same kind of power? Would Derek Jeter continue his second half resurgence? Would Alex Rodriguez stay healthy? Would Mark Teixeira reverse his downward trend? We could go on and on, but the one position player who came into the year with no concerns was Robinson Cano.
At age 29, Cano was New York's best hitter and best all-around player for the third consecutive season. He also indisputably established himself as the best second baseman in baseball as Ian Kinsler's performance took a step back and both Chase Utley and Dustin Pedroia continued to battle injuries. Robbie entered his peak and became a legitimate MVP-caliber player in 2010, sustained that performance in 2011, and actually managed to crank it up a notch in 2012.
Cano played in at least 159 games for the sixth consecutive year (he played in 161 games in 2012) and either set or tied career-highs in doubles (48), homers (33), runs (105), total walks (61), unintentional walks (51), ISO (.238), SLG (.550), OPS (.929), OPS+ (149), wOBA (.394), wRC+ (150), bWAR (8.2), and fWAR (7.8). The two WAR totals place him second and fourth in all of baseball (including pitchers), respectively. All told, Robinson hit a marvelous .313/.379/.550 overall — including an insane .359/.423/.685 against righties, a 196 wRC+ that was the best in baseball by 20 (!) points (Mike Trout was second at 176) — and led the Yankees in almost every meaningful offensive category.
Down the stretch in September, when the Bombers were trying to fend off the Orioles for the division crown, Cano was at his absolute best. He closed the regular season out with nine consecutive multi-hit games (one shy of the franchise record), going 24-for-39 (.615) with seven doubles and three homers in the nine games. The Yankees went 6-3 in that stretch to clinch the division title. Robbie hit .347/.418/.581 overall in September and .335/.408/.589 in the club's final 40 games. New York blew a ten-game division lead to the Orioles but never actually fell out of first place, and Cano's production was a big reason why.
Obviously Robbie absolutely stunk in the postseason, there's no denying that. He was the worst offender in a lineup that completely disappeared in the ALCS (and to a lesser extent, the ALDS), but those nine games in October aren't nearly enough to nullify his regular season contributions. Cano was one of the five best players in baseball this season (at worst) and the Yankees don't even sniff the postseason without him. He's been their best and most important player for three years running, and considering that he just turned 30 earlier this week, Robinson will be expected to be the same massively productive player in 2013.